Campus
Elections 2020
Opinion
Opinion
Why aren't we organizing our own protests?
The University of Alberta Students' Union did not organize a single protest this year, and we need to do better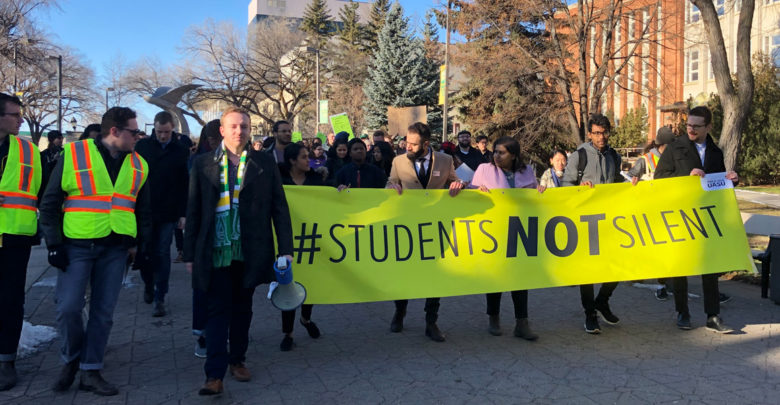 During this year's elections, there has been a lot of talk about student-level advocacy, the most visible of which consists of protests. In fact, from the way some of the sitting executives on the Students' Union are talking, you would almost think they had organized protests this year. But you would be wrong.
The SU has not organized a single protest this year, try as they might to cover up that fact. In the fall, the Students Not Silent March was initiated by the Students' Association of MacEwan University (SAMU) , which has been doing great work all year with protesting — our SU only tagged along. Our SU executive also did not attend the 2019 climate strike in their official capacity, and posed for a very inopportune photo with the Minister of Advanced Education. But you would never know that from their Facebook page.
Likewise, the UASU's Facebook event for today's "March for What Matters" looks suspiciously like its own event, but it isn't. If you scroll down just a little bit, we are only attending in solidarity with the protest. Just 36 people have said that they are attending the SU's version of the event, while the main page has 1.6 thousand attendees at the time of writing. In addition to this, the SU only even created the Facebook event on February 25, just two days before the protest was set to take place.
This is not a failing of the current executive candidates running in this year's elections, but it becomes an issue they must face when they refuse to stop talking about "keep[ing] that same culture" of protest this year. Why are they treating the UASU as though it has been a shining beacon of advocacy when we haven't even organized one protest of our own this year? Is it because students, and even candidates, legitimately don't know that we haven't been the ones initiating these marches?
One clear thing that is that we need to be doing more. We cannot stand idly by and let a much smaller institution like SAMU bear the brunt of the responsibility we have. We're letting them get away with acting like these protests are our own, when really we're just piggybacking on other people's hard work.
When leaders brag about things they aren't actually doing themselves, it's a problem. While the SU hasn't been outright lying about their association with these protests, their actions have deceived many students into thinking they've organized these protests, which simply isn't true. This kind of deception leads students to believe our advocacy efforts are stronger than they are, thus potentially decreasing student involvement because they think we're doing enough.
The solution to this is simple: organize protests and kickstart our own advocacy. We can't and shouldn't keep relying on other people to do the heavy lifting. We are one of the largest student unions in Canada, and we should be at the forefront of political and social advocacy in Alberta.
Pay attention to who is really organizing the events you attend, and watch for subtle implications from student governance that these efforts are their own. The SU is supposed to stand for our interests, and we need to make sure they're playing an active role in activism. Together, we can create the kind of advocacy we want to see from the SU, but only if we hold them accountable.
Update: This article has been updated to clarify that it was the Students' Association of MacEwan University that organized the Students Not Silent rally, not MacEwan University.