Campus Life
News
The Landing celebrates Black LGBTQ2S+ individuals for Black History Month
The display celebrates the contributions of Black LGBTQ2S+ individuals to the fields of activism, film, music, science fiction and more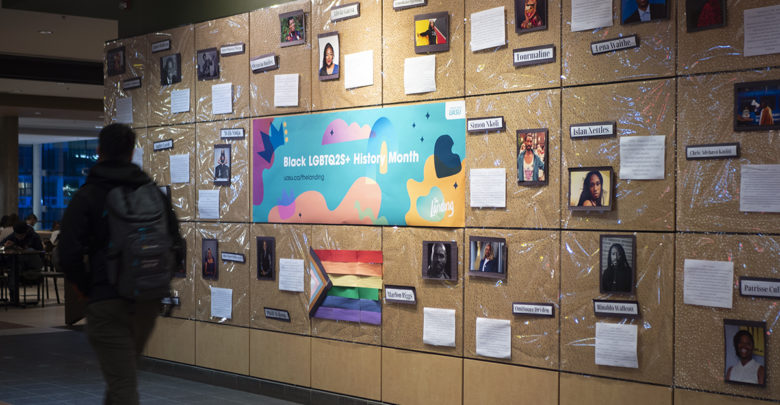 Audre Lorde, Rinaldo Walcott, and Lena Waithe were only a few of the individuals who were featured on The Landing's LGBTQ2S+ Black history wall.
Located on the SUB on the Wall of Gold, The Landing, University of Alberta's centre for gender and sexual diversity, created a wall honouring Black LGBTQ2S+ individuals and the work they have done for the black queer and greater LGBTQ2S+ community. The display was featured from February 3-7, the first week of black history month.
Rain Zewde, third-year women's and gender studies and political science student and The Landing's coordinator, said the wall was created to acknowledge both the presence and contributions of black individuals in the LGBTQ2s+ community.
"As a black person myself, we're a group that is underrepresented within the LGBTQ2S+ community," they said. "[It's about] recognizing the ways in which black people have continued to make strides for the movement, such as making sure LGBTQ2S+ have rights and freedoms that would otherwise be denied."
"We just wanted to make sure we were recognizing [their work] and that The Landing was being very public and open about it."
Zewde said that black LGBTQ2S+ individual's work in movements is often undermined by either their blackness, sexuality, or gender expression. They gave the example of Bayard Rustin, a gay civil rights leader.
"They've done so much work in pushing movement and liberation in both communities, I think it's so important to recognize them," Zewde said. "The fact that [Bayard Rustin] had to look at [his actions] to make sure he wasn't giving Martin Luther King Jr. a bad name, literally because of his sexuality."
"It represents the tension within the community, so opening that up and making sure it's displayed on the wall to see I think undoes a lot of that."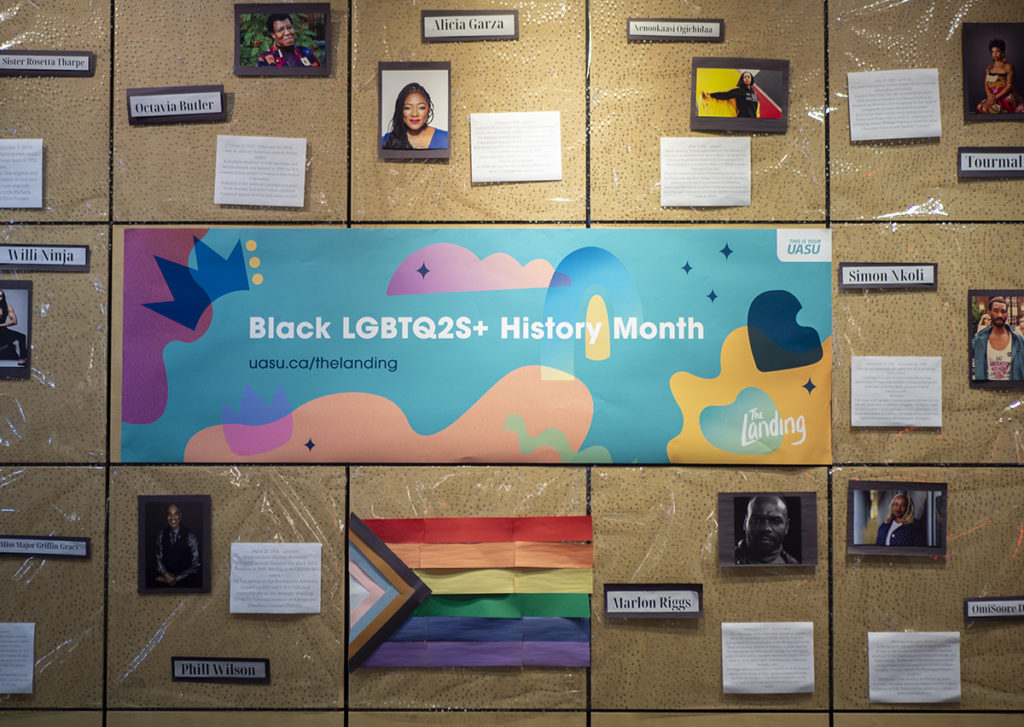 The display featured pillars of the community, such as Marsha P. Johnson and James Baldwin, as well as contemporary artists such as Janelle Monáe. The wall also features two of the three Black Lives Matter leaders Patrisse Cullors and Alicia Garza.
Featuring NenooKaasi Ogichidaa, a Black, Ojibwe, Ukranian two-spirit Powwow dancer was important for Zewde, who wanted to ensure the Black Indigenous individuals are represented in the LGBTQ2s+ community.
"People have recognition as they're looking at the wall, but are also seeing the spaces where black figures haven't been represented, NenooKassi being one of them."
Chirs Adebayo Katiiti, a black transgender man and local Edmonton activist, was also featured for his work founding RaricaNow, a non-profit organization advocating for the human rights of LGBTQ2S+ refugees. Adebayo Katiiti also led last year's Stonewall Rally which recognized not only Stonewall, but also black figures that have been left-behind in movements.
"Queer, transgender, and Indigenous, black folks that have not been recognized, he's done so much of the work in Edmonton in making sure that they have been given the spotlight and recognition they deserved," Zewde said. "He's definitely someone I wanted to make sure was on the wall."
Personally, Zewde said working on the wall was both an educating and affirming experience.
"It makes me really happy because being someone who is black and LGBTQ+, I haven't had the people to look for within the community," they said. "As I was doing this project, it was almost like a re-learning for me of the stories that haven't been told."
"I [was] recognizing that there is this intersection of identity, of lived experiences that haven't been broadcasted in either community. During black history month, this is something I'm so happy to be a part of."
On February 19, The Landing's spirituality group Weavings will also be holding a talk for Black History Month. The talk will feature black, queer, and transgender individuals and how they navigate their identity within their spirituality.
Here is a full list of all the black LGBTQ2s+ individuals featured on the wall:
Octavia Butler — a science fiction author
Alicia Garza —  a co-founder of Black Lives Matter 
Janelle Monáe  — singer, songwriter, actress, rapper
NenooKaasi Ogichidaa — Powwow dancer 
Patrisse Cullors — co-founder of Black Lives Matter
Audre Lorde — feminist writer, civil rights activist
Lena Waithe — actor, screenwriter
Rinaldo Walcott — writer, current director of the Women's and Gender Studies Institute and the University of Alberta 
James Baldwin — novelist, playwright
Josephine Baker — dancer and singer 
Bayard Rustin  — civil and gay rights activist 
Marsha P Johnson  — gay liberation activist
Miss Major Griffin-Gracy — transgender rights activist 
Willi Ninja — dancer and choreographer, featured in Paris is Burning
Douglas Stewart – gay rights activist, founding member of Zami, the first Black queer group in Toronto
Sister Rosetta Tharpe — songwriter, guitarist, known as Patron Saint of Rock Music
Phill Wilson — HIV/AIDS activist, founder of the Black AIDS Institute
Malon Riggs — filmmaker, poet, gay rights activist  
Islan Nettles — a transgender woman murdered in 2013
OmiSoore Dryden —  Dalhousie chair of Black Canadian Studies in the Faculty of Medicine, associate professor in the Department of Community Health and Epidemiology
Simon Nkoli — South-African anti-apartheid, gay rights, and HIV/AIDS activist 
Tourmaline   — filmmaker, activist, writer
Chris Adebayo Katiiti — Edmonton activist, founder of RaricaNow