Elections 2020
News
News
Q&A
SU Elections 2020 Q&A: Vice-President (External)
Two candidates are vying for your vote for Students' Union vice-president (external)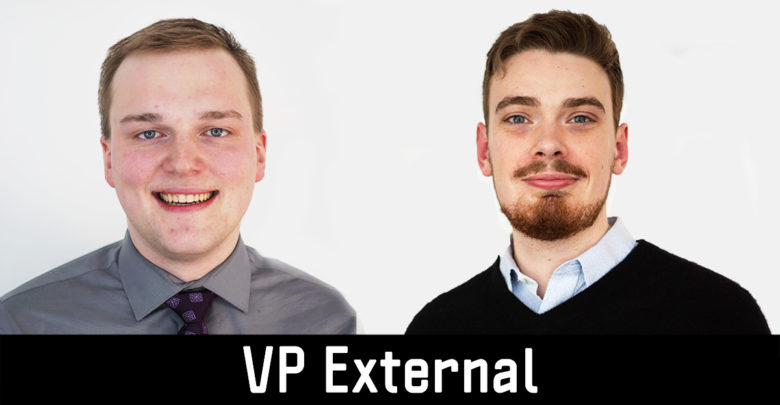 Representing the undergraduate student body to the outside community falls onto the Students' Union's vice-president (external). It's their job to engage with governments, provincially and federally, meet with politicians, and represent the Students' Union within larger student advocacy bodies like the Council of Alberta University Students (CAUS) and the Canadian Alliance of Student Associations (CASA).
This year, two candidates are running to fill the spot including fourth-year political science student and speaker of Students' Council Robert Bilak and Rowan Ley, fourth-year political science student and current Board of Governors representative.
Follow the links to watch their candidate's pitch: Rowan Ley, Robert Bilak.
The following interviews have been condensed and simplified for clarity.
---
In one minute, can you tell us why you are running for Students' Union vice-president (external)?
Robert Bilak: I'm running for vice-president (external) for the second time because I believe I am the best candidate to represent the interests of students to government, I have a passion for these issues, and I want to see headway made. I believe that this year we need to look inwards, consolidate the student body and get them all on the same page. We need to revamp the Council of Alberta University Students (CAUS) to make it a group that actually works for students and we need to bond with Alberta Students' Executive Council (ASEC) in a way that we haven't so far. I believe I have the right personality, experience, and connections to do this and I think the best way for the student body to move forward is to elect me.
Rowan Ley: The main reason is that in the four years I've been here, the U of A has done a lot for me. I have been a faculty lead for Week of Welcome, I have travelled around the world with the debate club, I have enjoyed the beautiful views at RATT, and I have made lifelong friends. It's a community that means a lot to me, and it's a community that is being threatened by the enormous budget cuts, incentives to slash student supports, and tuition increases that this government is making. I want to give back and help make a difference by trying to push back against these things. I think I have the right skill set and experience to make that different as well. This year I was on the Board of Governors. I have also worked in the provincial government at fairly senior levels, so I have a pretty good understanding of not just what the problems are, but of the leverage points that we can push to change them and how the system works. So, I want to make a difference and I want to give back, and I think I am one of the best placed people to do that. So, in a nutshell, that's why I want to run.
Can you concisely explain your platform?
Bilak: My ideas are to consolidate within the Students' Union, to get everyone on the same page with our advocacy efforts, revamp CAUS, and bond with ASEC.
On top of that, some actual goals are making transit in Edmonton more student-friendly, and that means making it affordable. Next year is our U-Pass negotiation year and I want to fight for free U-Passes for students. I also want to provide feedback on new bus routes coming this summer.
I want to keep mental health services on campus. We are losing our million dollar grant in March and if we don't find alternative funding, mental health will be abysmal on campus, even more so than it is now. It's going to have such a detrimental effect on students, it's insane.
I want to ensure campus is sustainable and fight for maintenance while at the same time reducing our emissions. The university emits 194,000 tons of greenhouse gasses a year and they consider it an accomplishment.
I want to call for an inquiry from the government to investigate sexual violence on campus. Additionally, I want to make it easier for students to find flexible jobs that work for them, create a provincial employment program, fight against voluntary students' unionism and make university affordable and accessible for everyone that wants to go here.
Ley: The basic gist of it is that we all agree on some basic goals. We agree to that we need following: need-based grants and an improved student loans system, better institutional funding, to see the seven percent tuition increases that are being proposed eliminated, and so much more. But what this campaign should be about is not about fighting over who loves the goals that we all agree on the most; it should be about who has a tangible plan to make them a reality, and that plan is what I am running to offer.
My plan essentially is that we need to reach out to other student groups in Alberta and coordinate better in ways other than just meeting with the minister. We need to have a coordinated outreach and advertising campaign to get Albertans and the public on our side. We need to work with the students who are already doing organizing for change and try to harness people's energy willingness to get out on streets to make a difference. And we need to find new ways of fundraising so we can raise money for the Students' Union that's not dependent on the government. So, the core of what I am offering, is a plan for how to make the advocacy goals that everyone agrees on a reality, not just empty campaign promises that I have no plan to achieve.
Earlier this year, the Council of Alberta University Students (CAUS) presented to Students' Council about the lack of progress on an indigenization project. If elected, how would you ensure Indigenous student voices are heard within government?
Bilak: For the second year in a row, I was abysmally disappointed in CAUS's presentation. Unfortunately this time I wasn't able to make any comments because I was the speaker of Students' Council, but I sat there with my head in my hand thinking 'why is this happening to me again, what did I do to deserve this?' One thing I definitely want to do is chair CAUS this year. I think it's ridiculous that the chair and vice-chair are not from Edmonton, which makes no sense when legislative proceedings are here.
I want CAUS to do a truth and reconciliation strategic plan. We need to sit down with the members and see how we are not including Indigenous people in our governance process and how are we not presenting their needs to government. We need to do this massive research project across Alberta on the presence of Indigenous students on campuses and that data will allow us to advocate stronger to the government when it comes to specific Indigenous issues because right now we are stumbling around in the dark.
Ley: So, on the provincial level, one of the first things I would do is I would run for chair of CAUS. And even if I wasn't elected chair, I would make my first priority at CAUS to make sure that an Indigenous researcher was hired so that we could create a provincial post-secondary Indigenization policy at CAUS. On the federal level, I would continue making sure that Indigenous student leaders like the leader of Aboriginal Student Council and the chair of the Aboriginal Relations and Reconciliation Committee were taking part in the CASA processes. So, that means taking Indigenous student leaders to Ottawa with me to negotiate directly with the federal government themselves, and I would support them, rather than trying to be a voice for them and going to Ottawa on their behalf. One of the most important things that we can do for reconciliation at the university level is making sure that Indigenous students have their own voice and not that others try to speak for them, and that's how I would try to do that.
How will you approach the Minister of Advanced Education with regards to performance-based funding?
Bilak: Performance-based funding will very much become a 40 per cent cut in disguise and it's quite unfortunate that the current minister is proposing this plan and defending it. We need to unite students against this, including ASEC because they're 21 schools advocating for this policy and the minister is, therefore, thinking he is right. CAUS is over here doing nothing, so the minister thinks CAUS doesn't matter.
We need to get ASEC on the same team as us and get CAUS working again so that they can show that not all students want this and even the university administration doesn't want this. They need to use evidence and data from across the world to show that when you do this, the standard of education is going to decrease for our schools, meaning the future workforce will not be as competitive and skilled as we need it to be in the future.
Ley: So there are two basic sides to this. Firstly, in the short run, we are not likely to be able to get rid of performance-based funding system. So what we need to do is advocate for the one performance-based funding goal that students will be able to decide to be something that protects student services like mental health and advising, given that there are incentives built into the goals they provided to cut those things.
Secondly, we need to advocate for the system to be either significantly reformed or abolished in the long run. The way we do this is not just by talking to the minister, but it is by getting Albertans on our side and getting allies in this process, because in the long-run, policies change, governments change, and we want to make sure that in coming years, this is a conversation that's still being had.
Do you believe the United Conservative Party will make student fees voluntary? If so, how will you deal with this?
Bilak: I worry about jinxing it, but I don't think this is something they are looking to do in the immediate future. Probably not this year or the year after, but maybe sometime after that. I think right now, they are focusing more on the university funding model and the Campus Alberta Grant.
If it were to happen, I think our best unused resource in this fight is conservatives on campus because, though being conservative, they can also be disappointed with tuition going up and funding going down. We can show them that without a Students' Union there will be less services and it will be more expensive to access similar services.
If it does happen and we are completely unable to counter-act it, we should be looking for alternative revenue. I think SUTV is a great example of that. The university earns hundreds of millions of dollars in donations — we can do the same thing. I want to make a Students' Union alumni network which will be a similar fundraising network specifically for the Students' Union. We only get 25 per cent of our revenue from student fees. If we can get $3 million a year in donations, that would cover all of the Students' Union. Right now we have the apparatus to accept donations, it's just a matter of doing it. Just this year fundraising was added to the vice-president (external) portfolio and I want to expand on that.
I also think we should look at some crazy cool ideas. The Students' Union should look at a micro-loan program where students are able to present their inventions, the Students' Union can support it, they pay the loan back interest-free and we get a small portion of their profit back.
I think we're blinded by the fear that this will happen. We need to look at it as if it might happen so we can prepare for it, but we shouldn't be petrified by it.
Ley: So right now, it's not something that is quite as likely to happen, as I think we initially feared when they were elected. But that being said, we always have to be wary and cautious.
One of the things we can do, just in case, is in my platform I have a detailed section about how we can fundraise better. We can learn from the university about reaching out to alumni for small and regular donations, but for large capital projects and ensure the sustainability and financial independence of the SU, we need to be reaching out to larger corporate donors and institutional donors and offering them attractive packages through the advertising market that we have access to, through cost matching, things like that. So, we can establish our financial independence that way.
The second big thing we need to do, is just fight back against any possible imposition of voluntary student unionism. And that means we need to establish to the provincial government what our value is to them and what it is to the university, and again, make sure that we have allies across the province.
Budget 2020 for Alberta will be unveiled within the campaign period for Students' Union elections. What will this mean for you as a candidate, and how will you respond?
Bilak: Since that day will be the busiest day of my life as I also have a forum, I will probably get a campaign volunteer to read over anything that affects post-secondary education and get a quick re-verb on what's happening. Going forward, I think the asks will be very similar. I don't think we are going to get a budget that will stop us from advocating for more funding to post-secondary education, however, I don't see it being a super university friendly budget. The numbers may or may not change, but the idea we're fighting against is the same.
Ley: The first thing we need to do, is as soon as the budget comes out, push back strongly and right away against any cuts to post-secondary. There is a good chance that some of those are coming. I can guarantee you that there is going to be students at the legislature on budget day protesting against these cuts; I can guarantee you that I am going to be one of them.
I will also say that the response to this budget does not end on budget day, and that instead of responding reactively to the last budget, we need to start responding proactively to the next budget which could contain a similar cycle of cuts and even greater harms. So throughout the year, I would try to identify important points in the government budget planning cycle like meeting the treasury board, for example, where budget allocations for advanced education would be decided. And instead of protesting after a decision was made, we would try to do it before a decision was made; find moments where applying pressure could create change, rather than just expressing our anger about the changes that have already been made.
If you were sitting down in a meeting with the Minister of Advanced Education, and he said that the government would be eliminating the infrastructure maintenance program funding for the second year in a row, what would you do?
Bilak: My initial reaction would be to bang my head on the table — the rate at which this campus is crumbling is insane and the university nor ministry aren't doing enough to fix it. On the one hand, the university's hands are tied. The worst part is they had to cancel $10 million in additional maintenance contracts, so now they're further in the hole.
I don't understand what the ministry doesn't see. Last year there was a classroom that flooded. There was cocaine in the Fine Arts Building a couple of years ago. This needs to be fixed so that students are actually able to study safely. One thing I would love to do is get the minister on campus and give him a tour to present him with a better understanding of what's going on.
I also think we need to re-frame our asks when it comes to deferred maintenance. I'm a big fan of framing our appeals so that they are referable to all. I think that we need to re-frame deferred maintenance and show it off as debt. This government is very anti-debt — they think it's a way of crippling future generations. Deferred maintenance is really just debt. With it existing, we are putting our children and future generations at a bigger disadvantage because they can't access the facilities they need to properly learn.
Ley: I would tell the minister that not funding infrastructure maintenance effectively creates an accumulation of debt in the exact same way that borrowing money to pay off the infrastructure does. Every year that you don't take care of infrastructure, its condition gets worse and the university, one day, is going to somehow need to take care of all this. The provincial government, someday, is going to have to step in and bail us out.
What I would tell the minister, is not to sacrifice some short-term good appearances for saving money in a single fiscal year, at the consequence of reducing both the province and the university's fiscal health down the road. This is a problem that will be cheaper if we solve it now, and only more expensive if we solve it later, and given this government's self-proclaimed focus on reducing deficits and ensuring financial sustainability, that's absolutely something that they should be receptive to.
Joke: Dead or alive, if you could meet any Alberta premier, who would you meet? Why? What would you discuss?
Bilak: I would meet Alexander Rutherford. I want to know what his thoughts were on where Alberta was going and see if current Alberta, administration, and execution of ideas are living up to what his dream was.
Ley: There are a lot of fascinating premiers out there, but I'd have to go with Peter Lougheed. Lougheed's the guy who faced off against the federal government when they were squashing the interests of Alberta. He might have some great advice for how students can fight back against a provincial government that's attacking our interests. And aside from anything else, he seems like a pretty cool guy.