Arts & Culture
Campus & City
5 Artists 1 Love showcases the diversity of Edmonton's Black community
The local art exhibition is on a mission to promote the diverse talent of Edmonton's Black and African community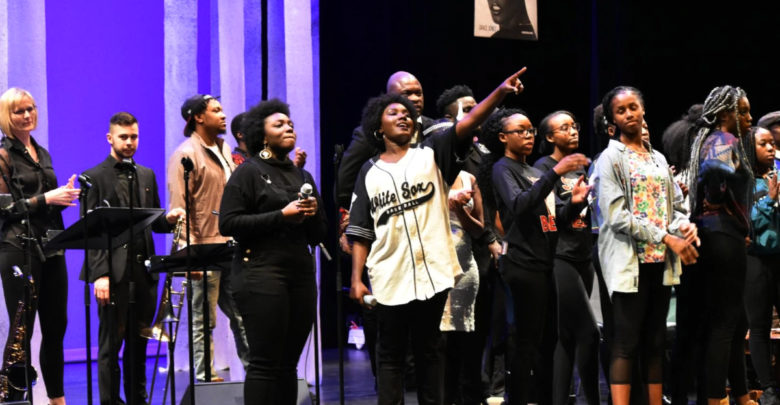 Now in its 14th year, 5 Artists 1 Love : Black History Month Art Show is an annual art exhibition that continues to celebrate the African-Canadian community in Edmonton. For the month of February, this art exhibit will be displayed at the Art Gallery of Alberta.
Darren W. Jordan, the curator and producer of 5 Artists 1 Love (5A1L), started this project out of his own frustrations as a visual artist. According to Jordan, he was complaining and searching for a venue that featured Black artists, particularly during Black History Month. As a result, he decided to create a venue for Black artists himself.
"I want to show Edmonton that when we say the quote-unquote 'Black community' that it's a very complex, diverse thing," Jordan said. "There is a cultural tapestry within our own community that I am hoping to highlight and celebrate."
For example, Jordan said a 25-year-old Nigerian woman and a 25-year-old Black British woman with similar melanin count and experiences would still have unique narratives from different perspectives to tell.
"[5 Artists 1 Love] shows that we [the Black and African community] have many different backgrounds and many different perspectives," Jordan said. "Although they are tied to common experiences and some cultural similarities, there is some wonderful diversity within the community."
For the art show, Jordan releases an open call for looking for Black visual artists from Edmonton and chooses five artists out of those submissions. These artists get to show their artwork in the gallery, but they also learn how to work with galleries and how to sell their work.
"Everytime we did this show, […] it was full, it was absolutely packed," Jordan said.
Originally, 5 Artists 1 Love started at the Tu Gallery, a smaller venue that has now closed. When running an art show of this scale, there are many expenses to consider, Jordan explained, such as catering and entertainment. Due to the popularity of the art show, the show moved to the Art Gallery of Alberta and with that, the expenses increased. Jordan initially created a music event to fundraise for the Art Show. It has since taken on a life of its own and continuously sells out annually.  
"It's a very multicultural vibe when you walk into the art show or the music show," Jordan elaborated. "Historically, Black folks from the Caribbean and Black folks from the continent, they often do individual things, we're not always sharing the same space and over the years, this has become a space where black people from all different parts of the world are comfortably celebrating in the same space."
Over the years, 5 Artists 1 Love has grown to become more than an art exhibit, often hosting other events separate from its February art show.
"5 Artists 1 Love has a stronger presence in February for Black History Month," Jordan added. "My goal was to have more events outside of the confine of short, cold months and we began to do that."
In the past few years, 5A1L has partnered with the National Black Coalition of Canada (NBCC) for various events during culture days. Every September, 5A1L also hosts many other events, such as the Art Battle Royale, in which Jordan enlists four competing artists to complete three challenges.
"[Art] is often a window into people's culture and history, it's a fantastic mode of expression," Jordan said. "Art in all cultures is a voice for us. Everybody wants a voice, everybody needs a voice."
Even if you aren't one of the chosen artists or if you're not part of the Black community, you can still participate in the art exhibit. "The Wall" is an installation where everyone submits their painting on a 12 by 12 canvas that adheres to the year's controversial or topical theme. This year's theme is Afro-futurism.
5 Artists 1 Love : Black History Month Art Show is running from January 28, 2020 to March 8, 2020.