Campus Life
News
"Tragic day" at the U of A, says President David Turpin, after flight PS 752 accident
There are approximately 500 Iranian students on campus at the U of A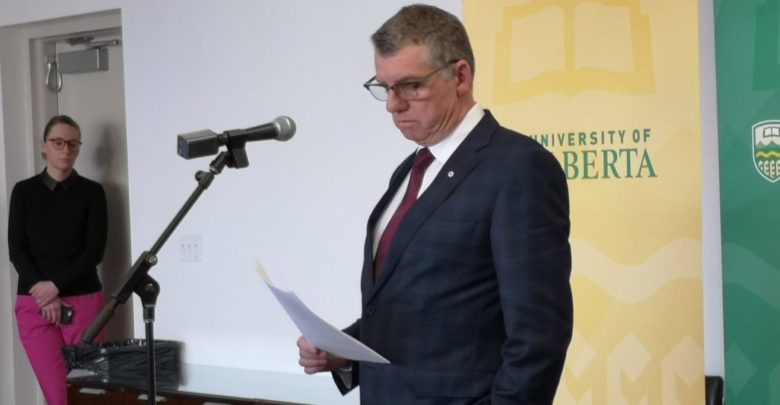 The University of Alberta is in mourning.
David Turpin, U of A president, hosted a press conference on January 8 where he offered condolences to those affected by the Ukrainian International Airlines Flight PS 752 accident. Ten U of A-affiliated people were among those listed on the manifest for the flight which crashed shortly after takeoff, killing all onboard.
During the press conference, Turpin announced a vigil "in the near future" to celebrate and commemorate each individual affiliated to the U of A lost in the tragic accident. He acknowledged that there are close to 500 Iranian students on campus and that all of them, along with the entire U of A, are in mourning today.
All 176 passengers and crew onboard the flight were killed approximately six minutes after the plane took off from Tehran's main airport, Imam Khomeini International Airport. The flight was heading from Iran to Kyiv, Ukraine.
Turpin began his remarks by expressing his "heartfelt grief" at the loss of community members and other Canadians. He said at least ten members of the U of A broader community — faculty, staff, students, and alumni — who died in last night's plane crash.
"This a grave loss," Turpin said. "I want to extend my personal deep condolences to all those affected by this tragedy. And I want to express my condolences and sympathies on behalf of the University of Alberta to everyone who has been affected."
"Words simply cannot express the grief that we are feeling," he said. "We are a close knit community and we grieve when everyone is touched by such a terrible loss."
Turpin assured that the university is doing "everything it can do" to provide support to anyone who is affected by the accident.
"This is a tremendous loss of life and talent," he added. "We are going to honour everybody lost in this tragedy."
Office of Dean of Students ready to help any affected
U of A Dean of Students Andre Costopoulos, in a statement, also extended his condolences and outlined how his office is ready to help anyone affected.
He offered a list of supports for staff, students, and faculty affected by the loss. These ranged from academic accommodations, counselling, and other resources.
There are specific locations available for those immediately affected to access quiet, resources, and people if they want. These are in DICE 1-386 and 2-49 Computing Science Centre.
Minister of Advanced Education offers condolences to those lost
Alberta Minister of Advanced Education Demetrios Nicolaides said, in a statement provided to The Gateway, that he too was mourning the loss of every member of the community lost in the accident.
"My sincere condolences and deepest sympathies to the families and loved ones of the University of Alberta community members, lost so tragically earlier this morning," he said.
"Words cannot describe the loss and pain you are all feeling right now. May the love of family and friends comfort you during this difficult time."
Students' Union offers support and help to those who need it
Akanksha Bhatnagar, president of the Students' Union, said in a statement, offered sympathies and asked that anyone affected should reach out for help.
"Dozens of people from Edmonton were killed in this crash," she said. "We're still learning just how many of them were students or their friends and family. This tragedy impacts many students in deeply personal ways."
— With files from Andrew McWhinney