Campus Life
News
Peaceful protest held against U of A lecturer's offensive comments about the Holodomor
Students protest U of A lecturer's comments that Holodomor was a "myth"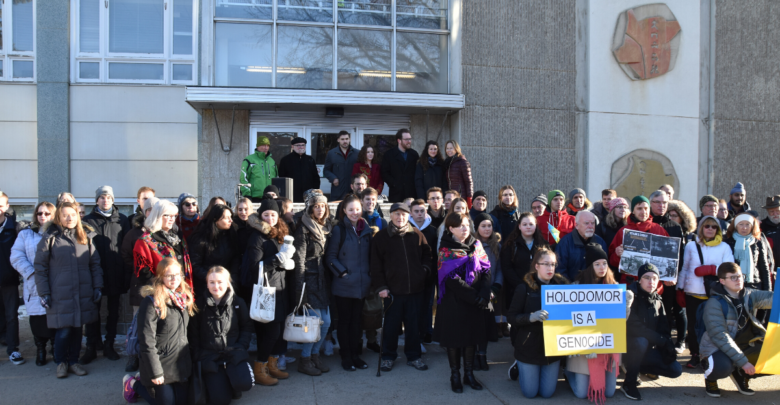 A peaceful protest was held showing opposition to remarks made by a University of Alberta assistant lecturer surrounding the Holodomor.
On November 20, University of Alberta assistant lecturer Dougal MacDonald made a Facebook post calling Holodomor, a United Nations recognized genocide against Ukrainian people, a "myth."
On December 2, The U of A Ukrainian Students' Society (USS) organized a peaceful demonstration against MacDonald's comments and general Holodomor denial outside the South Academic Building. The protest was supported by the Ukrainian Canadian Students' Union (SUSK), the Ukrainian Canadian Congress Alberta Provincial Council, and the Ukrainian Canadian Congress Edmonton Branch.
Protestors hope university will hear their message
The protest was led by the USS president Megan Brownlee and SUSK Internal Relations Director Andriy Prichliak.
Brownlee began by acknowledging McDonald's claims that past Ukrainian U of A chancellor Peter Savaryn was a "former Nazi collaborator." She also emphasized that this was an attempt to denounce the Holodomor as a genocide.
"We cannot stand idly by as this tragedy is denied by a member of our university," Brownlee said. "The comments that were made are actively trying to reduce public awareness and skew public opinion about the Holodomor."
The USS and SUSK are calling for McDonald to be fired, but also for the university to officially recognize Holodomor as a genocide.
In an interview, both Brownlee and Prichliak stated that this wasn't a question of free speech, but of hate speech targeting the Ukranian-Canadian community.
"[McDonald] keeps having this defence of free speech, but this is hate speech and that's not covered under free speech," Brownlee said. "He's not within his rights to be saying this kind of stuff."
"A big portion of the student code of conduct is respect for your fellow students, employees, and staff of the University of Alberta," Prichliak added. "I feel that his comments were very hateful and offensive, and not exactly respectful to students, especially to the Ukranian-Canadian community."
The protest also extended awareness of MacDonald's comments to the greater community, who Brownlee and Prichliak believe were equally affected by MacDonald's comments.
"We wanted to get not just students but also members of the community to speak out and really share how this has affected their community," Brownlee said. "We had so many different organizations come out, different academics, so it's really good to hear their piece and it's just great to have the support from the community."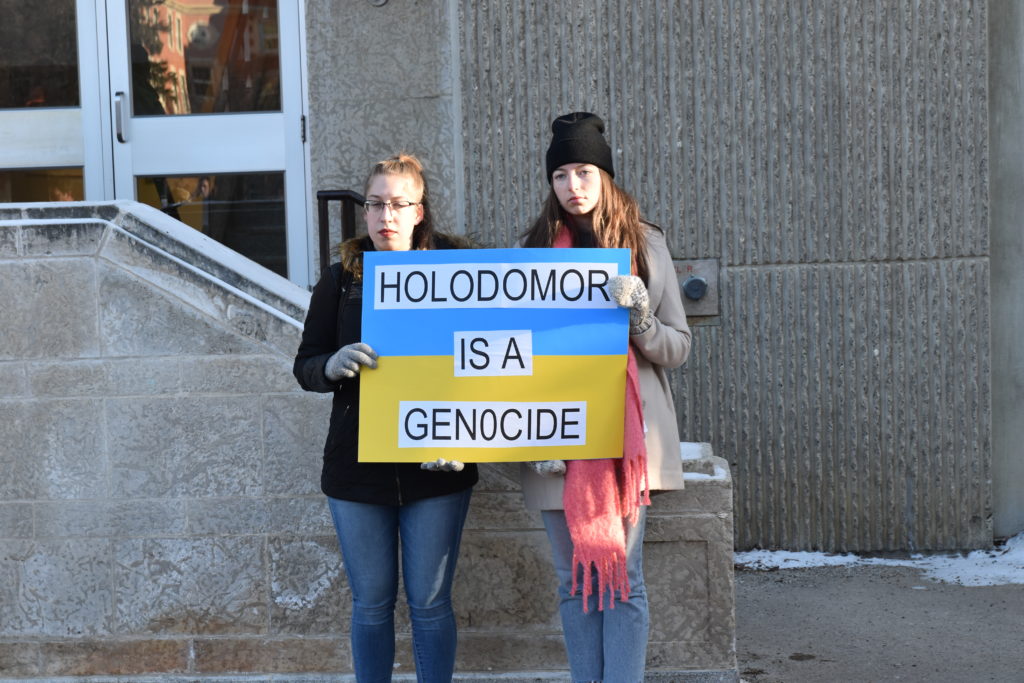 After the protest, Brownlee and Prichliak personally attempted to bring U of A President David Turpin the book The Red Famine by Anne Applebaum, which recounts the events of the Holodomor. Turpin however, was out of the office and the book was accepted on his behalf. Still, Brownlee and Prichliak hope the protest sent a clear message to the university.
"We hope that today had an impact on the university's decision and the university's view on this issue," Prichliak said.
Protest garners support from the community
Community members from various groups, including representatives from the Ukrainian Canadian Congress and the university's own Canadian Institute for Ukrainian Studies, also spoke at the protest.
Orysia Boychuk, President of the Ukrainian Canadian Congress Alberta Provincial Council, spoke about the strength of the Ukrainian community in Alberta. She pointed out that Edmonton was the first city in the world to build a public Holodomor monument and that city hall annually hosts an event commemorating Holodomor, which she emphasized was even more important in the face of MacDonald's comments.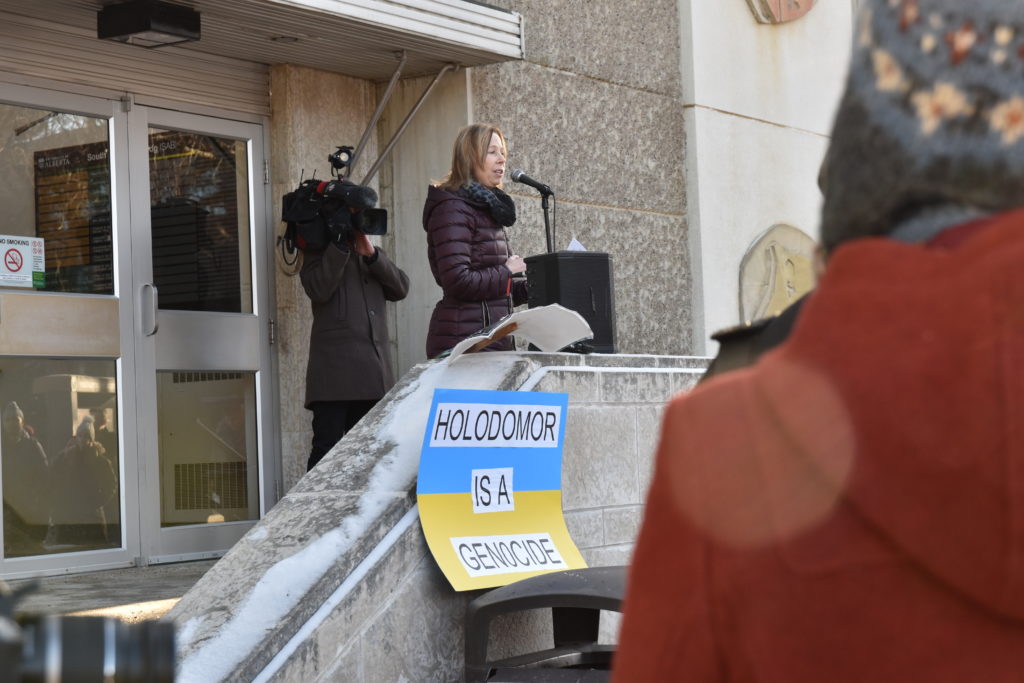 She also acknowledged free speech, but made it clear we cannot deny what is true.
"Everyone is entitled to their opinion, but facts are facts," she said.
Jars Balan, the director of the Canadian Institute for Ukrainian Studies, said there was "nothing new" about McDonald's comments.
"This was a long-standing strategy of the Soviet government to dismiss, to smear, to silence the Ukrainians who were critics of the Soviet regime, not only for the famine but its long history of oppression," he said.
Balan also mentioned that this was not McDonald's first time making such comments, referring back to previous posts on the online newsletter The Marxist-Leninist Weekly, where McDonald also claimed the Holodomor was a myth. Balan said the university's next steps should be figuring out if MacDonald has also used the classroom as a platform for "spewing his nonsense."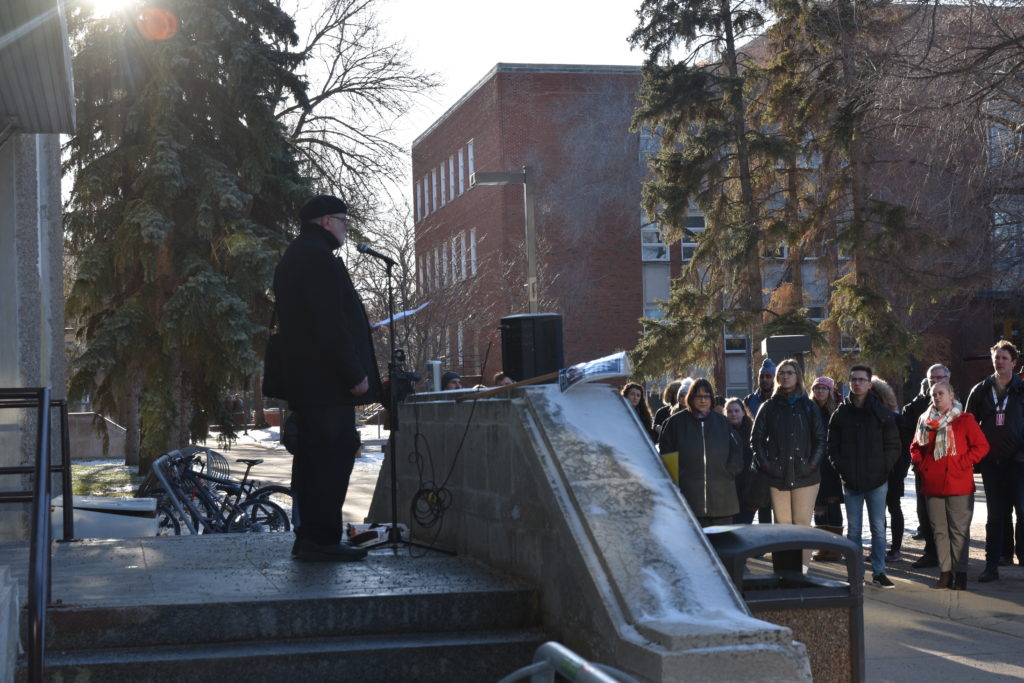 Balan said the application freedom of speech is a challenging one, but asked what the university risked by allowing these comments to be made by faculty.
"We want to preserve freedom of speech, but do we preserve it at the cost of the reputation of the University of Alberta, our academic standards, our reputation for scholarship?" he said.
Students' Union President Akanksha Bhatnagar stressed solidarity in the face of hate speech at the event.
"Although I'm not Ukrainian, I think it's more important now than ever for us to stand in solidarity with issues that are direct hateful attacks on groups and communities," she said.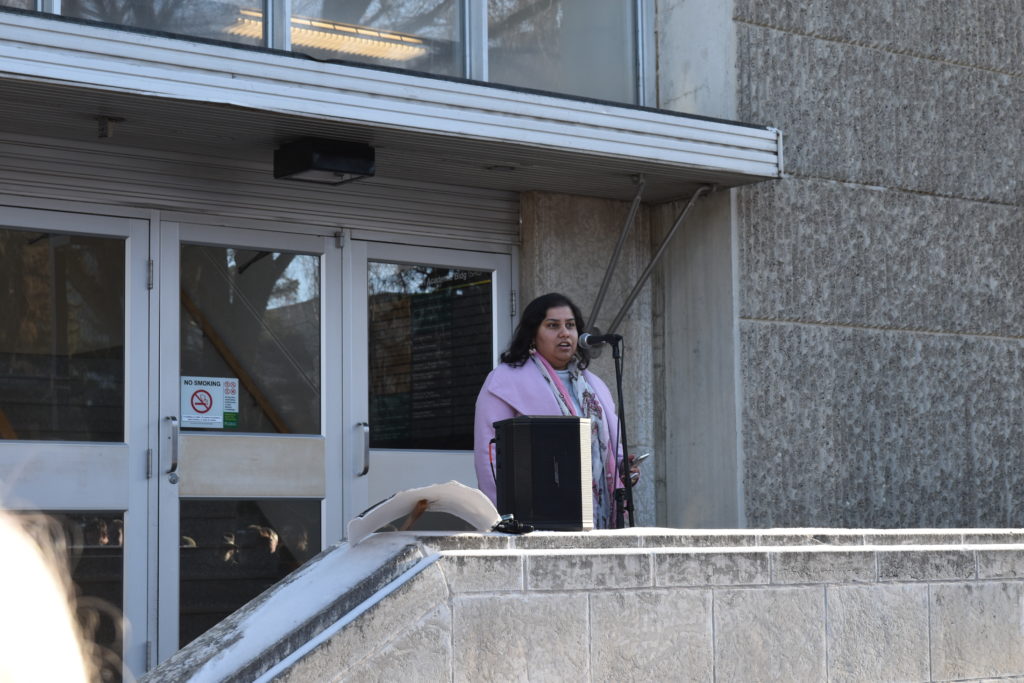 She said the Students' Union condemns MacDonald's denial of Holodomor, calls on him to take back his statements or resign, and stands with the Ukranian Students' Society in calling the university to condemn these remarks.
"I hope together that we have this conversation and continue to push our university to do what's right, not what's easy and condemn these remarks," Bhatnagar said.
"I was born there, I lived there, where was the professor?" said Holodomor survivor
Also in attendance was 89-year old Leo Korownyk, a Holodomor survivor who immigrated to Canada in 1949. Korownyk took the turnout to the protest as a sign that despite MacDonald's comments, the community acknowledges the Holodomor as a true event.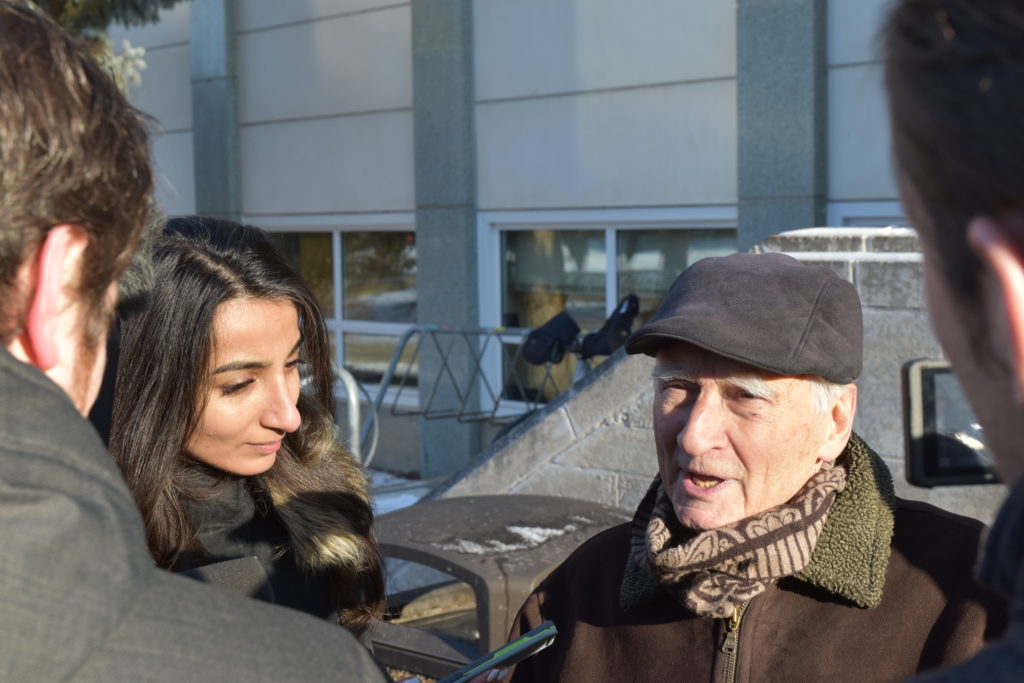 "If anybody says this is not true, look at all these people [that showed up], they know something about it and there's one person here who has lived through it," he said referring to himself.
In terms of MacDonald's comments, Korownyk said he has the lived experience to discredit those claims.
"I was born there, I lived there, where was the professor?" he asked. "You have to be factual and truthful and he is not."
"Some of my relatives starved to death, how can we let this man teach at our university and give the wrong facts? The university says it's a personal opinion — no, it's not a personal opinion."