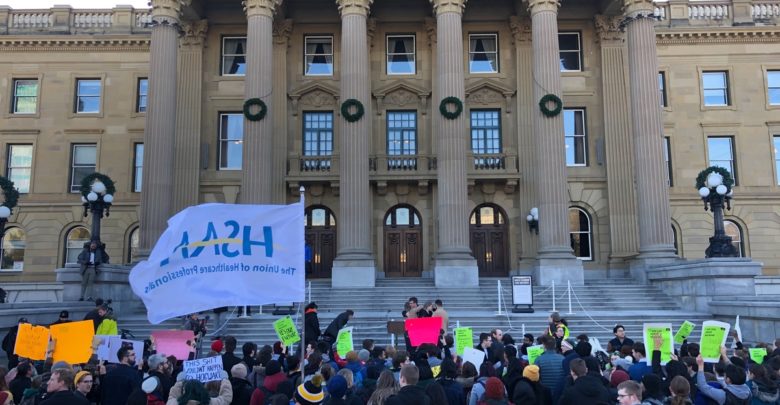 Politicians being out of touch with the people who elected them is nothing new. But it takes a special kind of denial to say that students are content with the provincial government's budget mere hours after a protest on the steps of the Legislature.
Shortly after a joint rally by the University of Alberta's Students' Union (UASU) and the Student Association of MacEwan University (SAMU) protesting the cuts to post-secondary education, Minister of Advanced Education Demetrios Nicolaides said that students "understand" why the cuts had to happen.
According to Nicolaides, he has been working with student organizations to make the changes go as smoothly as possible, and has sought opportunities to hear students' thoughts. Personally, I care less about what he says he's doing, and more about what he's actually doing. Students have good reasons to be anxious about the future, and based on the massive cuts made to post-secondary education, those reasons are being ignored. Getting a degree is treated as a necessity while being priced as a luxury, and our government doesn't seem to grasp how badly that screws students over.
Between 2009 and 2019, average tuition for a full-time student in Canada has risen by 26.9 per cent, easily outpacing inflation. Food insecurity is on the rise, and student debt, needless to say, has exploded. Measures like the tuition freeze and increased funding helped with these issues in Alberta for a few years, but that was then. Now, Albertan universities are going to receive less public funding and are free to raise tuition by up to seven per cent each year.
Universities are taking other measures to make up for the loss, like job cuts and department mergers that will impact their ability to function. But students will end up shouldering a fair amount of the burden. Advanced education is going to get even more expensive, driving more students into poverty and debt.
Meanwhile, post-secondary education is rapidly becoming the new high school diploma. Over 50 per cent of working-age Canadian adults now have some college or university qualifications, and more and more jobs require post-secondary education. This has been pointed out before, but we are not living in the same society we were 30 years ago. Getting an education is both prohibitively expensive and increasingly necessary for participation in the workforce. Budget cuts that will lead to tuition raises makes the situation even harder for students than it already is.
Maybe some students are alright with the budget cuts. Maybe. But to suggest that all students are fine with the current situation, especially in light of the protests and widespread backlash, is to deny reality. Minister Nicolaides approved the budget cuts and is seemingly ignoring any disagreement with that decision, demonstrating a lack of consideration for the opinions of students. If he is listening to us as much as he says he is, he must acknowledge that many of us have good reasons to disagree with him — or at least be honest enough to admit that those reasons do not matter to our leaders.