Arts & Culture
Lifestyle
Eating Edmonton: Ohana Donuterie
Ohana Dounterie pumps out good Make-It-Yourself gourmet donuts, but it's a tad expensive.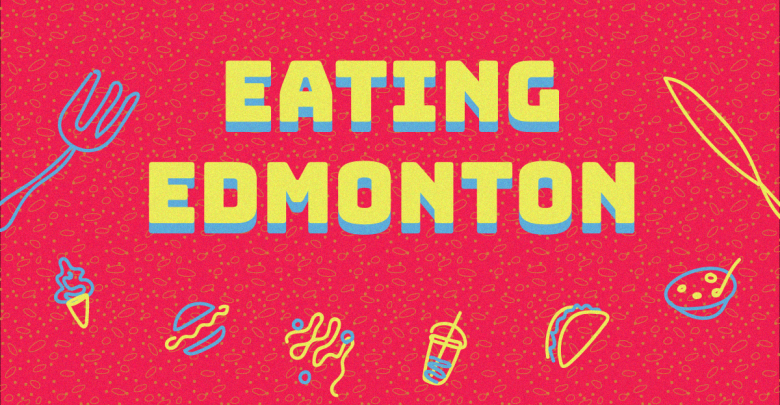 Like the frozen yogurt trend that passed before (RIP Tutti Frutti on Whyte), gourmet donuts seems to the latest dessert craze capturing our hearts and taste buds. From Donut Party to Moonshine donuts, the concept of donuts has long surpassed a basic Boston cream from Tim Hortons.
Jumping on this trend, I decided to visit Ohana Donuterie, a shop I had only heard whispers about. Maybe this is because it's tucked into a little corner off Gateway Boulevard, facing the Mcdonald's. It wasn't the easiest location to find, but it's definitely one of the cuter locations in the city.
As you can guess from the name, the donuterie is Hawaiian themed, furnished with light blue and white furniture, lots of wood, and various pictures of Hawaii landscape and culture on the walls. There is also a window into the kitchen, allowing those paranoid about chefs spitting in their food to watch their donuts being prepared.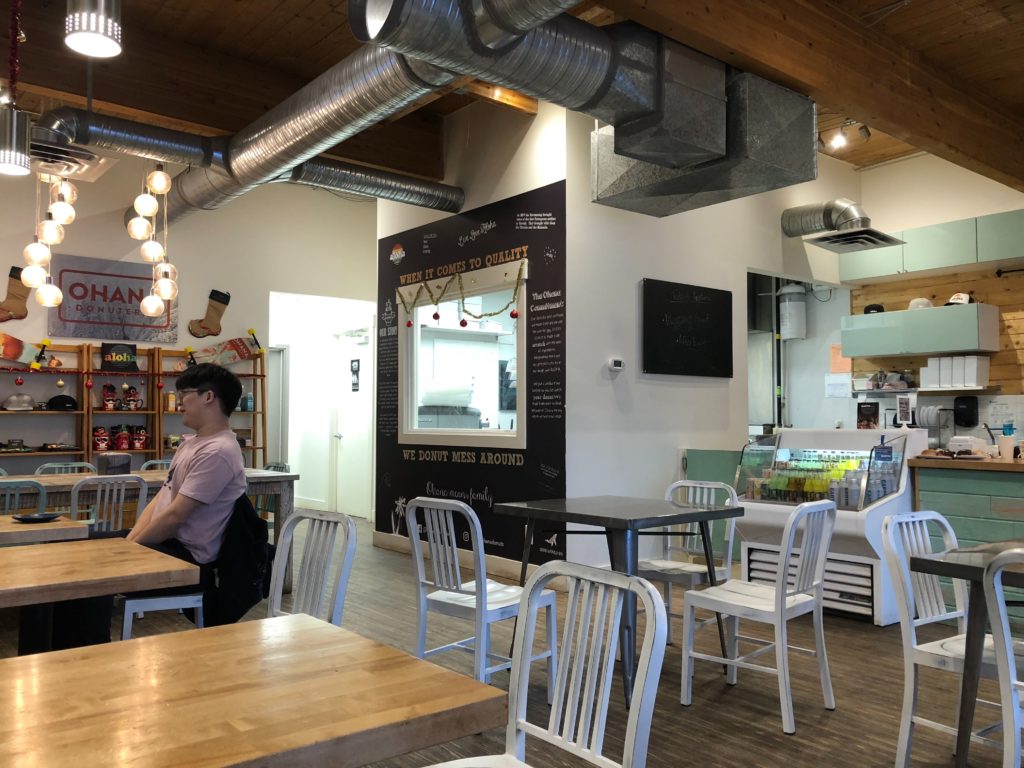 Ohana Donuterie is actually quite different from the other gourmet donut spots in the city. Instead of showing off how they can blend ingredients to make donut combinations beyond your imagination, you actually make your own donuts. You're given a choice between the icing and then the cream or custard you want to fill your donut with. It's a small choice between chocolate, vanilla, or cinnamon sugar topping and then vanilla, chocolate, or coconut cream or custard. There are also certain specialty donuts and when I was there, they were offering eggnog and After Eight-inspired donuts. Alongside donuts, this spot also offers a comprehensive coffee menu and Hawaiian-style hot dogs.
As a mint chocolate lover, I decided to try the After Eight donut accompanied by a caramel latte. My companion decided on a chocolate-topped vanilla custard donut and their signature macadamia macchiato.
After Eight donut with caramel latte and vanilla-filled, chocolate iced donut with macadamia macchiato.
The donuts were definitely on the breadier side, which I actually enjoyed, and the dough wasn't that sweet, reminding me of an elephant ear. However, the chocolate icing was sweet and decadent, balancing out the donut. Honestly, the donuts were just a vessel for the real star of the show: the custard. The roundness of these donuts seems to come from the fact that they are literally filled to the brim with custard. It was like eating a dough bag full of custard, which is a pleasant experience if you're into custard, but can definitely be overwhelming if not.
The vanilla custard was pretty good, carrying a very light vanilla taste that was pleasant. The After Eight donut had a mint custard which was also good but overpowering, strong enough to leave my breath minty fresh.
In terms of the coffee, the caramel latte was good, but nothing special. The coffee was pretty strong and the milk was pretty frothy, but I didn't taste the caramel until I got to the end of the cup. Unfortunately, my companion felt the same way about the signature macadamia macchiato, saying it tasted more like a regular latte than macadamia nuts. In the end, it's not a cafe, but, charging Starbucks-like prices, I'll probably pass on the coffee next time.
Ohana Dounterie pumps out some good donuts and offers a unique take on this current culture of gourmet donuts. With a small build-your-own donut menu, I think this is the spot for those who love classic flavours, but want an elevated experience. It's clear Ohana uses quality ingredients and, judging by the way they filled those donuts, they definitely care about giving you a bang for your buck.