Institutional
News
Research
Coming full circle: New dean of science returns to her academic roots
The new dean of science never attended the U of A but feels connected to the university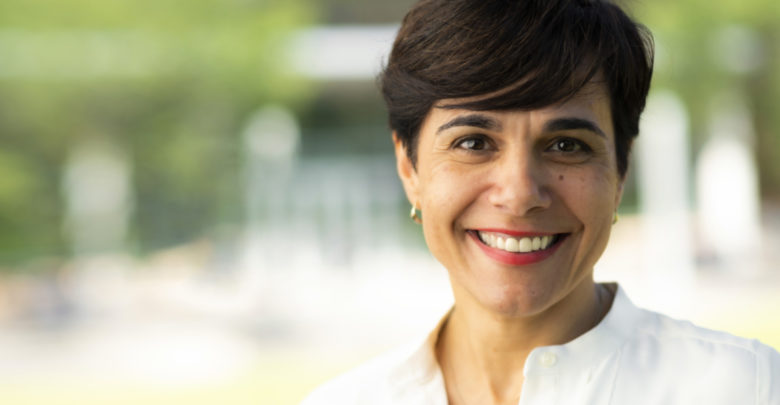 The appointment of Edmonton-born Matina Kalcounis-Rueppell as dean of science marks, for her, an academic life come "full circle."
Since July 1, 2019 Kalcounis-Rueppell has been serving as the new dean for the faculty of science — the very faculty that trained her doctoral supervisor, who in turn, helped launched her academic career. Despite never having attended school at the University of Alberta, Kalcounis-Rueppell says she feels at home here, and wants to ensure she's passing on the same opportunities she had, to the next generation of scientists.
Kalcounis-Rueppell completed her doctorate at the University of Western Ontario under the mentorship of animal ecologist, John Millar, who had completed his doctorate at the U of A, the same year she was born in Edmonton.
"In a way, I almost have the U of A to thank for getting me to where I am," Kalcounis-Rueppell said. "And now I'm back full circle."
When Kalcounis-Rueppell first began her undergraduate studies at the University of Regina, she originally had her sights set on becoming a physician. At the time, it was the only career option she could envision for those with a love for biology.
But after a handful of animal behaviour courses, and later joining a bat research lab as an undergraduate researcher, she knew medicine was never where her heart was.
"One reason students come to the sciences is that there's something inherently interesting about asking questions, solving problems, and discovering," Kalcounis-Rueppell said. "But many students don't know what all the career options are for them."
Her undergraduate thesis evolved into a master's degree studying brown bat habitats and communication, then into doctoral work on pair bonding and parental behaviour in California mice. Kalcounis-Rueppell has never turned back since.
Now as dean of science, she hopes to create a similar space of possibility and exploration for new and current undergraduate students. Part of which involves building on the "world-leading" research and experiential education in the faculty – two things she believes goes hand in hand.
"The reason why we have remarkable educational and learning opportunities for our students is that we have remarkable scientists that are teaching our classes and running research labs students participate in," Kalcounis-Rueppell said.
"Undergraduate research and other experiences like internships open up all different kinds of careers a scientist can pursue. If you're not exposed to those possibilities, how can you know about them?"
But building mentorship and community between experts and trainees doesn't just end at the faculty level for Kalcounis-Rueppell. Amidst declining scientific literacy and a growing mistrust of science in the public, the new dean says issues of communication and diversity are more crucial than ever.
Part of tackling the problem begins with community engagement, ranging from faculty-run summer camps for kids, to outreach using social media, online articles, and the faculty magazine Science Contours.
"We want to let people know what it's like to study and work here," Kalcounis-Rueppell said. "Part of that is telling authentic stories from the faculty. Letting others know not only about the amazing science that happens here, but also the scientists and students doing it."
Another part of the equation lies in hiring and student recruitment, using inclusive practices and language that encourages women and other underrepresented groups in science, technology, engineering, and mathematic (STEM) disciplines to apply.
"We want people to think, 'I would belong in that university, I would belong in that faculty,'" Kalcounis-Rueppell said. "I want everyone to know that this is a place where they are welcome."
Because at the end of the day, Kalcounis-Rueppell says that advancing basic research takes a community of scientists.
"It's really important for science that everyone has the opportunity to join, because it's all those minds together that will move us forward," she said. "Frontiers will be discovered and boundaries pushed only when we leverage everyone's strengths towards solving major problems – professors, students, and all."