Campus Life
News
Five U of A students honour legacy of women murdered at Ècole polytechnique in 1989
The five masters program students rallied together to create what they hope is a better and more inclusive memorial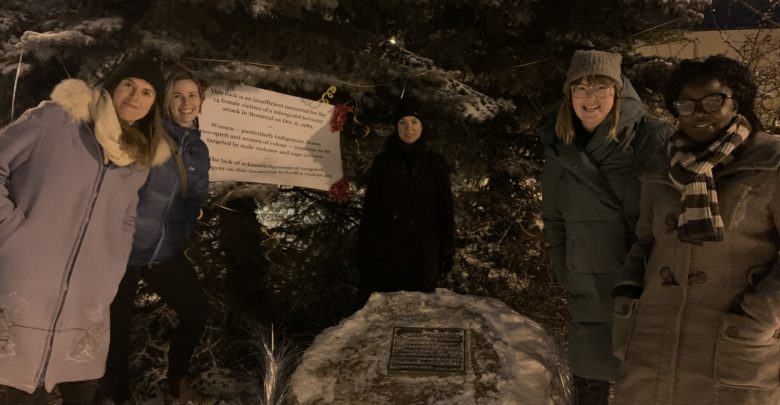 A temporary installation set-up by University of Alberta students hopes to bring awareness and "justice" to women killed in the Montreal massacre and others targeted by gender violence.
December 6, 2019 marks the 30-year anniversary of the Ècole polytechnique massacre, where 14 women murdered and a further fourteen people were injured by a lone male gunman, including 10 women and four men. The shooter deliberately targeted women as he said he was fighting against feminism.
University of Alberta students Erin O'Neil, M-A Murphy, Karen Murison, Ameley Quaye, and Kiera Keglowitsch decided to create a counter-memorial which they hope better honours the victims who died in Montreal and those who continue to perish or suffer because of gender violence.
The five students set-up the counter-memorial installation late in the evening on December 5 so students arriving early the following would see it right away.
The group of U of A gender and social justice masters degree program participants explained that they received a tour of campus from their professors at the start of their academic studies. Along the way, they stopped and acknowledged different sites and historical places for women and minorities.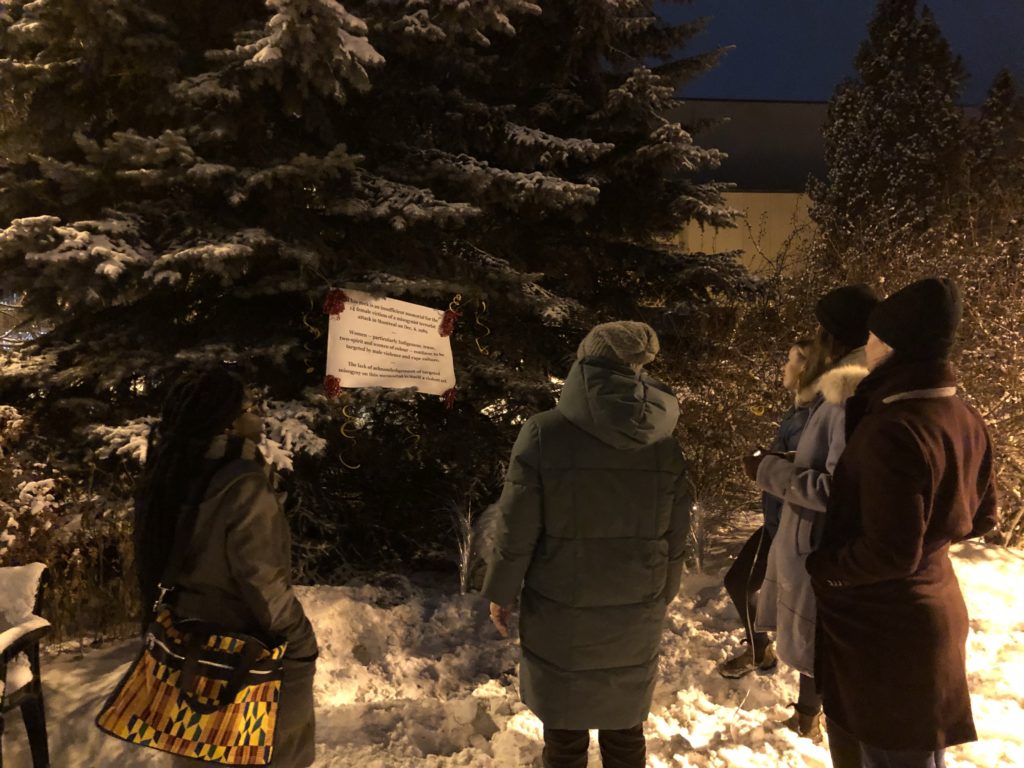 Murison said she remembered feeling "underwhelmed" when she saw the U of A's memorial for the Montreal massacre, especially since the plaque made no mention of the women who were killed.
"It's just a plaque on a rock," she said. "It doesn't really say anything about what really happened. In particular, it doesn't say anything about the people that were killed, [that they] were women and they were directly targeted for being feminists."
"It's time to be honest about what things are," Murison said. "We decided to make this counter-memorial to have people think about what they are seeing and what they aren't seeing about stories today."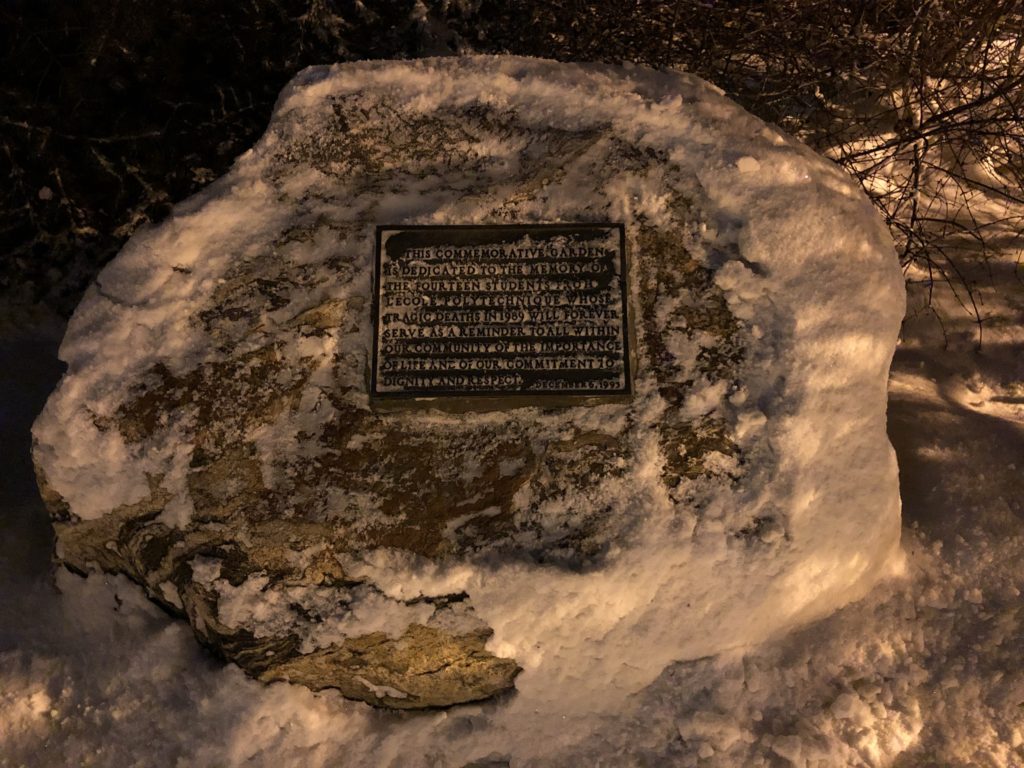 That is why the group came up with an alternative wording to what is on the plaque and hung it above on a large poster, Murison said. On the poster, the group wrote that the existing plaque is "an insufficient memorial" for the 14 women who were victims of a misogynist terrorist.
O'Neil said the inclusion of Indigenous, trans, two spirit, and women of colour is also significant because it recognizes the full spectrum of harm done in Montreal and around the world.
She shared how in Montreal, the memorial at the Ècole polytechnique has recently been updated to draw attention to the fact that the attack was primarily driven by misogyny. O'Neil hopes the same can be done at the U of A.
The group said they planned to create a counter-memorial for months now as a way to develop awareness for what happened in Montreal, and for what continues to happen to so many women.
"So many people walk past here and they may never even know that there is something that is supposed to acknowledge the fact that some specific women were targeted and killed just because they were women and engineers," Quaye said.
"I came here, and saw how little was actually done for them and their memory here at the U of A," she added. "It is quite bizarre when you think about it. I just decided to became part of this group to recognize the fact that I am a woman and that people have put their lives on their line to gain freedom."
For Quaye, the counter-memorial helps to acknowledge the sacrifices of all women around the world to allow her to be where she is now.
"If those people have sacrificed, it is time to acknowledge them," she said. "Even in some small way, like we are doing now."