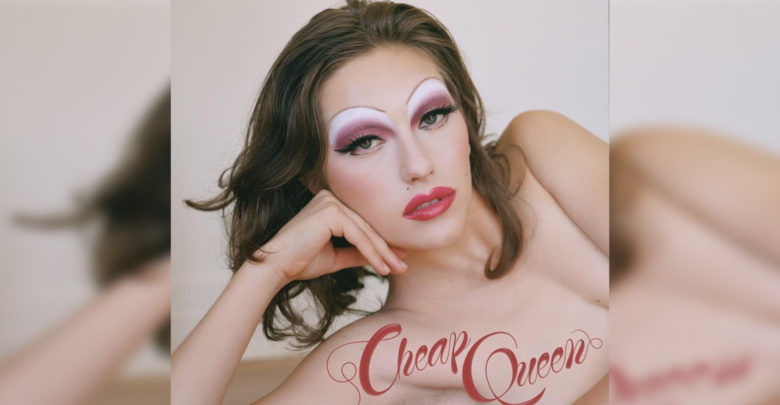 Mikaela Straus, better known as her persona King Princess, oozes confidence, humour, and unabashed queer sex appeal. Gaining immense traction with her queer pop anthem 1950, King Princess has been keeping her fans entertained and wanting more for the better part of a year, as she actively teased a full length album. With bold, sexual, and upbeat singles like Pussy is God and Hit the Back, fans might have expected an album of this flavor and style.
However, Straus's first full length album, Cheap Queen, defies this expectation entirely. Cheap Queen is ballad-heavy, nostalgic, emotional, and raw. The album is also jazz-influenced and technical, but still somehow manages to be an unapologetically dreamy pop album.
The songs on Cheap Queen were written chronologically, and the album structure reflects this. Straus takes her listeners on an emotional journey. In a world where pop music is still very much about boys and girls falling in and out of love, Straus explores the complex paradigms and grey areas of these feelings. Love and hate are two sides of the same coin in Cheap Queen. Straus falls out of love, oscillates between nostalgic and warm feelings towards her ex-girlfriend and the pain of heartbreak, explores sexuality with someone new, and eventually she falls in love again. Cheap Queen is a diary that Straus has shared with the listener — it is intimate, revealing, yet somehow only 38 minutes long.
Straus's sultry and contra-alto vocals manage to be the perfect vehicle for songs of a variety of moods within the album. From the 90's-rock simplicity of "Ain't Together," to the queer pop tonality of "Cheap Queen," to the heartbreaking waltz sound of "Homegirl," to the diva ballad stylism of "Isabel's Moment," Straus's voice resonates messages that seem so personal to her that I almost feel like I wasn't supposed to hear them.
The last three songs of the album are incredibly interesting to take into consideration in the album chronology. The song "You Destroyed My Heart" sounds like a revelation — that Straus is ready for something new, that she is accepting the reality that she was hurt and it is okay to demand better. Quite hilariously, the next song is Hit the Back (a song that Straus refers to as a 'bottom anthem'), one centred around sex, lust, and is a bonafide dance hit. The album ends on a note of hope with "If You Think It's Love", wherein Straus realizes she's fallen in love again.
Cheap Queen encapsulates so much of Straus's experiences as a young queer person falling into and out of love in our modern era. King Princess is just at the beginning of their career, and I'm excited to see where she'll go with her music in the future. I may or may not have spoken to exes because of this album and I'm sure I'm not the only one.