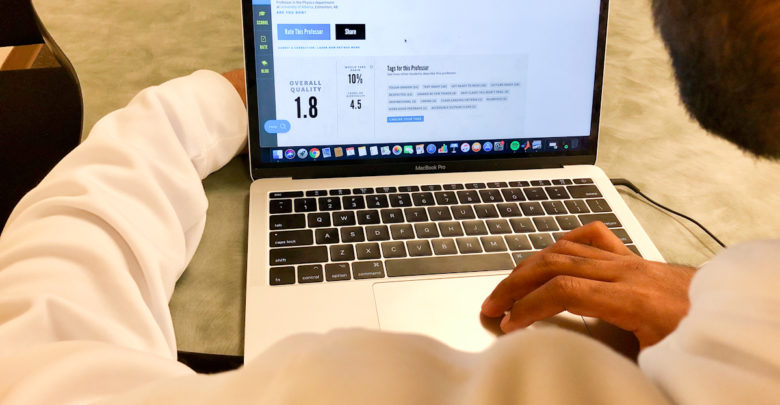 There is one great uniting force that I can say with absolute certainty brings university students together in solidarity. It is a ubiquitous tool, one that rewards and punishes, and holds those in academia accountable (well, to the degree we feasibly can outside of university administrations); it is the only good example of a modern information sharing economy.
I'm talking about Rate My Professor. This website allows students to rate their experiences taking classes with professors in classes, in order to welcome or warn students interested in taking that lecturer's classes in the future.
Founded in 1999, this bastion of knowledge has been helping fill certain lecture halls and prompting students to avoid particular university professors entirely. In this edition of Top 5, we look at some of the best University of Alberta Rate My Professor reviews (anonymized).
---
Less is more
This review was written about a professor in the economics department in an intro level class. Sometimes, that's all you really need to know — respected, hilarious, and lit. Succinct. No frills. It's what the people want to hear, and probably tolerable in a 9:30 a.m. lecture when relatively hungover after another bender post-dodgeball at Duke's.
Is he cute, or does he just give me really good grades in comparison to my peers and unwittingly enable my deep-seated need for validation and superiority?
This review was literally the only positive review in a sea of negative reviews — notice how 65 people didn't find this useful. I guess class can be easier and more tolerable if you can't stop looking at the person up at the front.
That reminds me — bring back the chilli pepper!!! Some students have other incentives than just a love of learning, and if I want to take a class with a particularly attractive lecturer that also gets good class ratings, then I should be able to spend my thousands of dollars on that.
---
This attempt at what I can only assume is a hex or curse
This particular review was written in 2005 for a professor in the political science department who teaches to this day. The lack of any distinguishing information in the review is haunting. The review itself reads like "He teaches, who would ever know — because I'm literally about to curse this man out of the corporeal realm and banish him into a special place in Hell using some new-age technological black magic." I am both scared and perplexed. Help me?
---
A tale of three reviews with the same chaotic and relatable energy
The first two reviews are from professors in the engineering faculty, and the third is a review for a professor in the agricultural life sciences department. Godspeed. I'll let these speak for themselves.
---
The U of A has some shining stars professors, and we should really be thankful for that!

Although many of the reviews highlighted are negative, I would be remiss to not end this article without acknowledging the tremendous talent, passion, and knowledge that so many of the professors at this university have for their field (regardless of whether that translates to them being a great lecturer). This review has chaotic good energy — full homo. Sometimes our teachers are the gateway to our learning! If it wasn't for Dr. Harvey Krahn's SOC 100 class in my first semester of first year, I would never have known how the discipline was exactly everything I wanted to learn and more. Shoutout to Harv.
---
Rate My Prof is a great tool, but obviously doesn't cover the nuance and complexity of different styles of teaching and more importantly learning. That being said, the platform's cautionary tales have saved many from certain GPA doom. I know I have been, and I sincerely thank those who have stepped in the metaphysical minefields in years above me have been able to use this platform to warn me.