International
Opinion
The Bon Appétit Test Kitchen is an inspiring comfort for all
In the era of Youtube, the B.A. Test Kitchen provides a fresh take on the classic cooking show.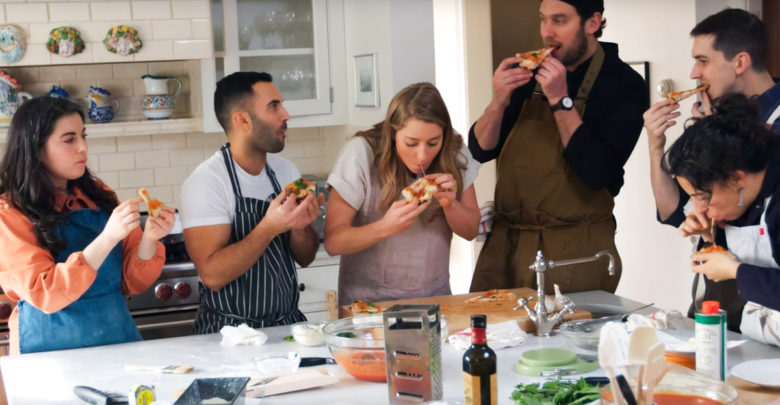 Everybody has a comfort activity that they indulge in when they're feeling anxious or sad. Mine is cooking. I'm not talking about a big pot of Kraft Dinner; I'm talking about hand-pulled noodles with homemade chili oil, olive-oil poached fish with blistered cherry tomato jam and caramelized leeks, and butter-basted steak with mandolined brussel sprouts cooked off in beer and butter (yes, my roommates are blessed).
Imagine: an informative and entertaining video series about cooking good food (that isn't just putting a metric tonne of cheese on something… I'm talking to you, Tasty) which features a zany cast of funny and charming people with unique personalities.
Enter the Bon Appétit Test Kitchen.
Known most notably for their series "It's Alive!" and "Pastry Chef Makes Gourmet ______," Bon Appétit's YouTube channel is ever-growing in popularity. Sitting at nearly 4.6 million subscribers, the channel is home to informative cooking instructional videos, cooking challenges, and advice videos. Something incredibly unique about the style of BA Test Kitchen videos are the colourful chefs and series hosts — think everything you love about Parks and Recreation and add mouthwatering food.
Bon Appétit has a uniquely believable and down to earth vibe, in stark juxtaposition to a lot of the other outlandish food-centric Youtube channels. This makes you connect with and appreciate the people starring in the videos. This expansive cast includes but is not limited to: the goofy tall dad Brad Leone, the super-taster and detail oriented Chris Morroco, the perpetually stressed and unbelievably talented Claire Saffitz, and Carla Lalli-Music— who I think you want to have as a mom, but also date in your early-to-mid twenties (she was the first general manager of Shake Shack; how cool is that?).
There's a difference between cooking to live and living to cook, and the BA Test Kitchen inspires people every day to love how they're cooking and what they're cooking. I could listen to Brad talk about how crushing garlic releases allicin all day, and Claire's mantra that 'dough can sense fear' has been ingrained in me like scripture. Cooking is cool and these people have made it impossible to believe otherwise.
Food brings people together in a way nothing else can. I've fallen in love over a matcha ice cream cone, engaged in fights over family dinner, and received life-changing news over a plate of Denny's pancakes. In the words of the popularized slogan from the movie Ratatouille, anybody can cook! The BA Test Kitchen celebrates the immense importance of good food in our culture by bringing it to the zeitgeist in an accessible way. That's something I can get behind— bon appétit.