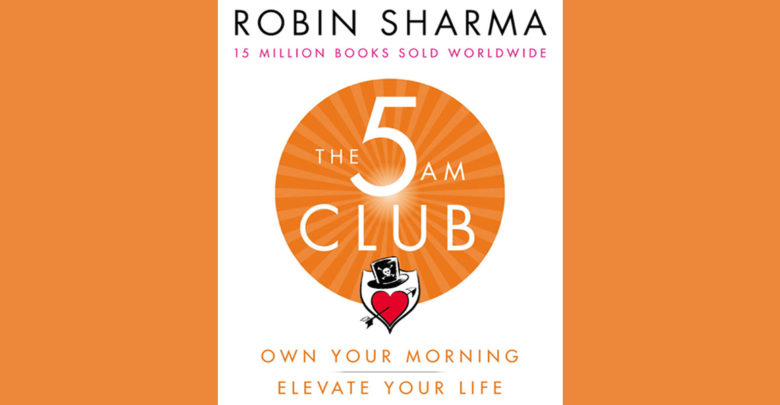 The 5AM Club has clawed its way into my mind and refuses to leave.
Robin Sharma's The 5AM Club is essentially self-help fan-fiction. The novel starts with a female entrepreneur attending a self-help conference where a famous "Spellbinder" collapses partway through his session and almost everyone leaves. The entrepreneur and her seat buddy are accosted by a homeless man who turns out to be a billionaire. He offers to teach them what the Spellbinder taught him — free of charge on his beautiful private island, and it's all paid for. This is about five chapters in, and I had to google if the story was real or not — it's not.
Since chapter five, the billionaire hints about the 20/20/20 rule, which dictates the way we should spend the precious hour between five and six am. It isn't until chapter 13 that the reader finds out what it is. The rule is simple — spend 20 minutes doing some physical activities, 20 minutes doing something introspective (like meditating or journaling) and the last 20 minutes should be spent growing as a person (which could be reading a book, watching an educational video or listening to an educational podcast). This is actually a good idea of how to spend an hour.
Chapter 15 and 16 are a summary of everything in the book — basically what I was expecting the entire book to be. If the author had written all of the steps and ideas without a frame story, it would probably be closer to the size of a pamphlet instead of a book.
I don't think there is anything too special about this book compared to other self-help books. It's all the same general knowledge like have a morning routine, and getting up at 5 a.m. gives you extra time for yourself. As someone who gets up at 5:30 a.m. everyday, I nod to certain parts of the story. Most people aren't up, so you don't need to check your emails or get back to people yet. The book does have good points, even if they're little cheesy like "we are all special" and "there never has nor ever will be someone like you with your experiences and gifts."
Overall, the book was filled with a pointless, infuriating and unrealistic story. I found myself wondering why the author did not interview anyone who is successful because they wake up at 5 a.m. Instead, Robin Sharma wrote a lavish production whose kernels of wisdom are boiled down in two chapters at the end. I enjoy reading fiction and I enjoy self-help books, but the 5am Club is the worst combination of both.