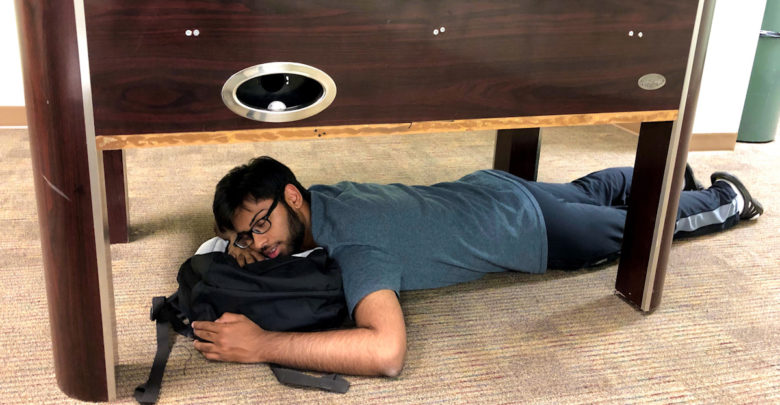 Problem: Between four hours at university, five hours at work, and one hour using the transit system, you only have 14 hours to your lonesome. Now, you can spend some of that studying, but you have to sleep sometime. How are you going to fit eight hours into your already packed schedule?
The answer is simple. For the low, low price of your midday class gap, you too can pass out on campus and get precious hours towards a healthy sleep. The only question left is where to do it. Where is the best place to take a nap on campus? Such a question deserves an incredible answer or, the equivalent exchange, five mediocre answers.
Ranking of prime napping real-estate will be divided into the following four categories: comfort, or how nice the bedding is; privacy, the amount of people around you; noise, the noise they make; and cool factor, for that inexplicable charm.
---
SUB Quiet Room
Napping is what this room was made for, of course it's gonna be top of the list. While the couches can be a bit short, they're more than comfortable enough to fall asleep on. You'd be hard pressed to find a quieter public room on campus. But where's the cool factor? Nowhere, that's where. You're SUPPOSED to sleep here. That's just not cool enough for this tier list.
Comfort: 10, you can't get more comfortable than a couch on campus.
Privacy: 6, there are people all around you but they generally keep to themselves.
Noise: 10, if the floor wasn't carpet you could hear a pin drop.
Cool Factor: 0, see above.
---
Rutherford South 4th/5th floor
The whole fourth and fifth floor are by no means napping hotspots, it's just the couches in the stairwell and the chairs in the library. For sleeping in the library, here's a hot tip: the multicolored chairs have uneven armrests, which makes getting comfortable a pain. Avoid them.
Comfort: 8, real cushions are always comfy.
Privacy: 4, expect company.
Noise: 6, for a library, people are oddly loud.
Cool Factor: 3, sleeping in a library is probably the best way to flex on nerds, but flexing on nerds is so last century.
---
Study rooms
Study rooms are the best way to guarantee that you get the cream of the privacy and noise levels crop. You have the place booked, so no one's going to disturb you. The problem then is what will you sleep on? You can lay down on the ground but that's just plain dirty. Some study rooms have couches, so try to scout out your prospective napping location before making the reservation.
Comfort: 3, chances are you're stuck with the floor.
Privacy: 10, you're a landowner for as long as the booking lasts, at least kinda.
Noise: 8, the walls stop sound adequately.
Cool Factor: 0, sure you're not supposed to sleep here and it's cool to break rules, but if no one sees you break the rule are you really cool for doing it?
---
SUB/CAB bean bag chairs
While SUB has more natural light, it's usually also more crowded. CAB's central location makes it an ideal napping spot; getting to your next class takes less time than if you had to slog all the way from SUB. There are also couches just outside the bookstore in the SUB basement which provide a more than adequate napping locale.
Comfort: 10, couches and bean bags were made for this.
Privacy: 0, you're out in the open here, sleep with one eye open.
Noise: 0, if noise is a problem then this is not the location for you.
Cool Factor: 0-8, you're going to be on display if you sleep here, so if you look really good while you sleep this place is an excellent spot to flaunt it a little. If you drool or something maybe look for somewhere else.
---
Tory Rafters
Step 1: Find a way into Tory 2-05.
Step 2: Go to the back of the room and remove the opening window from its hinges to allow free movement.
Step 3: Carefully maneuver out of the window into the ladder cage on the wall directly to your right. This might be a little tough, but the key is to use the rafters beneath the ladder as a foothold before gently easing your full body into the ladder cage.
Step 4: Climb the ladder. At the top you should find a ledge just beneath the glass ceiling. This is where your napping will take place.
A rookie mistake in napping here is trying to lie out of sight. The point of napping here is flex on those unenlightened plebs below you who are too uptight to perform complex parkour in order to find the ultimate napping location.
Comfort: 0, you're sleeping on concrete, I don't know what you expected.
Privacy: 0, you're not directly near any foot traffic but things are gonna get busy once the admin calls the police.
Noise: 0, again the sound of the sirens is really liable to ruin your nap, make sure to bring noise canceling headphones.
Cool Factor: Like, a billion.