Arts & Culture
Campus & City
Rousing the Multitude: A review of the CSSA's "Live House" event
The Chinese Students and Scholars Association (CSSA) held a concert to welcome new students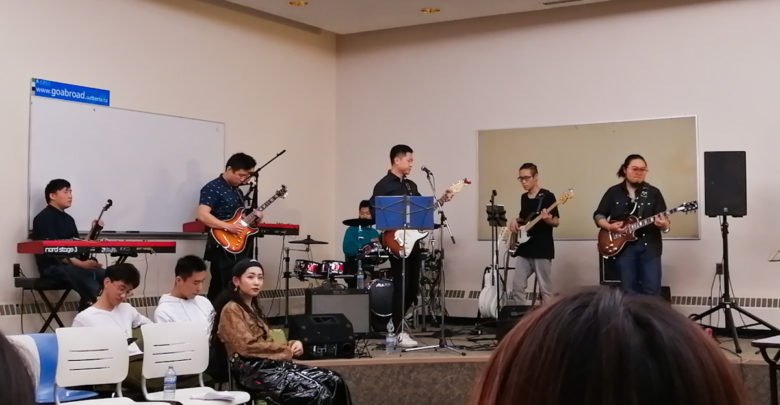 What: Unplugged Music Festival (暮夏迎新Unplugged音乐节)
When: September 8, 2019 at 6 pm
Where: Room 2 – 103, North Education Building
Performers: Various, featuring the Mogo Band (Mogo乐队)
Composers: Various
A free concert to welcome new students, advertised as the " Unplugged Music Festival" (暮夏迎新Unplugged音乐节), took place at the Education North Building. Organized by China Summer and the Chinese Students and Scholars Association (CSSA), the event was described as a "live house" (an event without backing tracks and a program) where audiences can experience the "true relationship" between the human voice and instruments.
The organizers kept true to their words. The room was decorated with pale balloons and coloured lights positioned in the four corners of the space, casting a wide spectrum of vibrant hues on the performers. Between the musical acts were games involving the audience which offered the winners a chance to experience what it's like being a lead singer of a band. More than anything, audience members felt like they were at a party like the ones described by F. Scott Fitzgerald, but watered down to suit the morals of the university.
The music performed consisted largely of popular Chinese songs, which were perhaps more familiar to new students from China. They were rendered, or covered by, ensembles (such as the Mogo Band) and solo performers. One could tell that much effort and dedication was put into the rehearsal process. For instance, the Mogo Band played without sheet music, and at one point, they played a ritardando ⁠— slowing down ⁠— at the end of a song. This was fantastically synchronized, something that even professional musicians in orchestras with conductors find hard to do. Unfortunately, there were moments where the electric and percussion instruments almost obscured the lead singer and caused listeners' ears some grief.
A highlight from the concert was a rendition of a non-Chinese song ⁠— "Scarborough Fair" ⁠— performed by two male voices. Singing together in perfect two-part harmony with great articulation, the purity of their voices was magnificent. I felt as if I was standing in a Gothic cathedral, beholding the sights of the sublime stone masonry, the sweet scent of incense, and the solemn sound of plainchant.
Everyone who left the event felt as if they were at a party. Having had their morale boosted and their joie de vivre enriched, they left the North Education Building in the cooling rain ready to go home, go to bed, and to head to class the next day just a little more sure-footed than before.