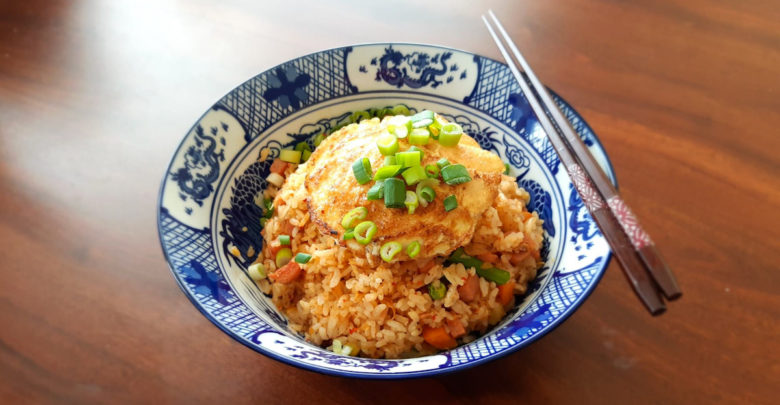 In our ongoing series Lunch Break, our food writers reveal their secret recipes for surviving university.
---
What: Kimchi Fried Rice
Prep Time: Approx. 5 mins
Cook Time: Approx. 15 mins
Feeds: One person
Level: Student
---
If you only know how to make instant ramen, this recipe is for you.
University has officially started, and some of us are deciding whether ketchup goes better with rice or ramen. Hopefully with this recipe, you'll never have to make that decision again (it's rice, by the way).
In today's recipe, I'll be showing you how to tackle one of the golden recipes of student cooking: fried rice. Fried rice can be as simple or as complicated as you want it to be; it's 100 per cent customizable. For today's fried rice recipe, I'm going to be using kimchi, frozen veggies, and spam as add-ins.
For those of you that aren't familiar with my all-time favourite side-dish kimchi, it's basically a spicy Korean staple that involves fermented cabbage with a variety of aromatics. Kimchi is so versatile because it goes well with LITERALLY ANYTHING. Kimchi and ramen? BOOM. Five star meal right there. Whatever you're cooking up, kimchi will make it 100 times better.
Now some of you might be asking: why spam? And my answer is: why not? Just ignore the fact that spam is loaded with enough sodium to skyrocket your blood pressure and you should be fine.
Shopping List:
Optional add-ins:
Spam
Frozen vegetables
Anything else you'd like to add
Directions:
Cook rice. I shouldn't need to teach you this.
Cut the kimchi and spam into small pieces.
Stir fry the kimchi, spam and frozen veggies with a bit of cooking oil.
Move the ingredients to one side of the pan.
Use the other side of the pan to scramble some eggs. Don't burn it.
Throw some rice in. Mix, mix, mix.
Season: Use 1:1 ratio of salt to sugar. Soy sauce can be used in place of salt.
*NOTE: If you opt for spam, DON'T ADD SALT (unless you want to max out your blood pressure).
Done!
Not only is this recipe delicious and filling, it's also time efficient! With practice, you can whip up a plate in less than 10 minutes. If you're feeling fancy, a fried-egg (pictured above) is a great topping and perfect for an extra boost of protein. Combinations are endless with a simple recipe like this. Get creative and get cooking!