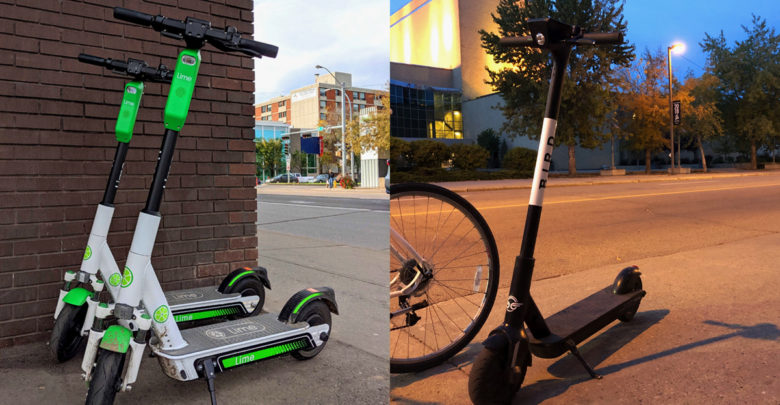 E-scooters launched in Edmonton on August 16, and have exploded in popularity since. Excited by the prospect of never waiting for the #4 bus again, I started scooting on day one.
There are currently two competing companies offering e-scooter rentals in Edmonton: Bird and Lime. Their systems are essentially identical: Using an app, you can unlock scooters found around the city. Bird charges $1.15 to unlock the scooter and $0.35 per minute thereafter, while Lime charges $1 and $0.30 respectively. Both scooters travel up to 20 kilometres per hour and have similar features.
I found Lime scooters more reliable than Bird. Bird scooters that the app listed as available frequently failed to unlock entirely. One Bird scooter randomly locked as I was riding it at full speed, causing it to suddenly brake and set off an alarm. A message I sent to Bird support about the experience received a generic canned response. Not exactly confidence-inspiring! Scooters don't display when they've been reserved, which can lead to awkward conflicts with other users. Two drunk women once rode off on a Lime scooter I had reserved, but thankfully Lime's more friendly customer support promptly refunded the reservation fee.
Scooter use is restricted to zones displayed in the app, which are seemingly random and don't line up with natural borders like streets or landmarks, making them impossible to remember. Broadly speaking, the zone is downtown, parts of Oliver and Old Strathcona. Campus is excluded, crushing my dreams of scooting from Humanities to SUB. It would be easier for users if the service zone just lined up with the official city-defined borders of their respective neighbourhoods.
The availability of scooters is also completely random. If you're travelling in a group, you face the additional challenge of finding multiple scooters, which is difficult unless you're on Whyte Ave, where the scooters are most popular. Bird advises that their "exact operating hours vary… and are subject to change." It's also against the rules to ride their scooters in the rain which isn't helpful guidance when you're trying to make travel plans.
Despite all of these challenges, the experience of riding an e-scooter is undeniably awesome. They're fast, fun, easy to use, and require little effort aside from a push to get going. A scooter ride across the High Level Bridge is beautiful, and every Edmontonian should give it a try. While the cool factor of e-scooters is debatable, the breezy pleasure of cruising through the city is usually worth the hassle of finding one.
It's hard to beat the value of the U-Pass, so e-scooters need to beat transit on speed and convenience. Unfortunately, sporadic availability means the closest scooter is often several blocks away, and the time you waste trying to hunt down a scooter that isn't dead eats what you would have saved over just waiting for the bus to show up. I recommend sticking to Lime: the scooters are both slightly cheaper and much easier to use. Bird's bizarrely complex rules, unreliable unlock process, and poor customer service take the fun out of scooting.
I'll definitely use scooters when they're available, but their chaotic nature means they can't be the backbone of a commute. E-scooters would be much more useful in tandem with bike share, but that dream is stuck in administrative purgatory. Regardless, e-scooters give me a lot of hope for Edmonton's future sustainable transit network. Unfortunately, much like everything in Edmonton that isn't a car, the system suffers from inadequate coverage and unreliable service.