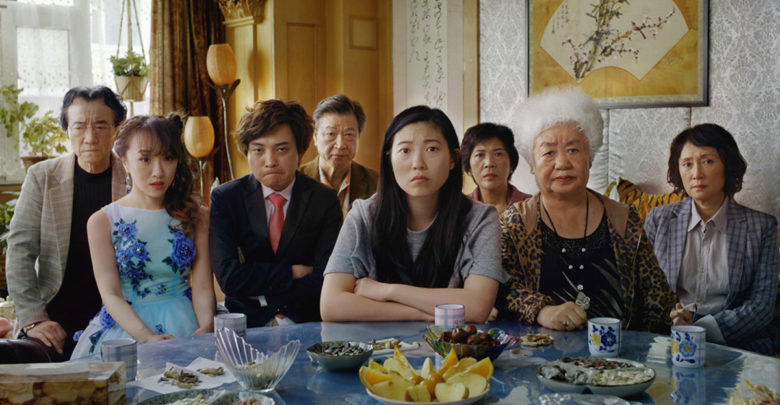 Directed by: Lulu Wang
Starring: Awkwafina, Tzi Ma, Shuzhen Zhou, Diana Lin, Lu Hong, Yongbo Jiang, Han Chen, Aoi Mizuhara
The well-known Chinese proverb "家家有本难念的经" can be translated to "every family has a skeleton in its closet". Oftentimes, especially in Chinese culture, the things we choose to hide, we hide because we believe it is for the benefit of the family. Lulu Wang's comedy-drama The Farewell is a testament to this aspect of Chinese identity. It's a deeply poignant love letter to the matriarchs that are so often the centre of families. Wang uncovers the humanity and devotion that these Chinese ideals are rooted in through her semi-biographical retelling of a lie told because of this deep familial love.
The premise of The Farewell may read like an absurdist thought experiment to its Western audience. A Chinese family discovers that its matriarch, the ubiquitous and uniting force of Nai-Nai, is ill with lung cancer that will leave her with 3 months to live. The family decides it is best that they lie to Nai-Nai through the omission of truth. Through the cover of a wedding, the extended family flies back to the family hometown of Changchun to spend time with and wish hidden goodbyes to the blissfully unaware Nai-Nai. The sobering truth is, the premise of such a lie is very much real and resonates with the film's Chinese and broadly Asian audience.
Billi (based on Wang herself), portrayed by Awkwafina, is known to be extremely sentimental and close to her Nai-Nai. Known primarily for her comedy roles, Awkwafina does a surprisingly excellent job in her first foray into a more dramatic role. Billi is thirty years old, disillusioned, and unsure of much — but she is full of love and empathy, and Awkwafina truly makes the character believable.
The star performance of the movie, however, is Shuzhen Zhou's masterful portrayal of Nai-Nai. She embodies a Chinese grandmother, but her portrayal is done in a way that anyone could see their grandmother in Nai-Nai. From regularly referring to Billi as stupid child (an affectionate addressal in Chinese), to giving very unsound medical advice, to constantly insisting that everyone should be eating — Nai-Nai is home to the characters of the film more-so than Changchun itself.
The rest of the ensemble, including notable Asian actors like Lu Hong and Diana Lin, do an excellent job portraying believable and complex characters. They all are devoted to and unwavering in their belief lying to Nai-Nai is the right decision, but the film unravels each character's motivation and struggle in doing so.
The Farewell draws viewers in with its plentiful small details. The houses and locations explored in Changchun are decorated with the unique and believable charm of the region. True to Chinese culture many of the scenes with family are accompanied by large Changchun cuisine dinners. Additionally, the film causes you to empathize with Billi's family, and experience the same emotions they go through. Subtle humour colours the film, lightening otherwise incredibly serious subject matter. Much like the family that surrounds Nai-Nai, you'll find yourself remembering the sobering reality of the situation at hand, and every laugh you experience will feel extremely bittersweet.
Finally, the film addresses the differences between cultures and between generations. There is constant accusation that Billi's American upbringing has clouded her sense of Chinese duty. To Asian-American or Asian-Canadian viewers like myself, this discussion of such diaspora on the big screen is invaluable.
In her interview with the Verge, Wang expresses that "I'm having [the audience] laugh at humans as a whole, how we're all so ridiculous, and tied to our identities." The Farewell is a celebration and exploration of what it means to be human, to be loving, and to be deeply flawed. I highly recommend you see The Farewell in theatres. Support breakthrough Asian cinema in the box office, experience a meaningful emotional catharsis, and you'll likely leave the theatre and give your grandmother the phone call she's been patiently and lovingly waiting for and deserves.