Institutional
News
Federal government announces $147.9 million commitment to bolstering international student exchange
Minister of International Trade Diversification invests in exchange program to build international bridges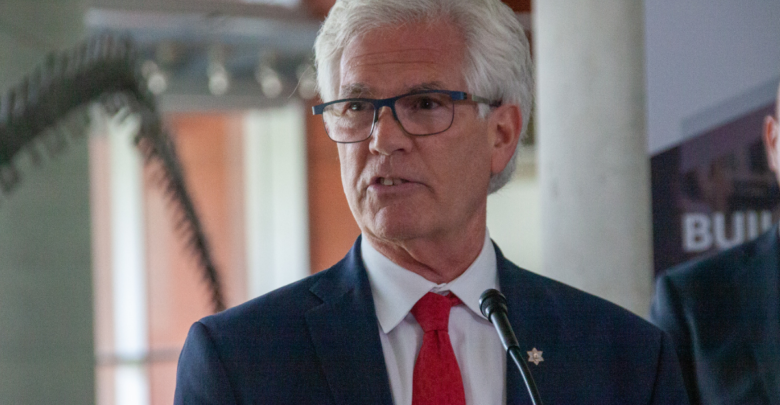 The Minister of International Trade Diversification announced today that the federal government will be investing $147.9 million dollars towards helping both Canadian and international students pursue exchanges abroad.
Taking place in CCIS, Minister Jim Carr announced in a press conference that $147.9 million dollars will be invested over five years into student exchanges starting in 2019-2020, with $8 million dollars to be invested yearly thereafter. The funding is part of the International Education Strategy, which was federally budgeted for last March. The strategy focuses not only on sending Canadian students abroad, but on "two-way student mobility," with promised expedited visa applications for incoming international students. 
For Minister Carr, this strategy is emblematic of what he believes gives Canada an edge in the global economy: diversity.
"At a time where nation-states are protectionist and are closing their doors and looking inward… Canada says yes to the world," he said during the press conference. "[This strategy] is an acknowledgement that we are enriched by that interaction between those values we share as Canadians and those we have adopted as from those we have welcomed from all around the world."
Funding will be granted to students through an open competition which will award scholarships at either a $5,000 or $10,000 level. Alongside funding, the International Education Strategy will include faster visa processing for international students, diversification of student exchanges by sending students to and receiving students from more countries, and the creation of a new study abroad initiative delivered jointly by Colleges and Institutes Canada and Universities Canada.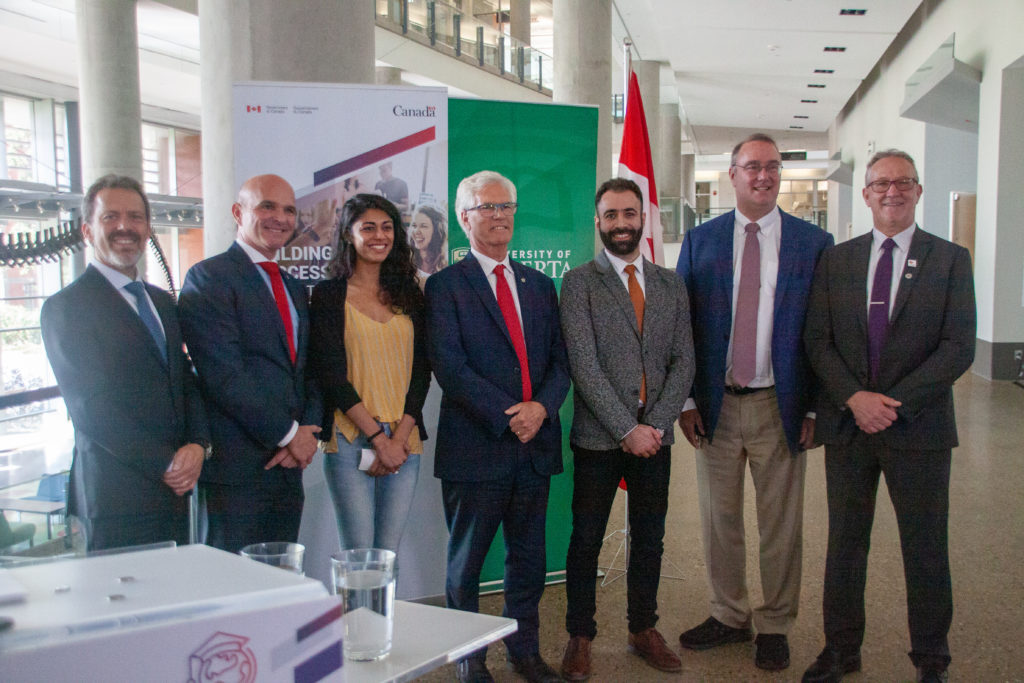 Minister Carr believes these scholarships will help students overcome barriers to study abroad and allow Canada to keep up with countries such as France, which has 33 per cent of students studying abroad.
"Only 11 per cent of Canadian university students study abroad while containing their degrees," he said. "It's not where we should be, it's not where we want to be, and it's not where we will be."
Adam Brown, Students' Union vice-president (external), is happy with the announcement, but is adamant about getting the scholarships into the right hands.
"When we talk about the accessibility of post-secondary education and how the world is evolving and becoming more globalized, making sure as many students have access to those opportunities is important," Brown said. "At the same time, there are other problems with affordability and accessibility in postsecondary education that also needs to be addressed."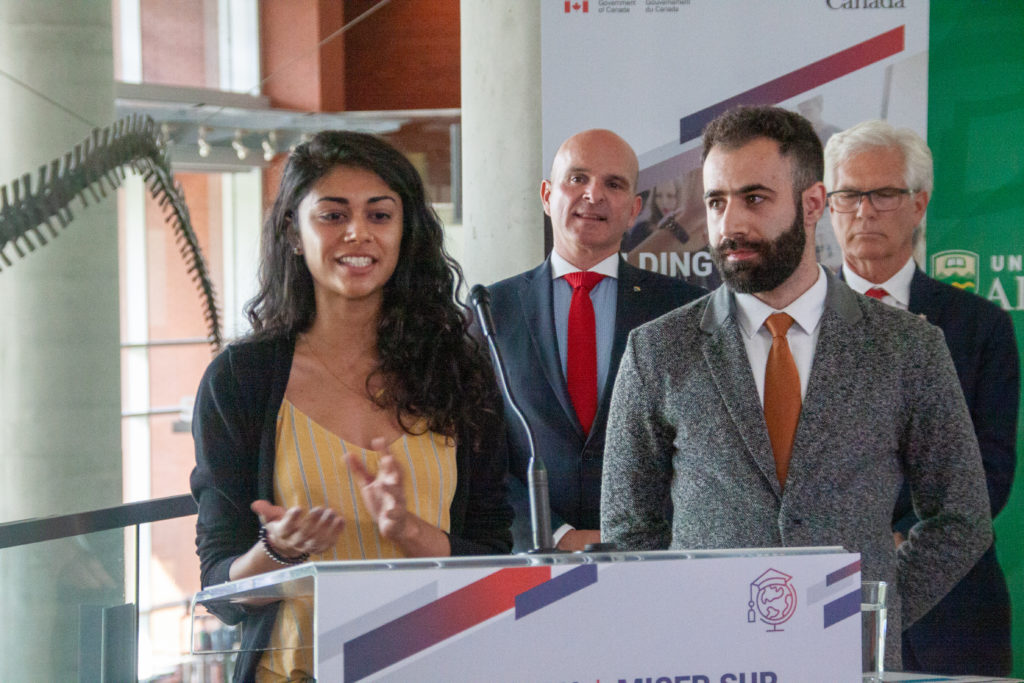 Students' Union vice-president (academic) Joel Agarwal believes this is a great academic opportunity for students.
"This is a form of [experiential learning] where you're getting those real-life experiences and you're learning outside of the classroom," Agarwal said. "It can really enrich your experience as a student at a postsecondary institution."
International students react to the strategy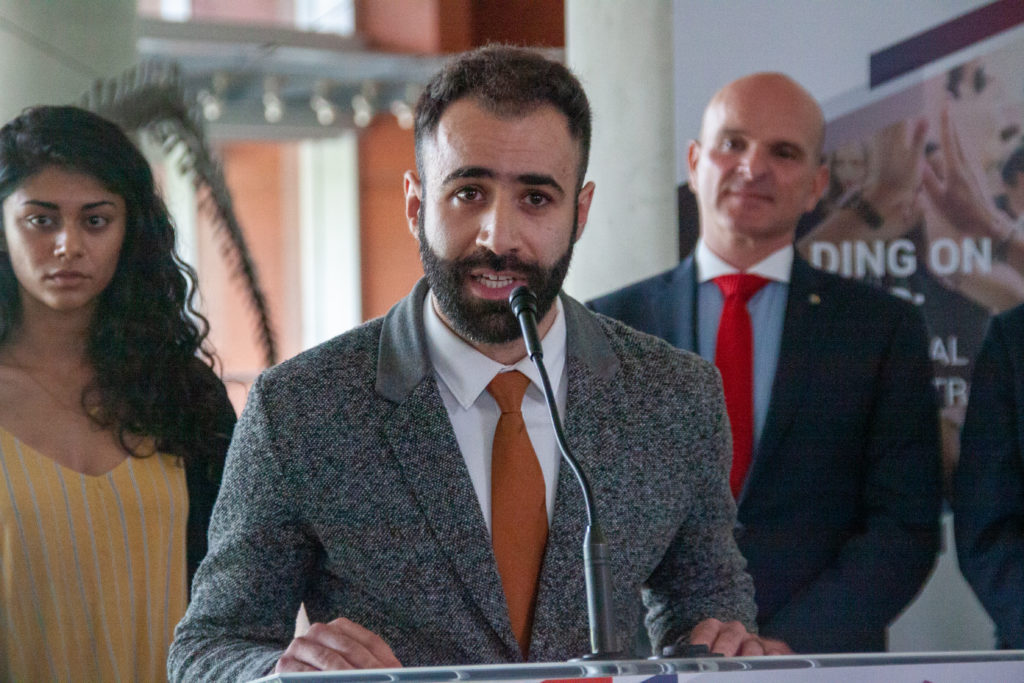 Attending the press conference was Graduate Students' Association president Fahed Elian, who gave a speech about his experiences being an international student. He believes this funding can provide more opportunities and certainty for international students like himself.
"I feel great and optimistic because as an international student, we have such limited funding opportunities when it comes to national scholarships or student loans," Elian said. "Having such an initiative will open doors for a lot of students to come to Canada and be financially secure."
However, not all international students share Elian's optimism. International student and Students' Union arts councillor Yiming Chen feels the announcement is bittersweet.
"It's good, but I'm still confused," Chen said. "International student tuition fees increase each year, however, they still say they value international students. It's actually a contradicting idea."
Whether a trades program or a research institution like the U of A, Carr believes that both have a place in foreign exchange practices.
"The value is a cultural exchange and an experience that you wouldn't otherwise have. You take that experience and it really helps shape who you are in an early stage in your career," Minister Carr said. "It is a way of opening doors, opening minds, of cultural enrichment. Everybody is the winner."