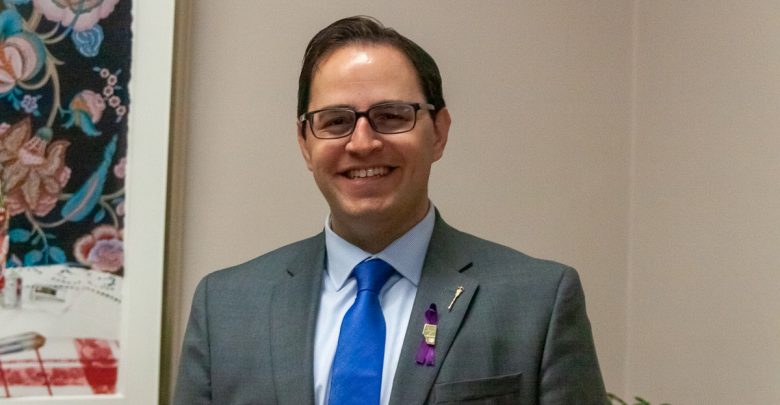 With the United Conservative Party winning the provincial election this past April, a new Cabinet Ministry was appointed. On April 30, Demetrios Nicolaides, MLA for the Calgary-Bow area, was sworn in as the Minister of Advanced Education.

The Gateway sat down with Minister Nicolaides to learn more about his background and plans for Alberta's post-secondary institutions.

These interview responses were edited for clarity and brevity.

The Gateway: Before becoming Minister of Advanced Education, what were you involved with?

Nicolaides: I spent the bulk of my adult life in academia. I did my undergrad at the University of Calgary with a double major in international relations and history. While I was there I was vice-president (academic) of the Students' Union. One of the initiatives I worked on is still in existence at the U of C. In a nutshell, the university was looking at creating a "high-quality education". We did a campus-wide survey, produced a comprehensive report, and gave it to the university. From that, the university senate decided to allocate a million dollars of their annual budget to student-funded initiatives — that money and commitment still exist at the U of C.
I wrapped up my degree and found my way to Austria, where I did my Masters in peace and conflict studies. I then went to Cyprus — that's where my parents are originally from — and while I was there got talked into doing a PhD. I spent some time afterwards in academia as a lecturer, doing conferences, different research projects, and then subsequently decided to leave.
For the past six years, I have been in the private sector working for a communications consulting firm. I am also an accredited mediator and have some background in international commercial arbitration.

What is your vision for the future of post-secondary education in Alberta?

My vision is for people to recognize that there are multiple streams in terms of post-secondary education. We're putting a lot more priority on encouraging people to pursue the skilled trades. [When I was] growing up, the conversation around the dinner table was "university is the only path you can take." But there are a variety of different options available, especially with respect to the skilled trades.

At the same time, I also want to return a lot of autonomy back to our institutions. As an academic, I know that our institutions need to be places that are free from bureaucratic mandates and unnecessary red tape, especially when we talk about the U of A; it's spearheading a lot of incredible work when it comes to research and cutting-edge innovations.

There's been a lot of talk about implementing the Chicago principles on campus. Can you comment on why you think it's necessary to do so?

It's important to do so for a number of reasons. The first is there have been documented instances of different speakers or faculty members being reprimanded for presenting an alternative view. This is a challenge to one of the principles we have as Canadians.

[For example], at a university in Montreal, the Israeli prime minister was scheduled to speak, and they had to cancel the event completely because of protests. This doesn't go towards the spirit of free speech on campus. I think [instances like this are] a bigger trend in the United States, but there are still incidences happening here. That is cause for us to make sure this foundational principle is supported on campus.
The second is strengthening the academic experience. Our time at university is one of the only times where we can really debate and discuss different ideas or perspectives in an open environment. Afterwards, a lot of folks go on to a career and focus on trying to be a good employee, so a lot of the opportunities to philosophically discuss issues of the day is lost.

The last reason is I see it as strengthening a foundational skill set that is important for students to become strong and productive members of society. Whatever path you choose after university, your ability to present an argument and defend it, provide a rationale and present a strong and concise opinion, is critical to much success in life.
There has also been some talk about voluntary student unionism. Do you currently have a position on this?

It is not on my priority list at the moment. Our priority is to help ensure that we are setting students up for success, not just for today but for 10 or 15 years down the road. We're living in a global economy that is very fast-paced with technological innovation at the forefront of how our society is changing, so we need to be focused on making sure our students have the skill set to compete in that economy.

Do you have any particular visions regarding domestic or international student tuition?
When it comes to domestic tuition, there is, of course, the tuition freeze in place for 2019-2020 academic year. When it comes to international students, part of [Bill 19] is that there needs to be more clarity for international students about what their program is going to cost them. I know that the U of A has moved in that direction and I absolutely agree with that. We want to encourage our institutions to recruit more highly qualified international students and providing more clarity will be critical to achieving that goal.