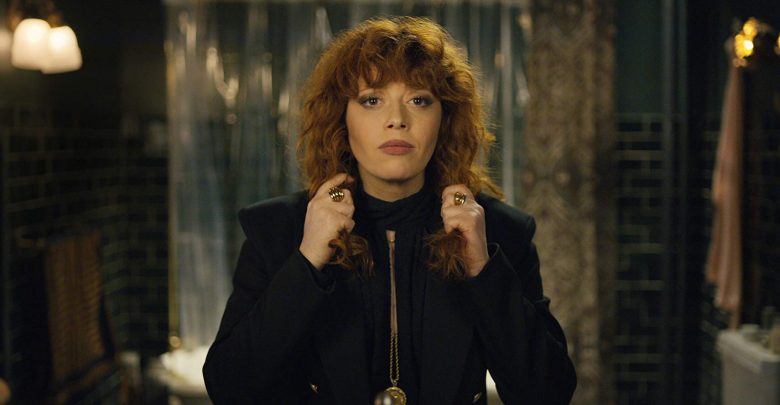 Created by: Natasha Lyonne, Amy Poehler, Leslye Headland
Starring: Natasha Lyonne, Charlie Barnett, Greta Lee, and Elizabeth Ashley
Netflix's Russian Doll is a clever, inventive and thrilling masterpiece. It is difficult to explain what makes this series so amazing, because it just is.
Russian Doll follows Nadia Vulvokov (Natasha Lyonne), a cynical software engineer stuck on a continuous time loop of dying and reliving her 36th birthday. Nadia meets Alan Zaveri (Charlie Barnett), a man also caught in a time loop similar to her own; however, Alan is forced to re-live the day his long-term girlfriend (Dascha Polanco) breaks up with him. Ultimately, the show has a ton of death and is very bleak in content. The premise may sound overdone or unoriginal, but its all-women showrunning team of Lyonne, Poehler, and Headland ensures a surreal experience for the audience.
The entire series is addicting and captures your attention from its very first moment, making it a very easy show to binge-watch. The show is carefully structured and thought-out, though it never feels forced or pretentious. Each episode adds a new layer to the intricate storyline, but never becomes too complicated for the audience. Nevertheless, the artistic interpretation of the series is open, meaning anyone can find something worthwhile.
Sex and drugs are a major aspect of the series, yet the inclusion of such matter isn't aggressive or raunchy. Philosophical and moral questions are the real focus of the show, with added humour to balance out the darker elements. Although the humour can be very highbrow and grim at times, it is never condescending. The show is about many things: trauma, midlife crisis, gentrification, depression, friendship, family, and much more.
Natasha Lyonne is mesmerizing — with perfect comedic timing and wonderfully executed emotional scenes, she is able to portray the chain-smoking, highly destructive New Yorker Nadia in a positive and heartwarming light. To seamlessly and naturally switch between comedy and drama is no simple feat. Lyonne's chemistry with the cast is something worth noting. The dialogue and interaction between characters feels very natural.
What's even more interesting is that the side characters are fully developed and don't feel like plot devices for the main characters. The audience receive small glimpses into the lives of characters like the aspiring writer and deli worker Ferran (Ritesh Rajan), or the eccentric Maxine (Greta Lee) who wants to make an impact on the world. The supporting cast is exceptionally strong. Nadia's relationship with Dr. Ruth Brenner (Elizabeth Ashley), a therapist and Nadia's adopted mother, was a unique take on typical mother-daughter relationships. Hollywood veteran,Ashley keeps Lyonne on her toes, leading to a charming and sometimes heart-wrenching portrayal of Nadia and Ruth.
The technical aspects of the series are wonderful as well. The beauty of the cinematography in this series is subtle, but worth mentioning.
Fair warning though, the series might mess you up a little, but you'll like it. Give Russian Doll a shot if you're looking for something new.

Rating: 4.8/5