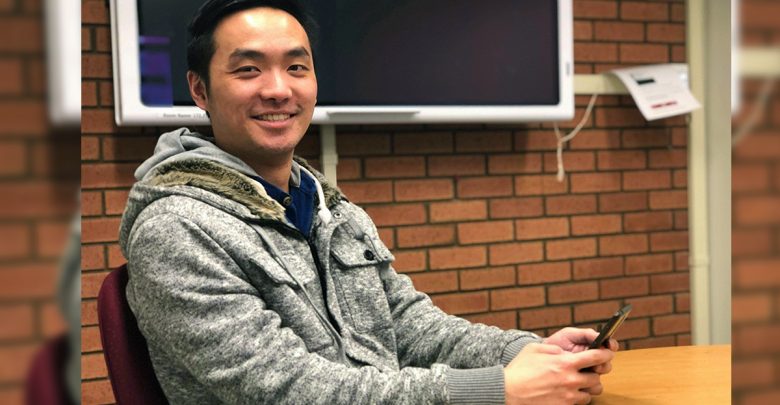 We grill the Wattpad star on why he honed in on hockey teen romance, and how it went viral online.

You may know him as either a superstar Wattpad author or perhaps just another friendly face in the Business building, but in reality University of Alberta business student Brandon Wong is both. These two spheres might seem drastically different, but Wong has merged them through his work on Playing By The Rules, his breakout work on Wattpad, an online writing platform that allows for user-generated content to be published globally. Once a simple passion project, the completed story has been read over nine million times and is one of the site's most popular works.

Typically known for its treasure trove of teen fanfiction, the appeal of Wattpad is that anyone can open an account and begin publishing regardless of their prior experience. Wattpad also hosts original work from international authors — some of whom have gone on to secure lucrative book deals with publishing companies. American writer Anna Todd reached number one on the New York Times bestseller list after her One Direction fan fiction went viral. Another notable example is Beth Reekles' The Kissing Booth, which received 19 million reads on Wattpad before Reekles signed a three-book publishing deal with Random House and had her work turned into a Netflix special. Others have gone on to gain recognition through the platform, attending conferences and becoming role models for those who want to get into writing on an accessible, non-discriminatory platform. When Wong first started out, he was one of these young hopefuls.

When we spoke to Wong about his success, he explained that the original impetus to write came out of a dull summer upon graduating high school. With employment struggles and boredom looming, he filled his hours with reading. It was only after he powered through all the books on his bookshelf that he stumbled upon Wattpad.

As Wong explained, anyone can publish their story on Wattpad and get immediate feedback from users. He recalled clicking on an author profile after enjoying their story to find out they were only 17 years old.

"I figured if they could write, maybe I could too." Wong says.

Thus, the untapped niche market of hockey teen romance began. Wong initially started by writing out disjointed chapters. However, after three or four chapters it became clear that a storyline was starting to take shape — in large part due to feedback from his growing base of readers.

"[Users] helped me connect and piece it together," Wong says. "Through that, I was able to see the rest of the story."

Upon reading the first chapter of the story — an action sequence describing a young obnoxious hockey player — one might be skeptical as to how international readers connected to it without previous knowledge of the sport and the cultural context of the pervasiveness of hockey in Canadian society — and the country's near-obsession and idolization with young players.

Wong is the first to admit that it is surprising how many people have read the story despite the narrow focus of the sport.

"Initially I wrote a lot about the details of the action in hockey," Wong says, "and as I went along, I drastically reduced the amount of hockey scenes and jargon."

His strategy worked. In addition to grossing over nine million reads, Playing By The Rules has earned the status of #1 Ranked Teen Fic Novel on Wattpad and won a 2016 Wattys Award. With nearly 6000 user comments, new feedback continues to be added every day.
"I love reading the comments, especially in plot twist areas," Wong says. "Sometimes they're very hilarious."

Other times, the comments section isn't quite as flattering. Wong explains that there is one controversial chapter in particular that has received notable backlash. He doesn't take it personally, however, and chalks those strong reactions up to readers' emotional investment in the story.

Regardless of whether or not hockey romance is for you, Wong's success offers interesting insight into the power of online communities and their potential in propelling unlikely genres into the iPhones and hearts of millions. The international recognition Wong received on Wattpad is an inspiration to the inner fanfiction writer in all of us.