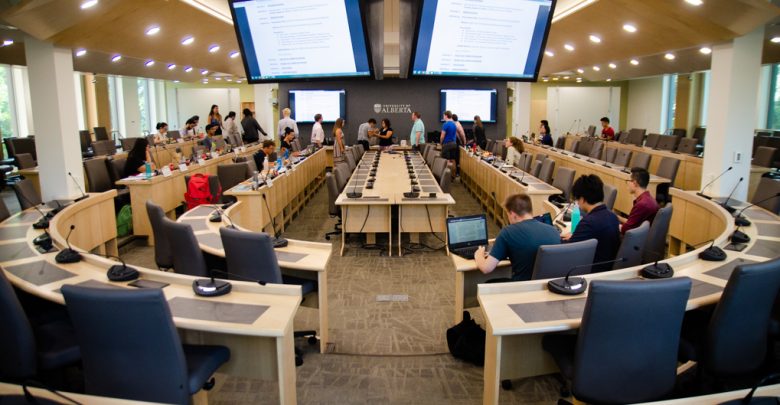 Steps the Students' Union should take towards reconciliation were laid out in a new report authored by the Aboriginal Relations and Reconciliation Committee (ARRC).
ARRC's recommendations were presented and voted on in Students' Council April 9, where they passed unanimously. The recommendations outline steps to create "meaningful reconciliation" on campus, from points the SU should advocate for to changing the names of some of the rooms to reflect the diversity of students at the university.
The committee has been working on the recommendations since March 2017, when ARRC was still an ad-hoc committee of Students' Council. Nathan Sunday, native studies councillor and chair of the committee, said different Aboriginal and non-Aboriginal groups worked together to create the document. The recommendations, he added, are not static and will change as Aboriginal students face new challenges and the proposals are implemented.

"These recommendations, their spirit and intent, will live on for years to come as the Students' Union works to achieve them," he said.

The document was created in consultation with faculties, as well as different Indigenous organizations on and off-campus like the Native Studies Students' Association (NSSA) and First Peoples' House, Sunday said. The committee also hosted a town hall on September 7, 2018, which about 70 people attended.

The recommendations also include a new SU position — a First Nations, Metis and Inuit initiatives specialist — who will work full-time next year with various SU departments and support ARRC. Sunday said they will also engage with Aboriginal students to look into creating an Indigenous leadership program. Funding for the position was included in the SU budget, which was also passed at the council meeting.
Many councillors and SU executives spoke in favour of the recommendations during the meeting. SU president Reed Larsen said while there is still a lot of work to be done, for the first time, the SU and Aboriginal students are working together to reach their goals with this "very unique" document. He added that Students' Council will need to hold itself accountable to the recommendations for years to come.

Akanksha Bhatnagar, vice-president (academic) and incoming president, said this document conveys what Aboriginal students have been saying in a "powerful" way. She also said she hopes incoming councillors will engage with the document to feel empowered to ensure the implementation of the changes.

"Not only are we making a change for this year, but we're making changes for years and years to come and as mentioned a hundred times today, this document is going to make us leaders in reconciliation across Canada," she said.

Sunday, in a follow-up interview, said his ultimate hope is that the recommendations are completed by the SU. While it will be a long process and Sunday was hesitant to give a definite timeline, he said that everyone involved is committed.

"A lot of the recommendations are for the long-haul, so it'll take a while, but it's alright," he added. "I'm happy that this is our final product and that everyone seems happy with it."

Sunday said one recommendation council may find challenging is looking into the model of Students' Council, and whether it is representative of students. Other student associations, in addition to faculty councillors, have councillors who represent specific groups, such as an LGBTQ+ councillor or an Aboriginal councillor. Another aspect, Sunday added, is the number of councillors each faculty gets, and the problem that some smaller faculties might get silenced.

"It'll be hard for council to grapple with these things, and it will take time," he said.

The next step for the committee, Sunday said, is keeping the SU accountable to the recommendations, as well as other projects, such as an acknowledgement guide to better understand the treaty acknowledgement and continuing with the reports they do on SU executive advocacy for Aboriginal students.

"This is definitely not the end for the committee, it's really just the beginning, so it's really exciting," he said.
ARRC-report