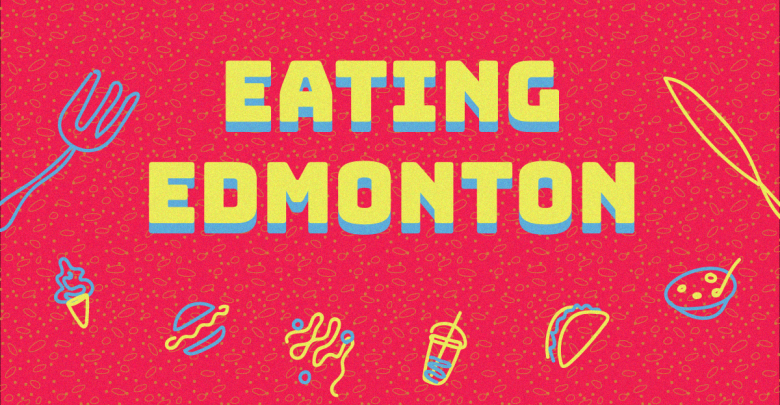 Down just past the crowded streets of Edmonton's Whyte Ave there is a tiny hole in the wall called Steel Wheels where the drunk, the strange, and those coming off the night shift can go and enjoy a drink and a bite to eat. Steel Wheels is a "rock and roll" pizzeria tucked away a street or so behind the Old Strathcona Farmers' Market. Though the description might mislead you into thinking it's your typical pizza joint, in reality, the place serves a variety of food, including a selection of Korean dishes and drinks. Open from 6 p.m. to 3 a.m., it's a haven for anyone out late on Whyte.
Walking in from the bitter cold, patrons are greeted with a burst of warm air mingled with the ubiquitous scent of pizza. Boisterous graffiti lines everything in sight: the walls, the booths, the counter…everything, courtesy of years of customers' worth of drawings and scribbles. There is also a tradition here of grabbing an extra Styrofoam plate so that you can draw on it and then add it to the collection of plates tacked up over every inch of the small diner, and it's all allowed, and even encouraged, by the owners, who are friendly and courteous: behind the counter stands a man with a bright face who welcomes you in out of the harsh Albertan weather.
Steel Wheels is a casual experience. You go up to the counter and order your food, whether it be the pizza or the mix of Korean dishes. My boyfriend and I ordered bulgogi pizza ($4 for two slices), pork dumplings ($7 for eight), and green onion cakes ($6) to share, and the total only comes to about $31, even with an additional bottle of Soju. Make sure to have cash with you, though, because the restaurant doesn't accept anything but.
When we went it was just past 7 p.m. and fairly quiet; we grabbed a booth in the back with our bottle of peach Soju (a clear colourless alcohol consumed as is) and two shot glasses. Sitting in our spacious booth, we found ourselves wishing we had brought markers or pens of some sort so that we might add to the art on the walls and table: the existing collection includes carefully drawn portraits to vows from Tim Burton's Corpse Bride to the occasional dick drawing, among endless other memories.
A call from the counter signalled our food was ready and we wandered up to grab it while it was hot — which apparently wasn't an issue, as the dumplings stayed piping hot for what seemed like forever. The bulgogi pizza was coated in gooey cheese and sweet Korean BBQ beef; the dough was soft and spongy but perfectly cooked. Next were the pork dumplings, hot and moist with a tangy sauce served on the side. Sweet onions mixed in with the tender pork inside a crisp shell made the dish delightful (these quickly became my favourite and I was immediately tempted to buy more if I was still hungry after the last dish). Finally, my challenge was to try something new: green onion cakes! Large, flat fluffy cakes that smelled of toasted dough and sweet onions, these did not disappoint. Each was a bit crunchy on the outside with a warm, soft bite in the middle. By the third giant cake I had to give up on finishing my half and, to my chagrin, released it into my boyfriend's custody before taking my leave.
Next time I'll be sure to bring some markers so I can leave my own mark. If you're looking for an unorthodox place to finish your night or even just some amazing food without breaking your bank, then check out this brilliant little nook.