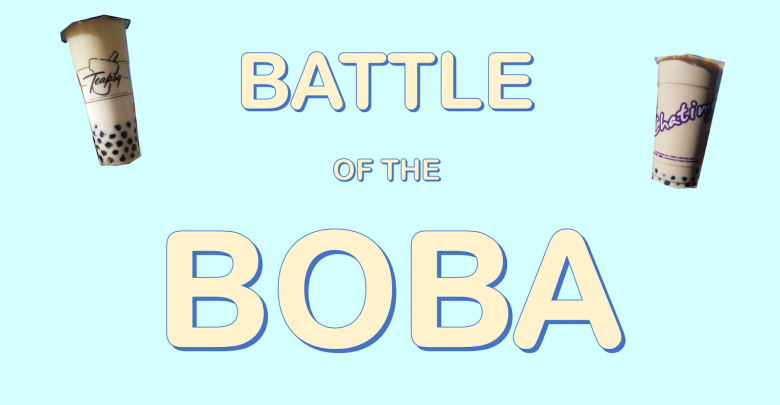 For this one-shot, BATTLE OF THE BOBA, our food writer taste-tested six different bubble tea joints throughout the city over the course of one month to determine the BEST OF THE (six).
---
You (didn't) ask for it, but here it is! In this one-time segment of BATTLE OF THE BOBA, I travelled across the city and spent all my life-savings to find the most delicious and affordable bubble teas in Edmonton. For those of you unfamiliar with the boba cult, boba (or bubble tea) is a drink that originated in Taiwan in the 1980s. It is a tea-based drink that involves a green or black tea base with milk, sugar and some sort of topping (usually tapioca balls that are referred to as pearls or boba). Nowadays there are countless variations and varieties of this well-loved drink. In the last 20 years, boba has spread to all corners of the world including our very own campus.

But before y'all go ahead and question my authority, I'll have you know that I started drinking bubble tea before it was cool, before the prices were inflated, and especially before all the big franchises settled in the city. That's right, I'm a seasoned bubble tea veteran so don't EVEN.

As per usual, let's define the bubble tea standards. I used to complain about the sugar levels but now with the new sugar customization option, that's not too much of a concern. The most crucial aspects is the taste of the tea. Is it rich? Complex? Bitter? Absent??? These are all the traits I'll be looking for. Second is the tapioca balls or the pearls. Texture and elasticity will define if a joint is going down the right path. And finally: the price. Value and worth is also one of the most important aspects. If it's a seven-dollar tea, it better be worth it. Sometimes atmosphere plays a role, but as long as they have good drinks and WiFi I can mooch off of, then they should be good.
TEAPSY
Address: SUB or HUB

To kickstart my bubble tea crawl, I paid our local campus joint a visit: Teapsy. One of the reasons that I tend to avoid this joint is the terribly long lineups during the lunch rush. Ain't nobody got time for that. The second reason is that I was always under the impression that Teapsy was overpriced — which is mostly true. For the first drink of this series I ordered a three-minute brew of the White Peach Oolong Milk Tea from their feature menu. It was a mild tea with hints of peach. I thought the pairing was very nice though. The tapioca pearls were cooked thoroughly and had the right texture and chew. I didn't ask for a specific sugar level but the standard sweetness was very controlled and felt just right. What surprised me the most was that this drink costed me $6.90! Pretty pricey for a cup of bubble tea. And in case you were wondering how I missed the price, the SUB location didn't have their prices posted on the featured menu so I assumed my drink would ring up at around five dollars, but I was so very, very wrong. I feel scammed. And they didn't even have free WiFi.

Try: White Peach Oolong Milk Tea with Pearls ($6.93)

COCO'S
Address: 10149 109 St NW, Edmonton, AB T5J 3P1

With three outlets throughout the city, CoCo's fresh tea and juice deserves a mandatory taste test. The WEM store seems to be quite popular among mall goers since the store was packed when I got there. My drink of choice for CoCo's was the standard Pearl Milk Tea with 30 per cent sugar. I usually opt for lower sugar percentages because standard sugar levels can sometimes be a little overbearing. Boba isn't about the sugar, it's about the tea — keep that in mind, folks. As for the pearls, they were slightly smaller compared to Teapsy, but definitely chewier. The tea itself was very creamy, which is probably a result from a high milk to tea ratio. An additional point to note is that their pearls were not sweet at all. They were most likely cooked plain without a sugar syrup. This all comes down to preference, but I think pearls without sugar are better, since it balances out the sugar that's already in the drink. The one thing that puts me off of CoCo's is that not all drinks come with add-ins. Depending on what you order, you might have to pay an extra $0.50 for pearls. CoCo's, I see what you did there. Tsk tsk.

Try: (L) Pearl Milk Tea ($6.00)
HEERETEA
Address: 11116 82 Ave NW, Edmonton, AB T6G 2L8

Heeretea is relatively new to Edmonton bubble tea scene but they have been fairly well received. Since I had bubble tea for breakfast, I'm going to cheat a little and order something different. Heeretea's menu is strongly focussed on their cheese foam topping and specialty drinks so I went with their Cheese Foam Mango Smoothie with 50 per cent sugar. To make up for the saltiness of the cheese foam, I recommend not modifying the sugar levels. The total came up to a whopping $8.39. That's right, it was eight FREAKING dollars! Heeretea is like the Louis Vuitton of bubble teas. Finances aside, I thought the drinks here were pretty okay. The cheese foam is definitely not everyone's cup of tea. It reminded me of a salted caramel drink but without the caramel — and more salt. I have to admit, when I had my first sip, I was quite confused. The drink had a bit of everything: tangy, sweet, salty, and creamy. The cheese foam is definitely for the adventurous. All in all, Heeretea was a little too bougie for me. They had really interesting drinks, but the price keeps me from going back.

Try: Cheese Foam Mango Smoothie ($Expensive)

CHATIME
Address: 10538 82 Ave NW, Edmonton, AB T6E 2A4

I used to be a diehard chatime fan in high school but something changed between us (must've been the prices lol). For this Taiwanese bubble tea outlet, I stopped by their downtown location and ordered a classic: Taro Milk Tea with 50 per cent sugar and 0 per cent ice (I heard a rumor that requests for 0 per cent ice really means a top-up with water? Can anyone confirm?). As for the tea, it seemed extremely subtle, as was the taro flavouring. The pearls were slightly sweet and very soft compared to other joints. There really wasn't anything too special about the tea. Even with 50 per cent sugar, it was still on the sweet side. I'd go down to maybe a 40 per cent or 30 per cent for the sugar levels. It reminded me of the milk at the bottom of my cereal bowl. I wasn't wowed or disappointed. Chatime is just average in general. My drink costed $6.53, which is a little pricey for an average drink. Similar to Coco's, they also charge extra for add-ins in some drinks, which makes me consider other joints over Chatime. I'd rather buy the 12-pack powdered Chatime milk tea for $9.99 at T&T instead. Sorry, Chatime, it's not me, it's you.
Try: Taro Milk Tea ($6.53)
GONG CHA
Address: 10342 81 Ave NW, Edmonton, AB T6E 4E4

Gong Cha, another Taiwanese franchise, has been steadily establishing themselves as a strong competitor in the bubble tea scene in Edmonton these past few years. They have both high quality drinks as well as controlled prices. I have not seen a drink in the 5 dollar range in a while. My drink of choice from Gong Cha was the Brown Sugar Milk Tea with 70 per cent sugar and 50 per cent ice. And OH MY GOD that brown sugar syrup is to die for. The tea itself was very subtle but the milk component along with that syrup was amazing. The pearls had the right amount of chew and little to no sugar at all. It would have tasted even better if there was less sugar but for the brown sugar milk tea, 70 per cent was the minimum. Gong Cha has been one of my longtime favourites due to their price range and quality. They're usually very consistent with their drinks and offer a huge selection on their menus. Another option I'd recommend is their Panda Milk Tea. Double thumbs up @GongCha.

Try: Brown Sugar Milk Tea ($5.76)
DREAM TEA
Address: 7912 104 St NW, Edmonton, AB T6E 4C8

For my final cup of bubble tea for this series I opted to go to a local favourite: Dream Tea. For the longest time, I have always preferred to get my boba fix at franchises because the drinks seemed to be more consistent. But what I like about local options is that they have more varieties and specialty drinks to choose from. From Dream Tea, I ordered a Hokkaido Milk Tea with 30 per cent sugar plus an extra topping of pudding. Out of all of the bubble teas I've tried in this series, Dream Tea has the strongest tea flavour, which gives them a one-way ticket to the top of my charts. Being able to actually taste the tea in your milk tea is the first thing you should be looking for when you try a new drink. As for the pearls at Dream Tea, I found them to be softer and gummier than other joints. They also skip the sugar for the pearls, but I'm not too big of a fan of the texture of their pearls. The pudding topping adds some more texture to the drink, but offers little to the overall taste other than a subtle caramel undertone. As for the pricing, Dream Tea scores fairly well. Good quality, good prices — I think I've found a new favourite.

Try: Hokkaido Milk Tea Pearls + Pudding ($5.76)

HONOURABLE MENTION: KUNG FU TEA

Kung Fu Tea located in the community of Millwoods in Edmonton is a rising bubble tea brand from the States that I really wanted to try. From what I've been hearing, KFTea offers some good drinks. Unfortunately, due to my financial status, I will have to forego this last joint. Perhaps we will visit this joint in Battle of the Boba Round 2? HAHA just kidding, I'm so done with bubble tea.

CONCLUSION

After taste testing six joints throughout the city, I have to say Dream Tea deserves GOLD with Gong Cha and Coco's sharing the silver. The other three joints are either bad or not worth it's price point. Again, these are just some starting points, I'm sure there are many other amazing bubble tea spots that I have yet to try in Edmonton. Although all these places seem to be offering one common drink, they all offer different highlights. But don't take my word for it, order a cup and see for yourself!