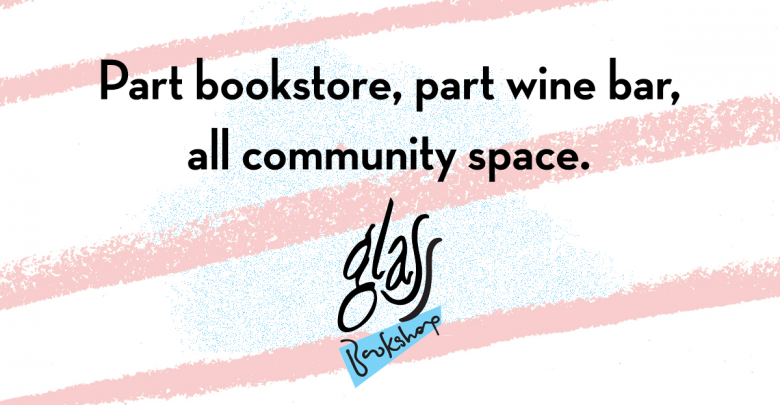 Two men sit at a wooden table with touches of fatigue, consequences of an earlier 6 a.m. interview, around their eyes. It's 5 p.m. and, despite running on pure willpower and coffee, the two look immaculate. Matthew Stepanic wears a striking floral shirt, reminding you that the season of spring has just started. Jason Purcell's outfit consists of a grey sweater over a blue collared shirt with white flower outlines. While subtler than Stepanic's, his look conveys the same message: anticipation of winter's end.
Their beleaguered state is a result of their shared passion for literature and social activism: the two are founding the Glass Bookshop, a bookstore-slash-wine bar with an emphasis on works by marginalized groups, including women, queer, and IBPOC.
According to Stepanic, the starting moment for the endeavor began last March over drinks at District, and a combination of Purcell talking, a Saturn return, and other life events happening convinced him to join Purcell in realizing their dream. Since then, the two have worked with Canadian designer Vikki Wiercinski to refine their idea. Taking a page from other bookshops like San Francisco's BOOK/shop and Vancouver's Masse Books, the two are creating a bookshop with a modern aesthetic that functions as a community hub.
For them, the business aspect of the Glass Bookshop comes second. Stepanic describes them as "reluctant capitalists," using the business as a means to produce their true goal: an inclusive space for book lovers. Both Stepanic and Purcell have previous experience in planning literature-related events in Edmonton, and one obstacle they've found is the lack of a "suitable, accessible venue for the size and quality of events" they want to do. Renting venues, like the back room in Almanac or a basement room in SUB, means retroactively cramming the event into a pre-existing, generic space: a task both compromising and expensive. With the Glass Bookshop, these compromises of integrity won't need to be made.
While both Purcell and Stepanic agree that the Glass Bookshop is in part a response to the burning dumpster fire of Canadian Literature and the dominance of media conglomerates and "publishing houses that are total capitalist machines," the two also see it as something more. As Purcell puts it, "more than it being reactionary, the Glass Bookshop is a hopeful project. Something very generative." The Glass Bookshop is a personal place of what the two want to see in a space; what they envision for CanLit, other bookshops, and Edmonton's literary community.
In modern bookstores like Indigo and Chapters, every square inch is paid for by publishers to advertise books they think will sell. In the Glass Bookshop, money will not play as significant of a role in influencing who gets displayed, as marginalized writers often don't have funds or the support to promote their works.
Purcell and Stepanic are cognizant of their privilege as cis white men and recognize their limitations and boundaries in deciding how to operate their space. Inclusivity for them doesn't involve delegating work to marginalized groups; rather, they intend to create a space that is open to ideas from marginalized groups, and the two will make sure ample compensation, such as in honourariums, will be given in response. The two are open to listening to the community and make it clear they don't need total control. People will come to the Glass Bookshop with ideas and will, in Stepanic's words, "have at 'er."
While the bookstore is obviously intended for readers, the idea of a target demographic makes Purcell uncomfortable. "It might be my lack of a business degree speaking, but the idea of a demographic means you're excluding people," he says. The word "demographic" seems like the antithesis to the Glass Bookshop.
"I guess we want to attract thoughtful readers," muses Stepanic, "readers who want to be surprised." "I want the space to attract everyone, from a teenager finding their first queer book to a 70-year-old looking for something interesting."
Due to these factors, success doesn't look like money to the two of them. Rather, their success story would have big writers, like Anne Carson or Harry Styles, coming to visit the Glass Bookshop, an integral part of the literary centre that is future Edmonton. Alternately, the Glass Bookshop becoming one of the hottest date spots in the city due to a combination of the atmosphere and the intimacy of recommending a book would also be a sign of success. "We're going to see relationships form and fall," claims Stepanic.
Vivek Shraya has described the Glass Bookshop's brand as having a "strong aesthetic with a queer sensibility." For Purcell, this means looking crisp and clean with the pastel colours of blue and pink. "They're not heavy, not encroaching, there's light and movement. It's fresh and indicates rebirth," he says.
For Stepanic, this is a subversion of how older bookstores were designed to make reading seem like a luxury activity with their dark and solid wooden shelves. "We're something welcoming, and not stodgy."
The name is inspired by Stepanic's literary magazine The Glass Buffalo, which itself is a reference to the novel The Garneau Block. In running his magazine, Stepanic maintains a personal connection to his writers, forging a bond based on trust and kindness. By taking from the name of the magazine, Purcell hopes to convey that same feeling, that "You can trust in Stepanic and the bookshop, that the same care that he has with his writers he's putting into the store."
But the word "glass" also has poetic evocations: it's clear, light passes through, and it can be a container. These beautiful qualities can figuratively apply to books as well: books are our windows into other worlds and hold knowledge. But like glass, books can be sharp and cutting, a quality especially important in today's social climate.
For advice that applies to both starting a business and literature, the two say this: seek and embrace community, whether that's through people or books. Meeting with others and reading outside of your perspective can influence both your writing and your business practices. Confronting and surprising yourself is how you grow.
The two are currently running a kickstarter campaign on Indiegogo. The campaign has fun rewards for donating, including various book-related swag like tote bags and bookends, but also more exciting ones like hosting a party in the Glass Bookshop (still unclaimed) and working in the bookshop for a day (the two assure me you won't have to clean or dust). Other unique rewards exist like having your name on a shelf and being able to control what books go on said shelf. Never has a better way existed to prove your elitism within the reading world.
Like a true literary lover, Stepanic ends the interview with a quote from Anaïs Barbeau-Lavalette's Suzanne: "You were an island, and now you feel like you might have a country." The quote perfectly captures the goals and sentiments of the Glass Bookshop: a place to find community and refuge in a world where conflict is the common denominator. And looking good while doing so.