News
Students' Union
Policies on helping Campus Saint-Jean and student employment pass Students' Council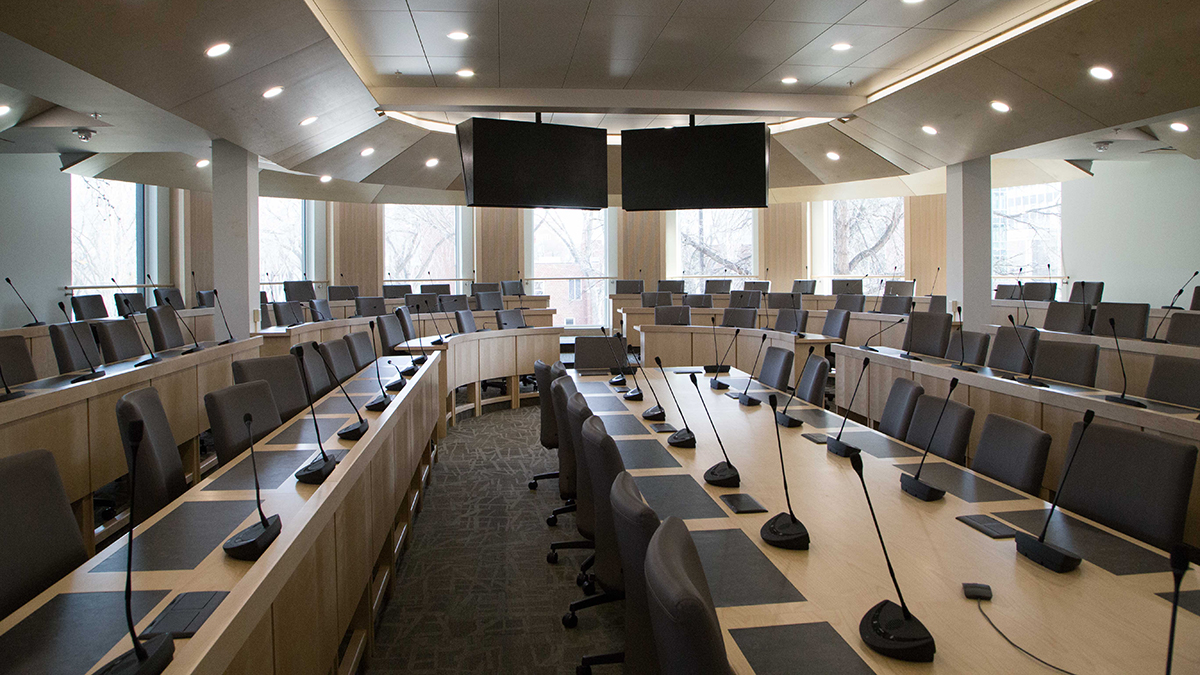 Students' Council passed policies to help guide their advocacy efforts for Campus Saint-Jean, and to increase more work opportunities for both domestic and international students.

The meeting on February 26 only had about 15 members in attendance due to Students' Union elections. This meeting was also one of the shortest of the year, and lasted under an hour due to the lack of debate and new motions.

Additionally, several Students' Union executives, including president Reed Larsen, had the chance to reflect on their year, and which goals they were able to achieve and which ones they weren't.
Campus Saint-Jean political policy advocates for more maintenance funding
A new Campus Saint-Jean policy was introduced at the meeting for first reading, where it was passed unanimously with 13 votes in favour.
The policy includes pushing the University of Alberta to have information like emergency communications and scholarships available in both English and French. Additionally, the policy advocates for provincial funding to renovate spaces at the campus, as well as the creation of an Aboriginal student gathering space at the satellite campus.

While a policy on addressing linguistic at Campus Saint-Jean previously existed, the new one expands the scope of the Students' Union's advocacy efforts to include additional concerns like maintenance funding.

Work on the policy started in late November, and underwent some changes after a town hall meeting and conversations with student leaders, according to arts councillor Stephen Raitz.

"The policy provides direction for advocacy, but it's not going to prompt specific changes or result in the university immediately changing things," Raitz said. "This just provides stronger guidance with where we go and how the Students' Union treats issues at Campus Saint-Jean in the future."

More work hours for international students part of student employment political policy
Student's Council also renewed their political policy around student employment. This policy supports more local job opportunities for students throughout the year, and advocates that the province fund places like the University of Alberta Career centre, which has resources to help students.

Although a policy already exists dictating the Students' Union's advocacy around student employment, it is set to expire on April 30, 2019. The policy passed second reading unanimously at the meeting.
While the old policy had five resolutions, the revised version includes eight new resolutions, including:

Advocating that the federal government provide consistent funding to the U of A Career Centre in order to provide adequate resources to aid students.
Advocating for international students to be able to work between 25 and 30 hours per week during the academic year.
Advocating that the Indigenous Skills and Employment Training Program include opportunities for post-secondary Indigenous students.
Students' Union president Reed Larsen supported the policy since it will bring the Students' Union more in line with the Canadian Alliance of Student Associations, and give international students the opportunity to work more hours throughout the year.

"One thing that continues to be near and dear to my heart is working hours for international students," Larsen said, "I'm very happy that this year our federal organization, the Canadian Alliance of Student Associations, had adopted policy and advocacy priorities for the year, including those for increasing international student hours and reducing red tape."
Outgoing executives reflect on the past year
During question period, one councillor asked outgoing president Reed Larsen and vice-president (operations and finance) Emma Ripka (the only two executives not running in the elections) about their accomplishments during their tenure.

Reed expressed pride in the passing of Bill 19, which capped provincial tuition increases and also regulated international student tuition. However, he regretted not being able to advance anything in regards to the rights of tenants living on campus.

"My time is the reason why people talk about tenants' rights at all," he said. "However, in three years, we haven't been able to get much more movement other than the general acknowledgement [of this issue]. That is a big problem."

Ripka expressed pride in hitting all of her platform points, like adding vegetarian options and Switchboard, a platform for finding advice and job opportunities. However, she felt her handling of deferred maintenance was not as successful as she had hoped.

"[Deferred maintenance] was definitely a challenge. I think that it's a good thing that people are talking about it now because the problem is not going to go away." Ripka said, " I look forward to seeing what my successor can do with it."