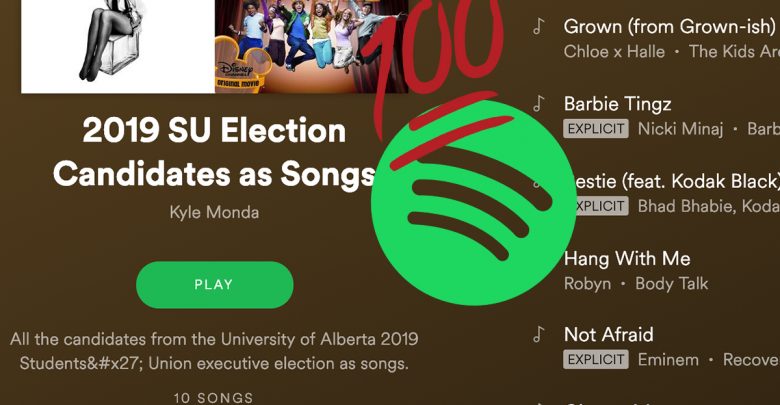 This election needs a soundtrack. After conducting an extremely scientific and objective analysis of each candidate and their platform, I have selected campaign theme songs. Don't @ me.

President
Akanksha Bhatnagar: "We're All In This Together" by The Cast of High School Musical
"We're not the same. / We're different in a good way. / Together's where we belong."
Bhatnagar is running on an inclusive platform of bringing students of all kinds together. Maybe if we stand hand in hand and vote for Bhatnagar, all our dreams will come true.

Andre Bourgeois: "Bet on It" by Troy Bolton/Zac Efron from High School Musical 2
"I'm not gonna stop; / that's who I am. / I'll give it all I got; / that is my plan."
Much like Troy Bolton leaping around a golf course, Bourgeois has brought a determined energy to every forum. The other candidates might try to get in his head, but Bourgeois is listening to his own heart talking.
---
Vice-President (Operations & Finance)
Luke Statt: "Feedback" by Janet Jackson
"Feedback, feedback, oh. / Feedback, feedback, oh."
Statt has said he wants to launch a whopping eight advisory groups to hear from students. When he hears feedback, he's sure to take the SU's businesses higher.

Vice-President (Academic)
Joel Agarwal: "Party for One" by Carly Rae Jepsen
"Party for one. / If you don't care about me, / I'll just dance for myself, / back on my beat."
Agarwal is the lone candidate running for vice-president (academic), undeniably the most boring executive position. Students might not care about him, but he's trying.
---
Vice-President (External)
Robert Bilak: "Grown" by Chloe x Halle
"I'm taking one day at the time. / I think I'm handlin' just fine."
Bilak might be younger and less experienced than Brown, but that doesn't mean he isn't grown. Watch out, world!

Adam Brown: "Barbie Tingz" by Nicki Minaj
"Let's be real: all you bitches wanna look like me, wanna be in demand, get booked like me."
Brown always brings up his accomplishments, especially his 15 minutes with the Prime Minister. Want the advocacy cheat code? Come on, bitch, nice try.
---
Vice-President (Student Life)
Jared Larsen: "Bestie" by Bhad Bhabie
"I could brag about my best friends, everybody rich."
Larsen has made a habit of name-dropping during forums, from student representatives to university administrators, and even UAPS officers. With his big network of besties, Larsen can't fuck with those other candidates, they messy.

Rory Storm: "Hang With Me" by Robyn
"And if you do me right, I'm gonna do right by you."

Storm just wants us all to have lots of friends and connections on campus. Storm's for real and not pretend, so we can definitely hang with him.

Shuaa Rizvi: "Not Afraid" by Eminem
"I'm not afraid / to take a stand. / Everybody, / come take my hand."
At every forum, Rizvi has talked openly about her nerves and how she hopes she can inspire others to be brave enough to run in the election. Rizvi will walk the road of this election through the storm, and we know she'll never be alone.
---
Undergraduate Board of Governors Representative
Rowan Ley: "Gimme More" (student representation on the Board of Governors), by Britney Spears
"Just wanna go that extra mile for you… feels like no one else in the room."
It's Rowan Ley, bitch. Ley's thirst for more student seats on the Board of Governors is insatiable. The Board might have him up against the wall, but he's on a mission, and if he wins the election, he's got our permission.