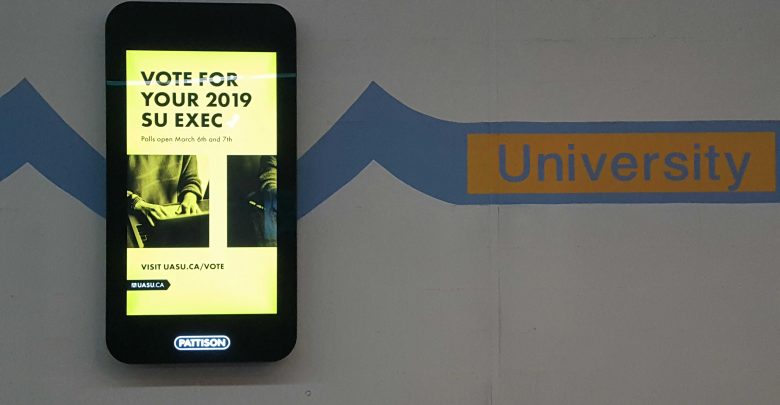 After six forums, The Gateway wanted to set the record straight on a few responses candidates gave on the 2019 Students' Union election trail.

This includes responses given by presidential candidates Akanksha Bhatnagar and Andre Bourgeois; and the candidate for vice-president (academic), Joel Agarwal.
Are students losing representation on Board of Governors committees?
At the Campus Saint-Jean forum on March 1, both presidential candidates took different stances on whether students would lose elected representatives on several Board of Governors committees.
The Board of Governors had been discussing changes to the types of committees, and the mandates of committees, throughout the year. These changes would take effect in the future.

Candidate Akanksha Bhatnagar said the Students' Union would be losing representation on the board, while candidate Andre Bourgeois, current vice-president (student life) disagreed.

"Currently, no students are going to be sitting on any board committees according to the new terms [being discussed]," Bhatnagar said. "Going forward, we need a president that will fight to make sure that students are actually [going] to sit on board committees."

The Gateway could not find any documents or meeting materials from any board meeting indicating students would lose representation on the Board of Governors. When reached out for comment on the matter, current Students' Union president Reed Larsen said the board is not taking away student membership from any committees.

"No, the Board of Governors committees are not being barred to students, much the opposite I would argue," Larsen said in an email.

Larsen said both the president and Board of Governors Representative are currently limited to sitting on two committees. Under the new structure, this limit would be taken away so it would be up to them on how many, or few, committees they would sit on.

"The board was very adamant [in discussions] that the board committees move to a more inclusive structure, so that board members could serve on any committees," Larsen said.
In a response sent to The Gateway, Bhatnagar said she is concerned that in the proposed changes, the board is not listing specific seats for the Students' Union president or the Board of Governors Representative. Instead, the board refers to seats being allocated to "internal constituents" which she said is a "vague description."

Bourgeois said at the forum that he actually sees the board changes as an opportunity for student representation to grow.

"There is no indication from the university that we are going to lose any of our membership on committees," he said. "However, there is an opportunity with the new board mandates… to increase student membership."
Do Augustana students pay reduced Students' Union fees?
Also at the Campus Saint-Jean forum, presidential candidate Andre Bourgeois said he would reduce the membership fees students at the French campus pay toward the Students' Union. He incorrectly said that Augustana students pay a reduced fee.

"Augustana pays a reduced Students' Union fee and you should too," he said. "The Students' Union shouldn't charge you full price for you to bus 30 minutes to North Campus for a service that is only available in English."

According to Students' Union bylaw 8200, both Augustana and Campus Saint-Jean students pay their membership fees in full. However, 57 per cent of those fees are transferred to their respective faculty association representing those students, the Augustana Students' Association and l'Association des Universitaires de la Faculté Saint-Jean, to aid the organizations in providing services and events.

Wait, how many people live in Olds?
During The Gateway's presidential radio debate, a question was directed to both candidates asking why they thought more students don't vote in Students' Union elections.
The 2018 Students' Union election had a voter turnout of 24 per cent, with 7,352 ballots cast with an eligible amount of just under 29,000 students.
Presidential candidate Akanksha Bhatnagar responded by saying "Students in our campus are heavily engaged in our elections," and that voter turnout in Students' Union executive elections is comparable to municipal elections in the town of Olds, a town in southern Alberta, which she claimed has a population equal to the number of undergraduate students at the U of A at around 30,000.
Bhatnagar also claimed that voter turnout in Olds is "significantly less" than voter turnout in Students' Union elections at eight or 10 per cent.
As of a 2016 census, Olds has a population of only 9,184, much less than the undergraduate population here. According to 96.5 CKFM, a local radio station, the last municipal election had a voter turnout of 23 per cent in 2017.
When did GovWeek actually start?
At numerous forums, including the residence forum and second SUBStage forum, and in his Q&A with The Gateway, candidate Joel Agarwal incorrectly said GovWeek started two years ago.

GovWeek is a week-long event run by the SU to inform students about university governance, showcase opportunities for student leadership in politics, and to inspire potential candidates. It debuted in 2016 and the third annual GovWeek took place from January 21 to 25, 2019.