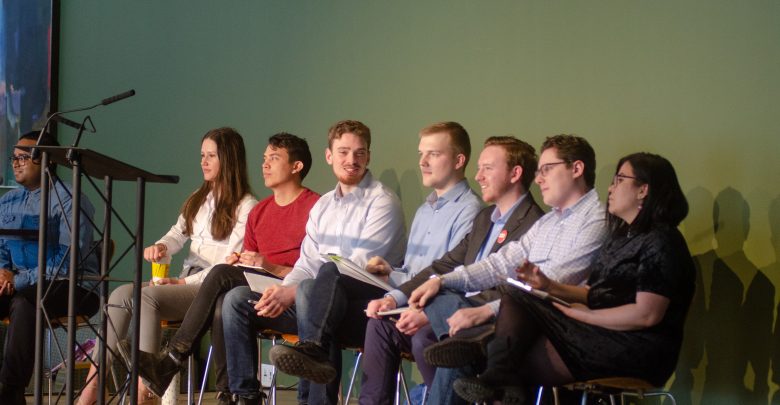 To stay on campus or not to stay on campus
At the second SUBStage forum, the two vice-president (external) candidates talked about voluntary student unionism, student employment and grants, and involvement in the Canadian Alliance of Student Association.

Most questions came from Jimmy Thibaudeau, who ran twice for the vice-president (external) position and is currently managing candidate Adam Brown's campaign.

During introductory statements, Brown, a fourth-year bilingual business student and the current vice-president (external), emphasized his experience working with the government. He said he will advocate for increased non-repayable student grants, and more degree-relevant student employment experiences.
Brown added he will also focus on integrating fundraising into his portfolio. Through increasing community outreach and marketing, Brown believes the Students' Union can bring in additional donations to create grants and funding opportunities for students.

The other candidate, current arts councillor Robert Bilak, said improved student advocacy requires collaborating with non-government organizations to reach common goals. By building connections with other organizations like the Canadian Mental Health Association, Bilak said the Students' Union can bring in additional services and support for students on campus.
Bilak, a third-year political science student, also said he would not pursue a leadership position in the Canadian Alliance of Student Associations (CASA) if elected. Instead, he emphasized the need for executives to remain on campus as much as possible to address local student concerns, rather than working on federal advocacy. He did say he would consider running to chair the Council of Alberta University Students (CAUS), to make sure that organization creates policy around voluntary students' unionism as well as Indigenous issues.
However Brown, the current CASA chair, said working with CASA is essential for effective advocacy, and that he'll run for chair again.

"It's our participation with CASA that makes our advocacy so much stronger than if we were doing this alone," Brown said.
Both Bilak and Brown said they were against voluntary student unionism.

"[Voluntary student unionism is] one of the most, if not the most, detrimental threat to student unions right now," Bilak said. "We need to show the government what the SU does and why."
When questioned about rising tuition costs, Bilak said it's one of the biggest failings of the previous year's executives. He wants to advocate for increased grants and bursaries for low and middle-income students.

Brown said he would like to see the removal of interest from domestic student loans, similar to a recent change in British Columbia. For international students, Brown said he wants increased tuition regulation.

"Let's be frank, the university treats international students like cash cows," Brown said. "I would advocate for an immediate freeze."
— Calvin Chan
Operations and finance candidate asked if he would resurrect the failed student spaces levy
The sole candidate running for vice-president (operations and finance) Luke Statt, a current business councillor and fourth-year business student, was questioned about the failed student spaces levy and how he would respond to voluntary students' union fees if they became a reality.

In one question, he was asked, whether he would present Students' Council with a similar initiative. He answered that he would only do so if more significant consultation was completed with students. For him, the idea behind the proposal was good but there wasn't enough consultation.
"I think one of the crucial mistakes was passing what the organization needs to solve the problem, as opposed to passing what students are willing to pay and do to solve the problem," Statt said.
Statt voted in favour of the levy and having it become a referendum at Students' Council. He said at the forum that it was a "failure" on Students' Council's part that the levy was not allowed to go to referendum so students could have their voice heard.
"It was a poor decision," he said. "Students should have had an opportunity to vote on it rather than council saying it for them… No student had the opportunity to say, yes I want this or no I do not," Statt said. "There were some students who would have wanted this."

Many questions at the forum also addressed concerns over a United Conservative Party (UCP) policy that states they support making current mandatory students' union fees voluntary. The Students' Union collects $193.36 per year from every full-time U of A undergraduate student not at Augustana in membership fees and dedicated funding fees for groups and services on campus.

One question specifically asked how Statt believes the Students' Union operations and businesses would be affected if the UCP policy became reality.

Statt said if this type of environment came about, he would not "kill" any Students' Union owned and operated business. He added that many services the Students' Union offers, like Safewalk, are "critical" and that he would not "kill them right away."

He added that the Students' Union currently only relies on student membership fees for 25 per cent of its operations. Statt said there is more the Students' Union could do to generate revenue outside of student fees.

Further, he said the current management team of the Students' Union already have contingency plans on how they would handle this type of situation. Statt said if worse came to worst, it would be a good opportunity for student engagement to determine the fate of some Students' Union services.

In terms of dedicated funding units, including organizations like the Campus Food Bank and The Landing, Statt said he would try to have the Students' Union temporarily fund these organizations and services "to keep them afloat."

"The reality here is the Students' Union only exists to help students," he said. "I think there is a role for the Students' Union to support [these organizations]… temporarily until there is a longer term solution."

— Adam Lachacz
Board of Governors Representative candidate Rowan Ley

Vice-president (operations and finance) candidate Luke Statt

Vice-president (external) candidate Robert Bilak

Vice-president (external) candidate Adam Brown

Aboriginal Student Council president Katherine Belcourt
Aboriginal Student Council promises more details surrounding proposed fee
During the forum, Aboriginal Student Council (ASC) president Katherine Belcourt revealed that a document with a more detailed breakdown of their fee proposal will be released sometime today.
In her introduction, Belcourt explained how the money raised by the proposed $1.00 opt-outable fee would be used to expand ASC's services. She gave this breakdown:
25 per cent of the funding will go towards cultural supports and events.
25 per cent will go towards educational opportunities.
20 per cent will go towards new awards.
17 per cent will go towards the proposed child care supports.
13 per cent will go towards optimizing ASC's operations.
Belcourt added she didn't realize information included in their initial fee proposal wasn't made available publicly, and that the document they'll be releasing will discuss the specific cultural events, and educational opportunities they'd like to fund. One example she gave was having off-campus ceremonies.
"Our only means now of fundraising are small fundraisers," Belcourt said. "This dedicated funding unit would greatly expand our offerings [as a student group]"
After the forum was opened to audience questions, former vice-president (external) candidate Jimmy Thibaudeau asked Belcourt if ASC is considering relocating its lounge area in the North Power Plant Building to somewhere else, as the space is due for renovations.
In response, Belcourt said ASC is fortunate to have that space as few other student groups have anything similar. She added she hasn't looked at the possibility of relocating ASC from the North Power Plant Building.
However, Belcourt mentioned the Maskwa House of Learning — an Indigenous student life building that was originally proposed by the university in 2015, but has stalled due to a lack of government funding. Belcourt said if it's ever built, ASC can move into it and use the new space.
— Nathan Fung
French reports and town halls promised by BoG rep candidate
Rowan Ley, a third-year political science student running uncontested in the Board of Governors Representative race, emphasized his intentions to increase student engagement and to create long-term goals.

Ley received multiple questions about increasing engagement and representing student interests, as well as several from the current Board of Governors Representative, Levi Flaman.

Flaman asked Ley how he would improve on any mistakes he has made over his term. Ley said he would make sure his reports to Students' Council are submitted in time, as this was an issue Flaman had this year.

"I will say that it's not that Levi has done a bad job, and this is not to say that past [Board of Governors Representatives] have been incompetent, but that as student government, we should always aspire to do better," Ley said.

One of Ley's platforms points is to increase the number of student representatives on the Board of Governors. In response to a question from Gateway columnist Elif Atila asking if this goal might be unrealistic, Ley said while it's not a single-year goal that will be accomplished immediately, it is a feasible one.

Receiving multiple questions about how he intends to represent the various groups on campus, including Campus Saint-Jean students, Ley said he will go to them and their spaces, including hosting town halls. In the case of Campus Saint-Jean, Ley said he is fluent in French and promised to make his council reports available in both French and English.
— Helen Zhang