Institutional
News
Report reveals higher student enrolment, but decline in Indigenous student retention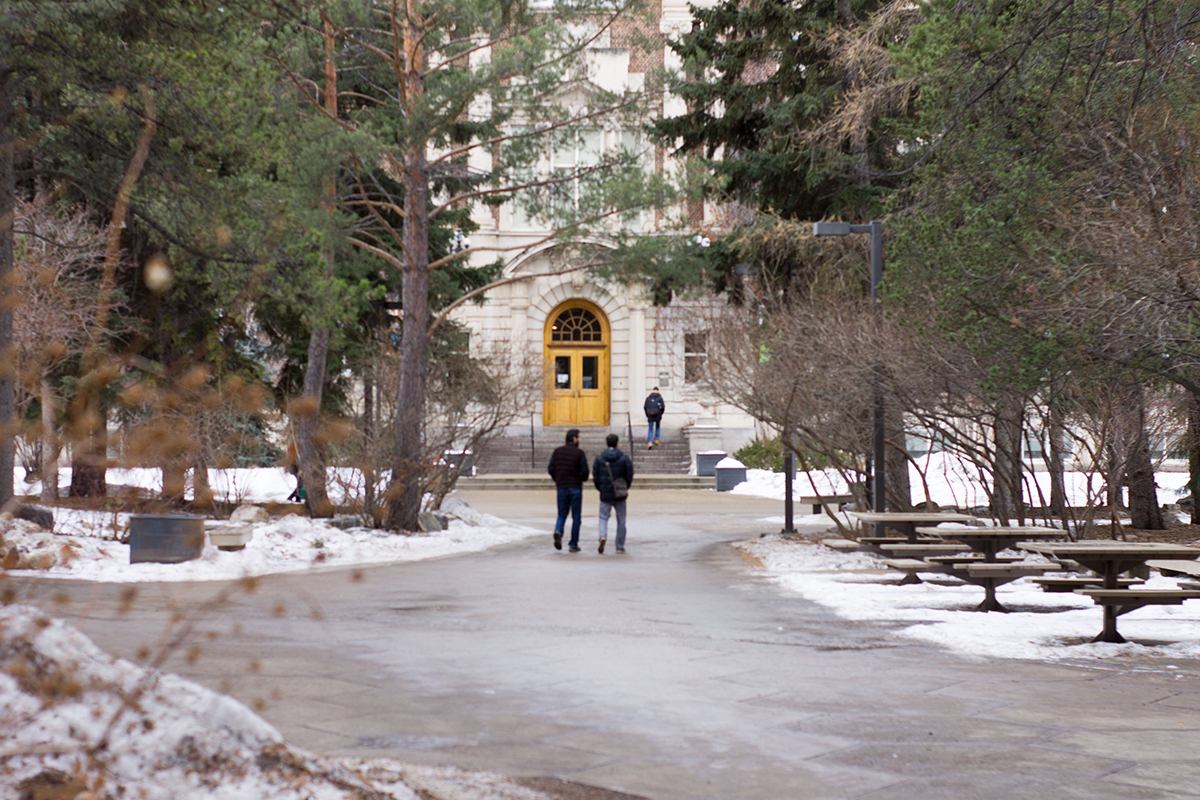 The university is seeing higher enrolment, a decline in Indigenous student retention, and growth in the number of international students studying at the University of Alberta, according to a new report.
The U of A report on undergraduate enrolment is an annual document released by the Office of the Registrar to provide detailed information about changes to the student population, including where students are coming from and retention numbers. The report was presented on January 16 at an Academic Planning Committee (APC) meeting — the General Faculties Council subcommittee that deals with academic and planning concerns.

At the APC meeting, interim vice-provost and university registrar Melissa Padfield said the university is seeing a larger demand across all faculties in terms of enrolment. Further, she said the growth is coming primarily from direct-entry students from high school.

"We are in a bit of a hot cycle," Padfield said. "There is record demand for what the U of A has to offer."

In 2018-19, a total of 37,443 people applied to the U of A. Of the total applicants, 22,440 were admitted and only 13,209 actually registered to attend the university. According to the report, enrolment in 2018-19 set a new record for the U of A.

Eighty-three per cent of all undergraduate students came from Canada. However, the report said that there has been a 3.1 per cent decrease in domestic students attending the U of A. Since 2013-14, the most out-of-province students attending the U of A have come from British Columbia.
Indigenous enrolment increases while retention declines
Padfield said 2018-19 saw the highest number of self-identifying Indigenous students enroll at the U of A. This number increased by 3.1 per cent, leading to a total of 1,175 Indigenous students attending the U of A.
In addition, the report said 2018-19 saw the largest decline in Indigenous student retention since 2011-12. This year, only 76.3 per cent of first-year Indigenous students returned to complete their second year of studies — as opposed to 91.2 per cent last year.

According to Padfield, the university is "not concerned" with the dip in Indigenous retention, as the numbers are small to begin with.

"Because the numbers [of Indigenous students] are quite small, even small variation can make a significant change to that year to year retention," she said.

She added that although the decline in retention occurred, the university had already begun exploring more supports catered to Indigenous undergraduates to be offered by the Dean of Students and First Peoples' House.

Students from well-represented countries fuel international student growth
Padfield said that overall, the U of A deepened, not broadened, its international student representation by country. Countries with more than 100 international students attending the U of A, such as China, India, Bangladesh, and Nigeria, increased their enrolment numbers.
"We have more students attending from already well-represented countries," she said. "We are seeing less representation and a reduction in enrolment from other countries overall."

Students from China still represent the largest proportion of international students attending the U of A. Out of a total of 7,700 international students, there are over 5,000 students from China. Bangladesh replaced Nigeria as the U of A's third largest contingent of international students for the first time in 2018-19. There are 134 international students from Bangladesh while 123 are from Nigeria.

The report also states that this year, the university achieved its overall enrolment goal of having 15 per cent international students making up the total university population, a target that was set 10 years ago by the university administration when Indira Samarasekera was president.
"Right now we are looking at how [best] to maintain the amount of international students attending the U of A so that we can create that diversity in the student body," Padfield said.

Padfield said the overall increase in enrolment was fuelled by international student direct-entry from high school. She said that relatively, international student demand has outstripped domestic demand.

Provost Steven Dew said that with all this in mind, the university will have to make more choices when it comes to enrolment numbers of both international and domestic students. He said the university's Academic Planning Committee will have to examine how to manage this growing demand through measures like new entrance mechanisms.

"In our system [overall]… we have far more demand than we have capacity," he said. "We are seeing greater number of applications across the board. This type of pressure… will have to lead us to be careful where we go next."