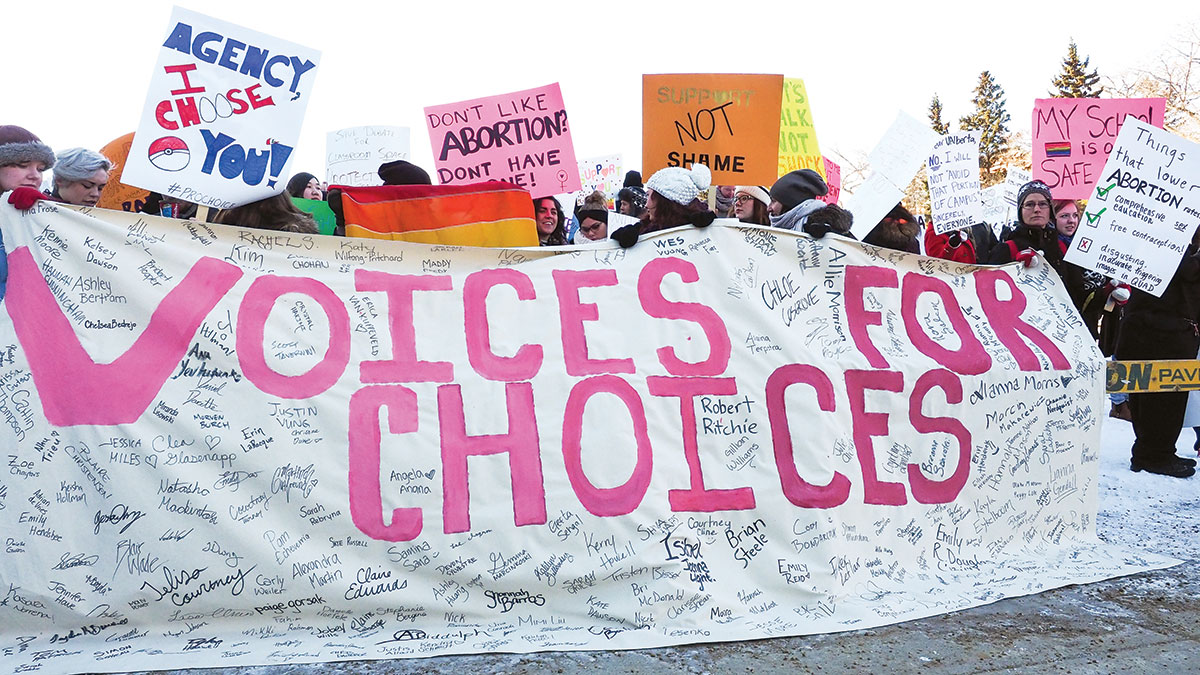 Like many first years at the University of Alberta, I was overwhelmed when I learned how many student groups were available on campus.
There are a few groups I tend to avoid at clubs fairs, one of them being UAlberta Pro-Life. While everyone is entitled to their own opinion, it just so happens that I vehemently disagree with most of theirs. Though after Student Group Services (SGS) made a Facebook post spotlighting the pro-lifers, it became clear that many other students disagree as well.

The post's many comments mostly express anger, disbelief, and disgust. While most of the outrage is directed towards UAlberta Pro-Life, some is also directed towards the post's caption, which reads "UAlberta Pro-Life works to open the doors for respectful discourse on the topic of abortion. They believe that regardless of what individuals believe, we are all responsible for exploring differing opinions and striving to understand one another."

As people were pointing out, however, UAlberta Pro-Life has been anything but tactful in the past few years. One commenter recalled a time the group set up graphic anti-abortion banners during a Pride Week celebration, a telling anecdote from the group's controversial methods of advertising in March 2015. Not exactly what you would call respectful discourse, or an effective way of persuading others to join your cause.

Other commenters' ire is directed towards SGS for highlighting a group that fights against bodily autonomy. The pro-life movement believes in the absolute sanctity of life, and that an unborn fetus is alive and thus deserves this protection. Under this rationale, abortion is regarded as a kind of murder, and birth is necessary no matter the circumstances. Therefore, priority lies on the unborn fetus over the person carrying said fetus.

As such, it justifies leaving the parent of the fetus largely crippled under the stress of having to provide and care for a newborn, possibly by themselves. What the pro-life movement fails to recognize is that some abortions are medical necessities, as in some cases the parent could die in childbirth. As well, by making abortions illegal, they're not making the procedure inaccessible; they're only making safe procedures inaccessible. Those desperate enough will find a way, even if it's illegal and dangerous.

It's unethical to deny anyone a choice about their own body, and to force someone to give up on their dreams, goals, and aspirations in exchange for a child they may not be able to adequately care for. Unless the pro-life movement is willing to sponsor the parent and child and pay for every diaper, every jar of baby food, every toy, and every necessity of early childhood, like daycare, they should let people do what they want and mind their own business.

Since the post went up, the page added an edit in the caption reading "The Social Media Spotlight features registered student groups on campus by request. The views of individual student groups do not necessarily reflect the views of the SGS." This was most likely a way of diverting the backlash they received. While I'm disappointed in what UAlberta Pro-Life stands for, I'm not upset that SGS spotlighted them in the first place.

I can already see some crying "free speech!" at their digital device as they read this. Sure, this group can preach against a person's right to choose instead of offering alterior solutions, such as more funding for organizations like Action Canada for Sexual Health and Rights which provide sex education and affordable contraceptive measures. It's their freedom of speech. But the commenters on the original post are exercising their own freedom of speech, and it just so happens that their responses are ones of displeasure and revulsion.