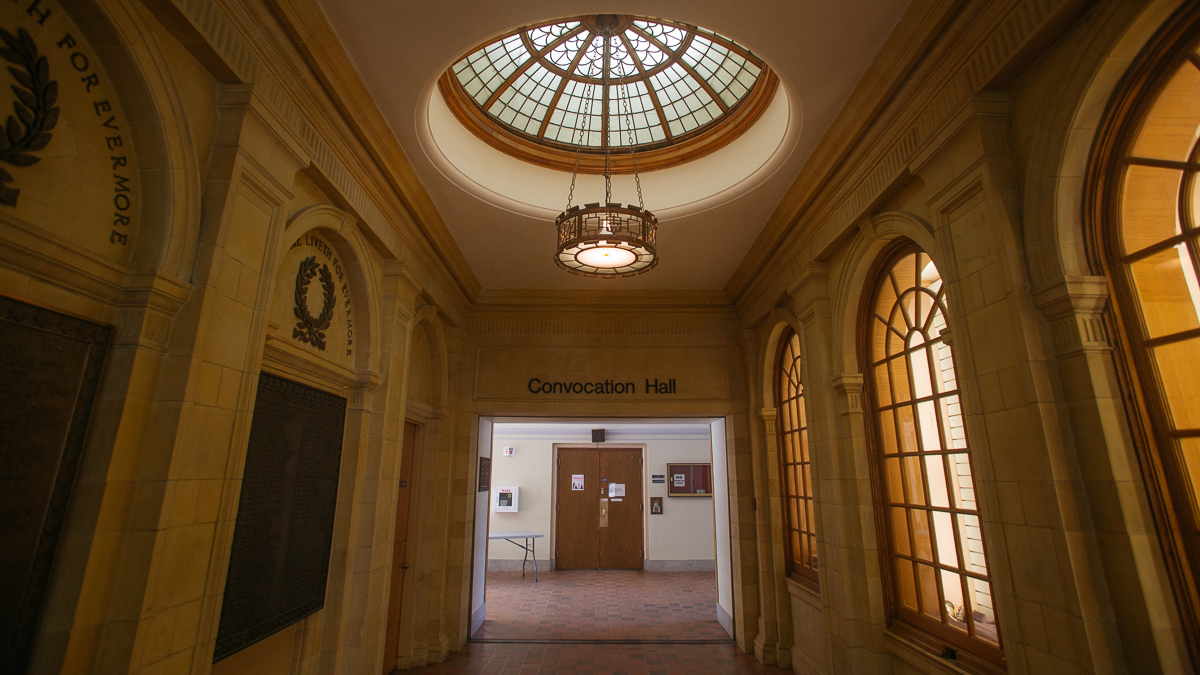 What: Chamber Music Masterworks with Clarinet
When: Friday, February 1 at 7:30 p.m.
Where: Convocation Hall
Who: James Campbell, Rafael Hoekman, Patricia Tao, Robert Uchida

Featuring works spanning across centuries, James Campbell and company played an eclectic array of concert music that showed the progression of clarinet compositions up through to the modern day.
While the concert was not the most musically precise performance, the performers' enthusiasm made up for what was lacking in preparation.
As the name "Chamber Music Masterworks with Clarinet" suggests, the repertoire centred on clarinetist James Campbell, a Professor of Music at Indiana University with a Juno Award and the Order of Canada to his name among other symbols of prestige. Quiet but lovable, he made sure to address the audience before each piece and explain what he hoped to convey in clear but accessible language.
However, there were some flaws. For the first piece, "Trio for Piano, Clarient, and Cello in B-Flat Major" by Beethoven, Campbell was noticeably out of tune. He pushed forward with generally okay-quality music. But the poor tuning would stick with him, especially on more elongated notes. He fixed this error in the second song, going backstage beforehand, presumably to tune.
But, after the intermission, in the third piece, "Sonata for Clarinet and Piano" by Francis Poulenc, Campbell was out of tune again, with the addition of a few squeaks. One could blame it on the cold, yet it still caused Campbell to pale in comparison to his colleagues onstage.
As for said colleagues, pianist Patricia Tao played with Campbell on every piece in the performance. Her part was more of an accompanist in most pieces, but she did not falter for even a moment. Tao played with passion and energy, and that was clear even though she was upstage, furthest from the audience.
Violinist Robert Uchida was also very enthusiastic about his role in the performance; his energy radiated from the stage more than any other musician performing that evening. He often held a more prominent role in songs than Campbell did.
Uchida showed his talent in the aptly named "Flying Fingers" movement, where his accuracy and tone were on point. He also showcased his technical ability in "Contrasts for Piano, Violin, and Clarinet" by Bela Bartók, in which he demonstrated a technique where he managed to play a note with his bow and play "pizzicato," plucking the strings of his violin, at the same time.
Supporting the set with deeper bass notes was cellist Rafael Hoekman. While performing in the first piece that evening, Hoekman made it clear through his playing that even though this show's purported purpose was to show off Campbell's range and technical prowess on the clarinet, there was no reason the cello could not shine as well.
Hoekman conveyed to the audience his strong sense of emotion in the music he played. From his unique jazzy style in "Suite from the Sound" to his distinct and moving vibrato in "Trio for Piano, Clarinet, and Cello in A Minor," Hoekman added an important harmony and deep passion to the evening.
As a whole, the performance was an enjoyable evening of chamber music through the ages. However, it felt different than what was advertised. What was advertised was chamber music spotlighting the clarinet, whereas what was received was chamber music that simply included the clarinet.
But the audience was lucky to have received such a talented set of musicians. By the end of the evening, the music had properly resonated with the audience, and they left satisfied, having heard excellent music nonetheless.