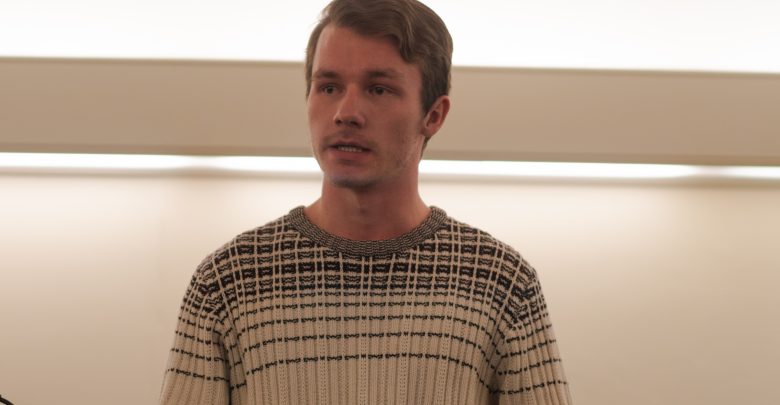 Well, it's that time of year again, where wannabe politicians and hopeful resume-builders attack you with pamphlets about their overwrought campaigns.

At the Lister forum, the second of the candidate forums, three candidates running for vice-president (student life) — Jared Larsen, Shuaa Rizvi, and Rory Storm — presented their portfolios to a small but packed room. The vice-president (student life) portfolio focuses mainly on issues such as campus community, residence, and mental health. The candidates fought against a short time limit to answer complex questions with varying degrees of success.

After this forum, three things have become evident:

We have a clear winner
We have a potentially competent candidate held back by nerves
We might have a third candidate (possibly)
Jared Larsen
Larsen had all the best answers to every question thrown at him. He knew his audience and their issues.
Larsen, as president of the HUB Community Association, is well-aware of the problems facing residences campus and has worked in advocating for residence issues such as improving security in HUB. He hit hard on the student resident voice being properly represented, connecting Indigenous groups and programming to residence spaces, and proper, strong transition processes for residence association leadership. He also had concrete plans to follow through on these issues.
Whether he can actually follow through them is another story, but it's nice to see a candidate actually try. Bottom line: Larsen is on the right track.
Shuaa Rizvi
Rizvi had very unfocused answers during the forum. She was constantly running over speaking time and being cut off by the Deputy Returning Officer, more often than not failing to provide more than surface level promises. She constantly mentioned student advocacy without providing concrete methods on how to better it.
Her answers sounded good on paper: better mental health resources, a need to support students residence associations, and fighting to give the campus community a voice. These are all great in theory, but will fall apart when voters realize there's no action plan to implement them.
I feel Rizvi has a lot of first-time jitters that will hopefully be worked out by Myer Horowitz forum (the only forum that matters). By then, she might be able to contend with Larsen.
Rory Storm

Our third candidate certainly showed up tonight. His answers were admirable, focused mostly on creating a model for the campus student group community after models seen in the Greek society, student athletics, and Week of Welcome.
While one can take issues with the structures Storm wants to emulate, community development isn't inherently a bad idea; in fact, I'd argue it's his strongest campaign point. He'd probably agree, as he found a way to answer every question with reference to it.
As much as I would like to talk about Storm's answers, I'd rather talk about the one question he didn't. During general questions, all races were asked about what reconciliation means to them. All of the candidates answered, some better than others. Storm's answer was silence.
Storm simply had to provide some insight on the matter in order to properly answer it; anything would've been better than nothing. Instead Rory sat, while Larsen won.
TLDR: Larsen is on track to win the vice-president (student life) election. Rizvi has the potential to rival Larsen, she but she needs to embody confidence, be concise, and have a concrete plan. Storm needs to have laurels before he can rest on them.