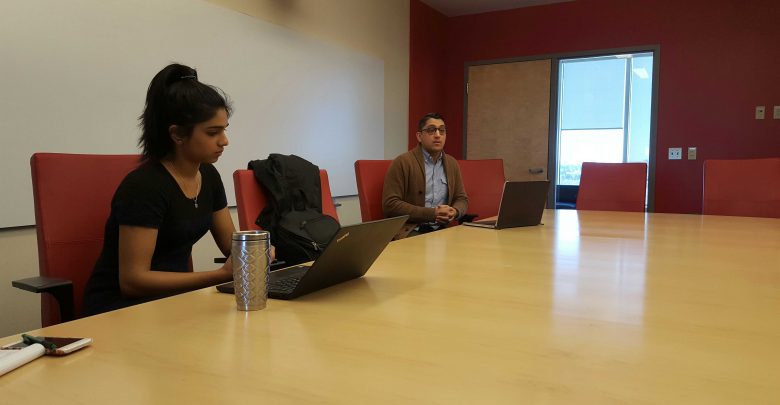 A decision by the Students' Union's Chief Returning Officer (CRO) to prevent plebiscite campaigns from using the logo of their respective organization is being challenged.
In a hearing on February 27, CJSR plebiscite "Yes" side campaign manager Kesia Dias said the decision by CRO Ilyas Gora preventing them from using the CJSR logo in their campaign is "unfair." CJSR is the campus-based radio station, and Dias's campaign aims to renew their Dedicated Fee Unit (DFU) of $2.18 per term. The fee must be reassessed by plebiscite every five years.
Dias brought her case to the Discipline, Interpretation, and Enforcement (DIE) Board — the Students' Union's judiciary — with the hope of reversing Gora's decision.
"The logo is the main identifier for students on campus, and this plebiscite is essentially asking students if they want to keep paying for this service," she said. "We feel that this ruling is unfair to DFUs and student groups."
During the all-candidates' meeting on February 14, Gora told representatives from all three referendums and plebiscites running in the 2019 Students' Union elections that they would not be allowed to use their organization's logos in their campaign material.
In the DIE Board hearing, Gora said his decision was because there is a "gap" in Students' Union bylaw surrounding DFUs, and that it was his job to fill that gap with what he thought was fair.
"This is not a specific decision that we made towards CJSR. It was something we decided in advance about every plebiscite and referenda," he said. "That there will need to be a clear distinction between the DFU organization and the campaigns."
Dias added that past campaigns to renew a DFU have been able to use their student group's logo. In her DIE Board hearing application, she pointed out that the 2017 campaign to renew the Alberta Public Interest Research Group's fee was able to use their logo.
However, Gora drew parallels to candidates in the Students' Union elections who currently hold office, as they are also not allowed to use the resources of their position in their election campaign.
When asked by DIE Board tribune Christian Zukowski what solution Gora and Dias would like to see, both said they'd like to see more clarity on the rules so that confusion can be avoided in the future. Zukowski said a ruling on the challenge can be expected in a few days.