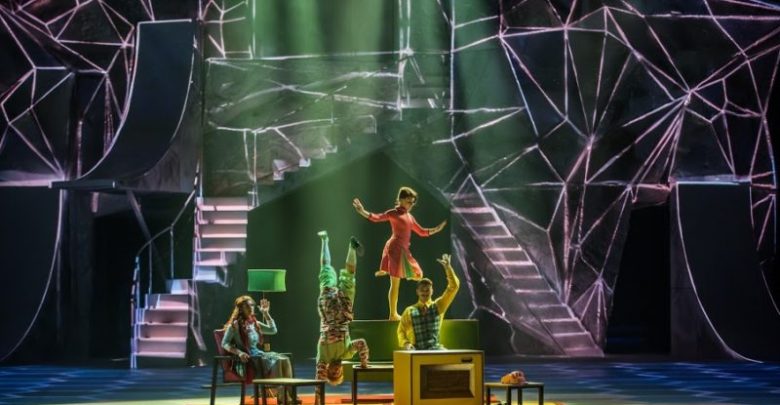 What: Cirque du Soleil's CRYSTAL
When: Feb 13-17, 2019
Where: Rogers Place

---
From soaring under the big top to sashaying over the ice, Cirque du Soleil showcased its innovation by bringing CRYSTAL to Alberta ice at Rogers Place.

This 42nd creation from Cirque du Soleil follows a young woman who free-falls under the thin ice of a pond into an inverted world of her own imagination. Guided by her own reflection, the titular Crystal meets a cast of fantastical winter characters and eventually comes to find herself and return home.

CRYSTAL had a dynamic and shimmering set with many moving elements, from icy ramps to glassy crystalline structures. Back behind the ice lay a large, snowy geometric fortress of sorts adorned with petite caverns and steep ramps for stunts.

What really brought the set (and the whole rink, for that matter) to life were the stunning projections that played throughout the show. With a burst of light, the ice transformed from a doodle pad where skaters' precise steps and jumps were traced in perfect time to a dangerously crackling lake surface.

The skating skill displayed in CRYSTAL blended well with the show as a whole. Suit-clad performers synchronized in the "Big City" number, and energetic skating weaved itself through the entire story. While CRYSTAL had much of the signature Cirque-style soundtrack, in a first for the company, pop song covers of songs were integrated into the show to enhance the narrative.

Local touches warmed Edmontonians up on a very cold night. A favourite was Crystal coming out during the exuberant "Hockey" number wearing an Oilers jersey, eliciting cheers that filled up Rogers Place.

While some numbers focused predominantly on skating, such as "Tap Dance" or the beautiful romantic number "Courtship," other acts showcased acrobatics. But where CRYSTAL really shone was in the seamless creative marriage of the two art forms. In "Home Swing," for instance, trapeze was made all the more stunning as the performers executed their moves in ice skates.

In another moving number during which Crystal meets her love interest for the show, the set became a gold-gilded backdrop for a beautiful ballroom scene, all thanks to the power of projections. Crystal's aerial straps and skating with her suitor made for a beautiful duet, alternating between crisply slicing the ice and soaring unharnessed in the sky.
With a soulful story and theme made for a winter city, CRYSTAL left a bright and reflective spirit gliding into the cool Edmonton night.