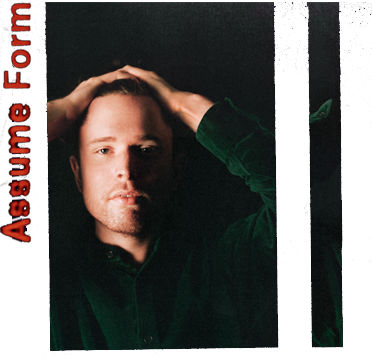 Assume Form
Polydor Records
Singer and producer James Blake is known for crafting music that's sombre and tortured, fractured and mournful.

That's all changed with Assume Form, Blake's fourth studio album.

That's right: Blake's written an album of love songs. For the longtime Blake fan, this may come across as odd, but to my mind, it's a welcome change of pace.

Blake has been pretty silent regarding solo material since his 2016 album The Colour in Anything, spending much of his time behind the scenes songwriting and producing for other artists. While he's been in touch with the hip-hop scene for a while, Blake's delved even deeper into it in recent years, working with Travis Scott, Vince Staples, Kendrick Lamar, Jay-Z, and Jay Rock, among others.

This has had a massive effect on Blake's sound. While his lush synth-piano textures and haunting vocal treatment remain, his more fragmentary rhythms and experimental song structures have all but disappeared. However, this isn't a detriment to his sound. If anything, it shows how he can nail both poppy and experimental styles.

Not only do Blake's rhythms on this album reflect his deep dive into hip-hop, but the collaborations do too. Two tracks, "Mile High" and "Tell Them," feature production from hip-hop's golden boy Metro Boomin. While Travis Scott's feature makes "Mile High" feel a little too much like an Astroworld B-side, Moses Sumney's feature on "Tell Them" decidedly gels better with Blake's production, bringing an eerie quality to the beat's swagger.

Blake's more traditional production is also gorgeous. "Barefoot in the Park" with ROSALÍA is a beautiful duet, following two new lovers beginning to open up to each other. ROSALÍA and Blake's voices blend so perfectly that they almost sound like a whole new voice. Combined with sublime solo vocal verses and swirling synths, this track is pure bliss.

"I'll Come Too" is a beautiful, floaty ballad about following someone wherever they go, being there for them at their best and worst. It's a classic romantic sentiment complemented by "Into the Red," wherein Blake describes how his partner has been willing to sacrifice for him too — per the titular metaphor, to follow him into the red.

But the tracklist isn't all sunshine and rainbows. Like any proper romantic, Blake also tackles the darker sides of love.

"Where's the Catch" is a shadowy, sexy track about the anxieties that arise in new relationships. It encapsulates that nagging feeling in the back of your head telling you that your new relationship is going to fall apart for no reason. As far as the more hip-hop-inspired tracks go — there's a fire verse from André 3000 on here — this one is by far the best.
"Don't Miss It," the only single that came out before the album, reflects on Blake's battle with depression and how his current romantic relationship has helped him find ground to work through it. He warns against missing depression's dull pain, telling people to remember what they need to do to be happy. Blake here offers us a powerful reminder that, while love can help people out of dark places, it can't always fix our problems.

Overall, James Blake has crafted an honest, accessible set of romantic tracks that distills the best of his songwriting. For those who want to get into James Blake, I highly recommend you start here.

Now if you'll excuse me, I'm gonna add this whole album to my love songs playlist, listen to it before I fall asleep, and dream of love anew.