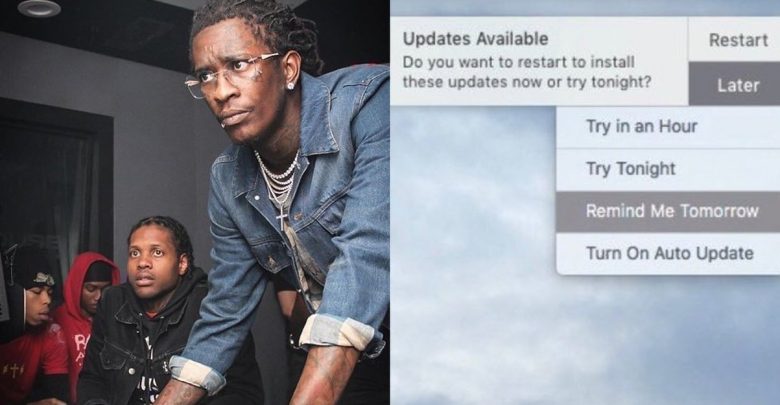 In this top 10, our writer breaks down their favourite memes that came out of 2018. Pray for them and their sanity.
---
Anyone who knows me knows my love for Thugger. I will stan that man until the day I die.

I love his fashion. I love his voice. I adore his music. In my eyes, he can do no wrong. This is why I was so thrilled to see him in one of the best music-related memes of the year.

In this image, Young Thug is presumably editing some audio in the studio. The look in his eye is that of a surgeon: knowing, accurate, and confident.

From a chair in the corner of the studio, Lil Durk watches Dr. Thug, Ph.D., perform his work. He looks on in awe, spellbound but somewhat concerned; Thug is clearly doing some precise work, and one small error could spell disaster.

This meme only increased in power when it was combined with other rapper memes. In one instance, Migos member Offset peers into a microscope while Thugger asks him to "enhance image."
Another has Young Thug responding to villainous threats from a nefarious-looking 21 Savage. This meme essentially established a sort of trap rap cinematic universe, with Thug as de facto leader of the good guys.

But really, beyond my fanboying over Thug, this meme has little substance. It's not very versatile, nor does it fit neatly into other meme macros. It only makes my top ten because I felt like I'd be doing Young Thug dirty by not including him.

So I apologize to everyone who doesn't think this meme deserves a spot in the top ten. I just had to do it to 'em with this one.