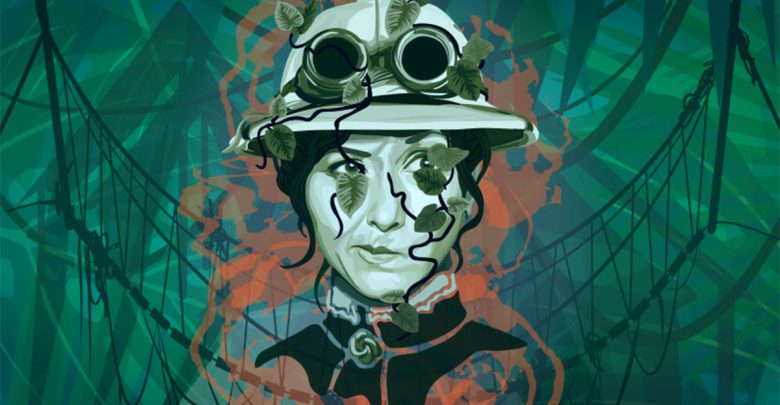 What: On the Verge
Who: Studio Theatre (U of A Department of Drama)
When: November 29 to December 8
Where: Timms Centre for the Arts
Playwright: Eric Overmyer
Director: Kathleen Weiss
Cast: Melanie Bahniuk, Leila Raye-Crofton, Lauren Hughes, Michael Anderson
Set and Lighting Designer: Robert Shannon
Costume Designer: Jeremy Gordaneer
Sound Designer: Matthew Skopyk
Vocal Coach: Shannon Blanchet
Dance Choreographer:  Marie Nychka
Stage Manager: Andrea Handal Rivera
---
On the Verge takes some getting used to, but once it pulls you in, it won't let go. With its minimalistic design, the show may not immediately scream "visual spectacle," but a script full of deliciously archaic language and clever wordplay, alongside colourful lighting and sharp acting, makes the play's whimsy a sensory delight.
On the Verge follows Victorian adventurers Fanny Cranberry (Lauren Hughes), Mary Baltimore (Leila Raye-Crofton), and Alex Cafuffle (Melanie Bahniuk) as they explore parts unknown in Terra Incognita. What begins as a simple adventure story with satirical colonial undertones — "English is the language of Empire!" — turns more sinister as the travellers find themselves on an unexpected journey to America, 1955. On the Verge forces the audience to question their ideas of foreignness and so-called "progress" as the characters begin to lose their drive for adventure in the face of capitalist luxury, offering a thought-provoking critique of Victorian imperialism, Western exoticisation of the "foreign," and American consumerism in the capitalist age.
Each cast member has their own chance to captivate the audience, but the play's most brilliant moments are its many ensemble scenes. Michael Anderson embodies every character the three women meet on their travels, from a German pilot/cannibal to a rapping bridge troll to an earnest teenager pumping gas at an Esso. This daunting task is suited perfectly for his comedic sensibility, and the many whacky personalities encountered on the three travellers' journey add much-needed interest to their otherwise predictable dynamic.
Imagination is the word of the day in On the Verge. A simple black set made up of several staircases and a hanging bridge dominates the stage, setting the scene from a swampy jungle to a glacier to Nicky's Paradise. Terrifying jungle monsters appear — that is, in the form of an inflatable crocodile and a stuffed-animal snake. With only lighting and sound to depict a crackling fire or howling wind and snow, the audience is further swept into the drama by imagining the vivid landscapes. However, this isn't hard to do, as director Kathleen Weiss tasks these four actors with miming trudges through a swamp, scaling a mountain, and even lounging by a pool.
In some ways, the set gets in the way of the actors' evocation of imaginary scenes. The set's most interesting feature, the bridge, is also its least used, and the actors are often sequestered to a small portion of the stage. Although the plain, simple set is adaptable and allows for quick scene changes using only lighting, it's also distracting. The contrast between its modern, industrial lines and the antique whimsy of the play's first act is jarring.
The play takes a while to warm itself up, and I felt that we didn't really get to the interesting parts until about 40 minutes in. Similarly, its ending dragged; On the Verge is at least 20 minutes too long. That being said, Eric Overmyer's script goes from moderately entertaining to captivating soon enough, and these gifted actors are a delight to watch all the way through. Some may find Overmyer's blatantly self-conscious use of Victorian elevated dialogue alienating, but it also makes for a show with endless delights to be found. At once powerful and fun, On the Verge is a night of theatre you won't soon forget.