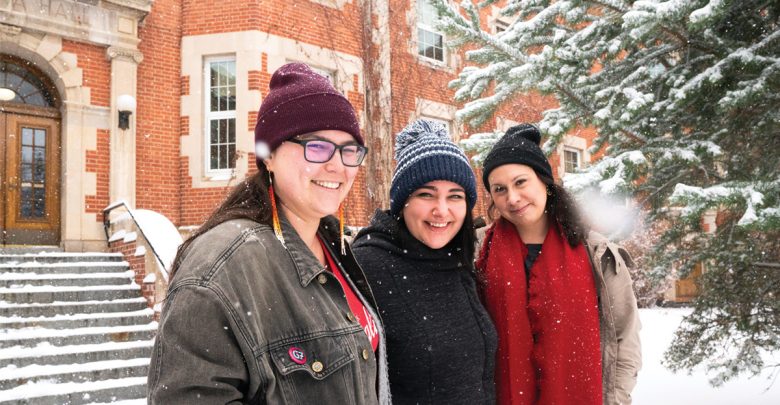 How can the Métis find home despite their landlessness? How can Indigenous peoples reclaim their sexuality? Three University of Alberta PhD candidates are exploring these questions.
Molly Swain, from the faculty of native studies, is focusing on exploring traditional Métis understandings of relationships as a source of political strength. Rather than believing that things will change in terms of relations with the Canadian government, Swain thinks the Métis need to focus on finding more meaningful relationships with the humans and non-humans that live on their traditional lands.
"The Métis people have a history of not having land or of being pushed out of traditional areas," she says. "Today, there is a lack of federally sanctioned land properties that the Métis people can use. I'm seeking to demonstrate that the wahkotowin, the relational responsibilities that underpin Métis governance, can be fulfilled by a complete reimagining of Métis landlessness."
Swain says by looking at how the Métis have historically used relationality, she hopes to help them return to this understanding. In the past, she says that sometimes after a battle, those who survived would adopt and take care of the children of those who were killed. This would be a form of "living" treaty-making.
"This understanding of treaty-making is dynamic, restorative, and positive. It comes with obligations and responsibilities that go beyond… the contractual way that the colonial state understands treaties," she says. "The state sees what is required by the law and does only what is required."
Some contemporary Métis have deprioritized this understanding, Swain says, and have focused on relationships with the state. She hopes her research can uncover this legacy of home as more than just the land beneath one's feet. She wants to explore how Métis sovereignty can be present in other forms of relations like in kinship, care, mutual aid, and solidarity.
"While the Métis do not have specific land now, they are in a position of strength and opportunity to enact a unique governance model through kin-centered self-determination," she says.
---
Kirsten Lindquist, from the faculty of native studies, and Brittany Johnson, from English and film studies, are working together on the Beaver Hills Burlesque Collective as part of their PhD work as a way to engage in an "ethical, entertaining, sexy, and educational decolonial project." The burlesque performances and workshops are put on regularly for Indigenous and non-Indigenous people to come and experience the healing power of movement and to "enjoy their body in all its original beauty." Through this work, they hope to make a lasting contribution to safe spaces in the dialogue of Indigenous sexualities.   
"Dr. Tracy Bear [an assistant professor in the faculty of native studies] always says, 'If this is my body, where are my stories?' Colonialism took a lot from Indigenous peoples, including our way of articulating sexuality, gender, and sensuality," Lindquist says. "We are trying to open the door for further conversation — to show that sexuality is one way of envisioning a past, present, and most importantly a future for Indigenous peoples."
Johnson began her studies by looking at beadwork as a text to talk about decolonizing sexuality, while Lindquist focused on burlesque as a vehicle to restore Indigenous understandings of gender and sexuality. The two joined together to complement each other's work.
"Often people forget the trauma that has been inflicted on Indigenous sexuality," Johnson says. "Our project is trying to heal this, one workshop or performance at a time."
Lindquist adds that Indigenous people, through government policies like the Indian Act and residential school system, have had their traditional understandings of gender and sexuality suppressed.
"Right now, an intergenerational trauma that many Indigenous people face is that sex is not talked about openly or seen in its traditional sense," she explains. "There should be no private-public divide when it comes to speaking about Indigenous sexual experiences. We have just been taught to keep these issues inside, which is incredibly harmful. Our work hopes to change this precedent and really help Indigenous and non-Indigenous people alike to see that talking about sexuality and gender is healthy."
Indigenous people believe everyone is a container, Lindquist says. Their history has been filled with hardship and loss, which affects the way they view their own sexuality, but it's not just a tragic story.
"I want to hold space for anger and grief, but also joy and pleasure," she says. "I hope others will be inspired to do the same."