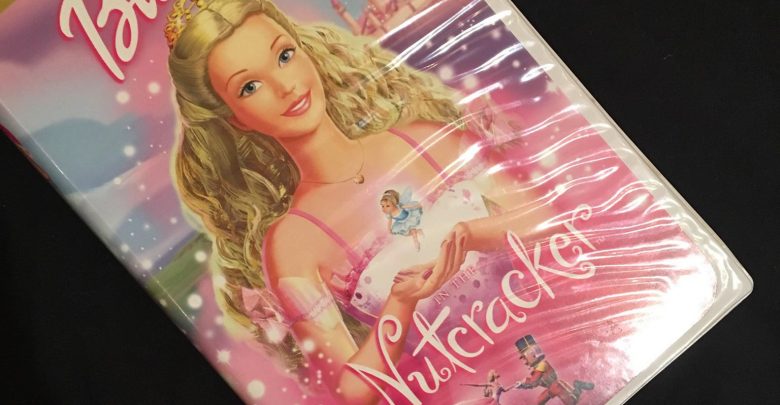 When I was a kid, I was obsessed with the direct-to-video classic Barbie in the Nutcracker to the point that I broke the VHS tape (remember those?) by watching it every single day for over a year.
In my four-year-old mind it was the absolute pinnacle of cinema, and I've always wondered how it's held up in the 17 years since its 2001 release.
For those who aren't familiar with Barbie in the Nutcracker and the greater Barbie Cinematic Universe, here's a brief rundown: Barbie in the Nutcracker is the first of 36 films in the Barbie film series, ushering in a new era of entertainment for enthusiasts of the popular toy franchise (i.e. children born in the late '90s and early 2000s). Barbie in the Nutcracker is a loose (emphasis on the word loose) retelling of Tchaikovsky's ballet, The Nutcracker, and the original short story from E.T.A. Hoffman, The Nutcracker and the Mouse King.
Spoilers for Barbie in the Nutcracker below, if literally anyone cares.
The story is framed as a sort of dream within a story within a movie situation wherein Barbie is telling her sister Kelly the tale of The Nutcracker during a ballet practice — which is a lot more meta than I would have expected from a Barbie film. Nonetheless, it manages to eke out its entire narrative in just 78 minutes, which honestly gave me whiplash watching back as an adult. I truly didn't realize how much time doesn't exist for children.
The remainder of the film follows a girl named Clara in a very nondescript historical period (seriously, it could be 1705 or 1913, there's absolutely no way to tell) who idolizes her adventurous aunt and struggles for independence under her strict grandfather. Her aunt arrives home for Christmas from a trip abroad and gives Clara a gift, the titular Nutcracker himself, and thus begins our tale.
There's a lot to unpack with this movie, honestly — more than I would have thought, even with my hazy, four-year-old recollections. I knew that I had a crush on the Nutcracker and was delighted at his eventual reveal as the handsome Prince Eric (my childhood taste in men is questionable here). I thought that the villains were hilarious (this was a little more on point) and that the animation was groundbreaking (it actually looked a bit like a Sims 2 animatic made by a thirteen-year-old in 2007).
This movie really does have everything, though. There's adventure, really bad CGI hair, a monster made out of the shattered ruins of a Greek pillar, a bat with an inexplicable cockney accent, and a purple horse named Marzipan. Somehow, these all fit together to make a weirdly cohesive and still enjoyable story.
My only real "critique" is that they seemed to forget that ballet was an important piece of exposition in framing the story. You know, seeing as it's being told to Kelly in a ballet studio and they go a good 35 minutes in the middle of the film with no hint of dancing or the sweet, sweet tunes from my guy Tchaikovsky. Seriously, my only explanation for this is that they straight up forgot and tried to cram it all into a super awkward and drawn-out dance sequence at the very end.
Going into this, I was crossing my fingers and toes hoping to God that Barbie would not let me down, that the legend of the worn-through VHS tape would remain untainted, and that Barbie in the Nutcracker could continue to reign supreme. I can honestly say that, animation issues aside, the plot is still pretty good? I generally enjoyed myself? Maybe nostalgia is making me soft, but I'm not ready to admit that Barbie in the Nutcracker might be a sort of bad movie.
Not yet, anyways.