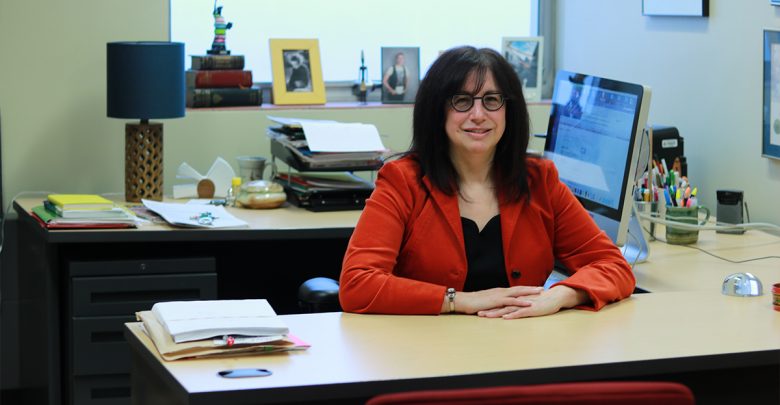 A Lego model of the United Nations building sits on the desk of Yasmeen Abu-Laban, a professor of political science at the University of Alberta with a drive to change people's lives through her research in Canadian and comparative politics.
In November, Abu-Laban was appointed as a Tier 1 Canada Research Chair, a seven-year position which will provide more resources for her research and to support students on campus with different events.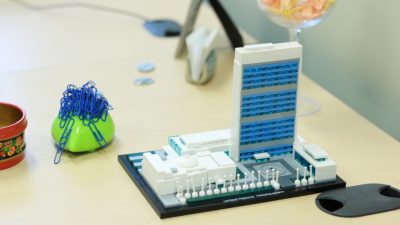 "I'm very grateful to have gotten that kind of support, it's enabling me to do more comparative work," she said. "So the direction I'm really going in now is looking at Canada in comparison to the United States and Australia, and what has been happening around citizenship and immigration policies and responses to immigrants and refugees."
Abu-Laban does comparative research, focusing on places like Canada, the United States, and the Middle East. Her work looks at the framework of human rights as a way of rethinking the way rights and resources can be distributed in the world.
"The value of doing comparative research is you start to see what different types of responses are, what things may be better for human well-being and what things may be worst," she said.  "My hope in my ongoing research is to be able to… provide guideposts for better responses to the needs of human beings."

Some of the research Abu-Laban will be doing with Canada Research Chair is looking at the use of technology as an exclusionary tool among groups. She'll be looking at how far-right groups on the internet can organize and spread their ideas about policy.
"We're seeing a kind of interrelationship between the growing strength of populist and far-right parties that are exclusionary in their messaging and policies," she said. "We've got a very distinct context in the 21st century that really demands our attention because in many ways those kinds of movements threaten the human rights revolution."
Abu-Laban did a bachelor of arts in political science at the University of Alberta, later completing a master's degree and a PhD at Carleton University. As an undergraduate, she travelled to places like the Middle East and learned what policy can do for people and their human rights.
"I toyed with different areas but I think what compelled me about political science is it seemed like an area where you could really make a difference in the world," she said. "I think the bottom line is I went into this area because I thought it mattered to people's lives."
In the summer of 1987, before Abu-Laban pursued her honours degree thesis, a boat of 174 Sikh refugees showed up on the shores of Nova Scotia to claim refugee status. Then Prime Minister Brian Mulroney declared a state of emergency and introduced new legislation to deter refugees from coming to Canada.
The event struck an interest with Abu-Laban as just the year before, Canada had welcomed 155 Sri Lankan Tamils into the country. This event awarded Canada with the Nansen Refugee Award from the United Nations High Commissioner for Refugees.
"That was really the start of seeing of how politicized the whole area of refugee policy had become and I did my thesis on that area," she said. "It's stuck with me since."