Arts & Culture
Lifestyle
Food Fight
Gateway staff and volunteers hash out what the best — and worst — food on campus is.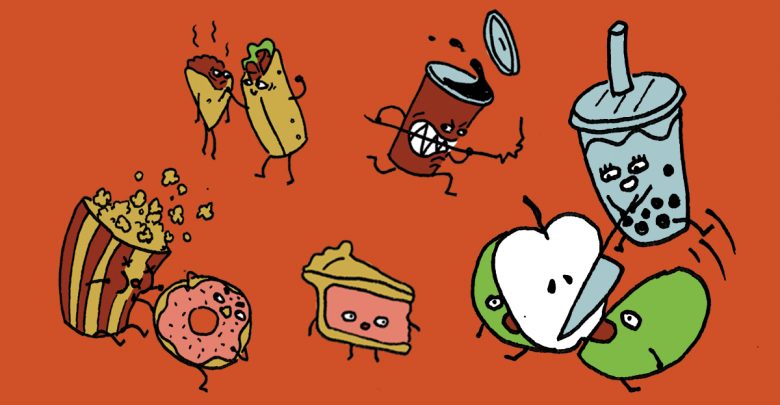 Panelists: Victoria Chiu, Maclean Forbes, Andrew McWhinney, Oumar Salifou, Sofia Osborne, Jonathan Hocnalon, Annie Wildemann, Adam Lachacz, Nathan Fung, Jessica Tang, Raylene Lung, Nina Legesse
THE BEST OF THE BEST
A&W
Victoria: I think the best food on campus right now, when it's in stock, is the A&W Beyond Meat Burger. Because it's only $7 and it tastes really good.
Maclean: My favourite's A&W, too. When it's the $3.50 teen burgers, that's pretty hard to argue with.
Andrew: I think A&W should just win for best fast food.
Oumar: Really? Nothing else beats A&W?
Victoria: Their onion rings are consistently really good. And they have really good prices.
Dewey's and RATT
Oumar: They're mediocre.
Sofia: I do have to say the service sucks at both places.
Annie: Dewey's is nice, though, cause they do give you free coffee refills. You can pay like $2 and just sit and study and keep getting your cup refilled. And they do a really good, filling taco salad. I was thinking as I was eating it today that it's a very pleasant experience.
Sofia: The real Dewey's heavyweight is the all-day breakfast, but they don't serve it after 5 p.m., which sucks. I want tater tots for dinner. But I do think Dewey's is better than RATT in every possible way.
Maclean: Yeah, RATT changed their fries.
Sofia: The fries are so good now! They're so fluffy.
Maclean: I don't like change.
Filistix
Andrew: The best food on campus — and I'm not going to think about price or value, I'm just going to think about how fucking yummy it is — is Filistix. And now they've expanded it, what more could you want?
Sofia: I think Filistix is objectively the best, as in culinarily the best. And it's also a local company.
Andrew: I will die on a hill for Filistix. It is the culinary, and also moral and ethical, choice, and if you don't pick it you are automatically a horrible person.
New York Fries
Oumar: I think the fries are pretty bad.
Annie: I know when I'm hungover the one thing I crave is the pulled pork poutine. It's salty and sweet.
Sofia: I feel like if you get New York Fries as your lunch you're, like, "That Guy."
Hula Poke
Sofia: I haven't tried a vegan option at Hula Poke, but I feel like they're a good option?
Annie: I've had it and it's kind of mediocre because it doesn't have the fish so it's a lot of the same thing, which I think is fine if you want to eat for the sake of eating. It gets the job done but it's not a pleasurable experience.
Maclean: I felt like I didn't get a lot of fish anyway.
Nathan: I feel hurt. I'm a pretty big fan of Hula Poke.
Sofia: I mean Hula's just really expensive, and really salty. It tastes like eating just salt rice.
Tim Hortons
Adam: The grilled cheese is actually so good.
Victoria: Before I stopped eating meat I would eat the chili every single day.
Sofia: It's good that you're vegan now, cause you really need to make up for all those animals you ate.
Annie: I feel like Tim Hortons is just too broad. It's not special, it's not niche.
La Pasta
Annie: I think my favourite thing on campus right now is the $5 combo at La Pasta of salad and pasta AND a piece of garlic bread, which is a whole meal for $5 — shocking.
Victoria: The one thing I will say about La Pasta is their tomato bisque is really good, like amazing.
Sofia: I haven't been back to La Pasta since first year because one time I was in line and I forgot that they didn't take debit (which they do now) and I didn't have enough cash and I was getting a muffin, and the guy was like "Don't worry about it, just pay next time" and then I… never went back.
Oumar: That happened to me in the Joe's place, right when they first opened in HUB.
Sofia: I feel like a fugitive from the law.
Panda Express
Victoria: I saw a baseball game once and the only food open was Panda Express and my (Chinese) dad said he'd rather kill himself than eat there.
Oumar: I think Panda Express is a crowd favourite!
Jess: I'm vehemently against Panda Express.
Sofia: Also the line is so long, right?
Savoy's
Oumar: Savoy's is really good. Their butter chicken combo is very, very nice.
Sofia: They have really good vegetarian options, actually. And I feel like the value is pretty good. It's kind of expensive, but you get a ton. If I get it it's like two whole meals.
Oumar: And the side dishes in the combos change every time.
Andrew: How the fuck have I gone so long without eating there?
Adam: We're going right after this.
THE VERDICT:
Best vegan/vegetarian: A&W (Beyond Meat Burger)
Best fast food: A&W
Best homestyle: Savoy's
Best overall: Filistix
THE WORST OF THE WORST
Ho Ho Chinese Foods
Nathan: I'm saying Ho Ho's because of my memory of having it right before my three hour night class in first year and how I felt incredibly uncomfortable during that whole class because of the food I ate.
Raylene: Did it make you sick? It made me sick!
Nathan: My tummy would just be like "I hate you" for the whole class.
Sofia: Let's put TUMMY in all caps.
Maclean: They chop their food on the HUB tables.
Andrew: Wait, what?
Adam: That's where all the flavour comes from.
Raylene: You know that hot sauce that they have in that giant jar and there's just a layer of oil that sits on top of it? I made the mistake of eating it once and I literally almost went to the hospital because it was so spicy it made my throat inflamed and I couldn't even swallow.
Andrew: That sounds like a great fucking time.
Oumar: I think they embrace how despicable they are. It's like, "We know everyone thinks we're bad, we also think we're bad."
Andrew: I ate Ho Ho's like a week ago! I've never gotten sick from there, except now I'm never going to eat there again. I know how despicable they are, but I appreciate that they're upfront about it. Their customer service, they don't give a shit, man. They're brutally honest, they're not trying to be something they're not. At least when I eat Ho Ho's I know that I'm possibly going to be tangling with death.
Konz Pizza
Maclean: Worst is 100 per cent Konz. No competition. All those other foods you could at least sanely eat, but you get a cone and you're just like, "Ugh, why am I here? Why have I wasted my money?"
Andrew: It's not even a question of food, it's a question of existence at that point. Just… why?
Nina: What's wrong with it? I haven't been.
Maclean: Well I haven't taken their whole menu in, but the cone, I got a pepperoni one and oh my god it's just huge chunks of pepperoni in essentially a flatbread. And it's just hard. It's just raw meat inside of a flatbread.
Nina: Do they mould the cones?
Sofia: No, the cones are premade.
Oumar: What if this is just a prank from the Students' Union?
Adam: I don't even see it as a place to eat, it's just a novelty.
Andrew: I don't think I've ever walked by Konz and been like, hmm I could get food there.
Adam: I just love seeing people trying to run across quad to get to a class and they've got this stupid cone in their hand. Like, what are you doing?
Annie: I literally spilled the entire cone on my pants in the Gateway office. It was not a good look.
Jess: I was guilted into trying one but I just remember feeling really bad because it's like $8 for half an actual pizza slice of stuff.
Nina: Has anyone tweeted Gordon Ramsay about Konz yet?
Oumar: Oh my god he's going to come here.
Subway
Jonathan: Anything off their $5 menu, I just taste nothing but regret. I have to go through with it because the alternative is starving, but sometimes I wonder if I made the right choice in the end.
Sofia: I'm also going to say that I think Subway is the worst because I just really really really hate them — except the rainbow gem cookies.
Oumar: Does Subway count as fast food?
Jonathan: No, line's too long.
Oumar: But if you're not going at peak hours…
Victoria: But it's not even good.
Oumar: Write three midterms in five days and tell me that Subway isn't good.
Annie: There's something about the meat that's a little bit fishy with it just sitting out all day. It can get kind of sticky, which isn't attractive.
Adam: It's part of the experience!
Oumar: Subway is a feeling, not a food. It's a state of mind.
Nina: I hate Subway so much, but it is pretty cheap and relatively healthy for a fast food place.
Maclean: I mean you can put as much mayo on as you want, there's your value right there.
Booster Juice
Adam: Can we have a shoutout for Booster Juice? They need better hours.
Raylene: I agree with that. The one in Van Vliet closes at like 2:15 p.m. whenever those grumpy ladies decide they want to go home.
Oumar: They have a sundial.
Raylene: Literally. They fuck off whenever they want. 
THE VERDICT:
Most likely to give you food poisoning: Ho Ho's
Most toxic relationship: Subway
Worst hours: Van Vliet Booster Juice
Overall worst (and most cursed): Konz Pizza