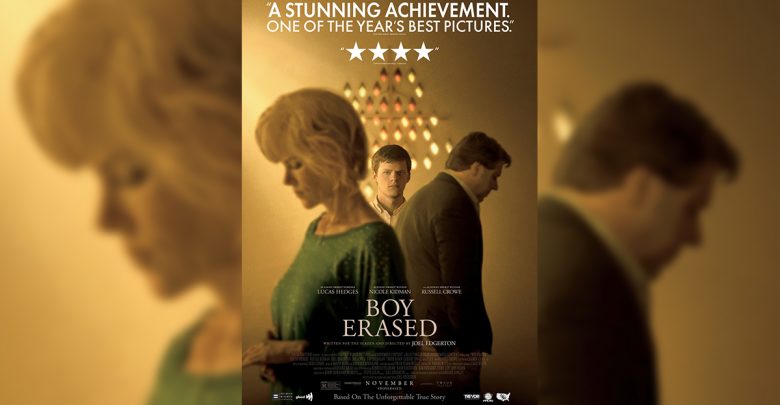 Playing in the small indie Princess Theatre on Whyte Avenue, away from the high-budget commercial film scene, Joel Edgerton's Boy Erased tackles gay conversion therapy and the scars it leaves behind on those who are subjected to it.
Based on Garrard Conley's memoir of the same name, the movie highlights a queer youth's internalised longing to be "normal."
The film follows Jared (Lucas Hedges), an ashamed, closeted gay teenager whose parents (played by Nicole Kidman and Russell Crowe) force him to join conversion therapy.
The film uses a non-linear style, jumping between Jared's past experience in high school and university and his present time in the "Love in Action" conversion centre. Boy Erased delicately structures the plot to reveal the events that sent Jared to the conversion centre while also highlighting his volatile relationship with his parents.
Edgerton uses the plot's dramatic nuance and tension to highlight the devastating impact conversion therapy has on teenagers. Bringing them close to depression, feelings of worthlessness, and suicide, conversion therapy only benefits those in a position of power within conversion centres.
The film is set at a fast-paced tempo as it attempts to capture the entirety of the memoir's narrative in 114 minutes. However, even in a rush, the film, unlike many that have preceded it, doesn't try to simplify the characters' experiences. Rather than reducing the characters to one stereotype, Edgerton gives them the freedom to be engaging and multidimensional.
Boy Erased is brutally honest in its portrayal of the anti-gay movement. It subtly introduces the movement's ideology and its devastating consequences into the plotline, crafting a story of intertwined lives plagued by religious misconceptions and taboos that still dominate society in the present day.