Arts & Culture
Campus & City
Picking the (Slight) Brains
Members of the Edmonton punk band The Slight Brains reflect on their freshman year in the music scene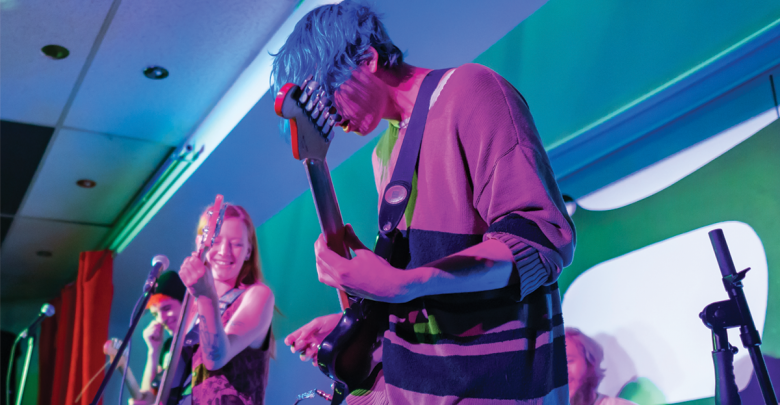 I never had much experience with punk rock. So, when I walked downstairs into the dark and denim-clad Sewing Machine Factory to watch Edmonton punk band The Slight Brains play, it felt like entering a new realm. But, in the end, I found it's a lot friendlier than it looks. The Slight Brains can attest to this fact; they've returned many times to find a welcoming home for their craft.
Formed in 2017, The Slight Brains consists of Braedon Acuña, a fourth-year University of Alberta philosophy major, on vocals and guitar; Eoin De Groot, in his fourth-year of film studies, on bass; Hazel Suter on vocals and bass; and Daniel Prior on drums. Like punk rock Power Rangers, they sport a trademark rainbow of mops. But their hair isn't the only colourful thing about them.
When I met the band, who lounged on a stage-side couch before the show, they were warm and excited to perform alongside other local groups. "When we started playing, it just turned out that we lived, like, four blocks from each other, so it was very easy," explained De Groot, who started jamming with Prior months before the group was fully formed. "We hang out a lot, and playing music was just how we spent our time."
Last to hit the stage, the band brought a gritty texture to the show, bathing the room with a markedly more distorted sound. Singers Suter and Acuña have a cool and effortless duet dynamic, with voices that deliver poignant, lyricized punches. Their sound is well-balanced by De Groot's bass lines and Prior's fast-paced rhythms. It's clear The Slight Brains enjoy the stage as much as each other's company.
Decidedly not a "surf punk" band (they exclaimed all at once), The Slight Brains found their entry into the rock scene quickly, starting at a home concert in a suburban Edmonton garage lined with Christmas lights. "Our skills on our instruments are constantly growing and changing," said Prior, who's only been playing drums for two years.
Still brand new and finding their footing, the quartet was hungry for the stage in 2017, snagging opportunities left and right to play beyond garage walls. "We started playing shows for a fair amount of time before we put anything out," De Groot said. "It was pretty wholesome, the way it came out."
Eventually, four out of six of their favourite tracks found a home on their debut EP, Demos from N3K House, which they used to assemble their set at The Sewing Machine Factory. Named after the house that hosted their recordings, this EP is brimming with youthful energy, enjoying a blend of unique instrumentation and reckless lyrics. "Don't Wanna Be (With You)" stands out with its catchy guitar riff, while the angsty "Checkin' Out" is a toe-tapper with strong bass and vocals. Their biggest hit, "Carbon Tax Rebate Weekend" evokes the carefree relaxation of youth living in a "left-wing garbage fantasy" and proves the provincial government cheques didn't go to waste in the pockets of The Slight Brains.
"We definitely got beers," Acuña admitted about the band's first carbon tax rebate weekend. "We'd bought beer with the money and we were already drunk by the time we started writing it. Somebody said the words of the title out loud, then we picked up our instruments and thought, 'This is a good idea.'"
Acuña said bonding experiences like these are to thank for the band's success in the collaboration department.
Our biggest advantage is that we spend a lot of time drunk together.
As ambitious as they are, I noticed The Slight Brains are interested in more than just their own success. Through some ancillary ventures, they have plans to liven Edmonton's rock music scene and bring fellow artists up with them. Prior's side project centres around an open-door garage studio that gives bands the chance to create and promote. "If there's a local band that wants to make a video, semi-professionally recorded, that's pretty much all I'm focused on right now," he explained. Acuña, meanwhile, funnels some creative energy into a group of artists called The Absurd Collective, which extends beyond music and into art and design.
A genuine desire for collaboration and innovation is what defines the spirit of The Slight Brains. "The garage is usually locked, but always open," Prior assured me.
"Metaphorically, only," De Groot interrupted. "Like, if it's locked… you can't actually get into it."