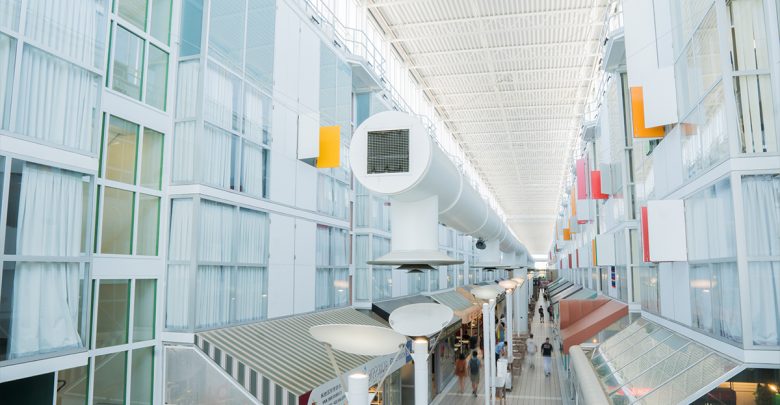 The HUB Community Association has proposed the installation of OneCard access locks on exterior doors between the hours of 9:00 p.m. to 5:30 a.m. This proposal marks the significant first step in addressing the concerns that residents regarding safety.
Throughout the years, residents have raised concerns about open access to the building. Residents have often come across homeless or intoxicated people lingering or passed out in stairwells. People have been approached by outsiders for access to laundry services during off hours.
Other concerns include improving social spaces for residents. The HUB community centre can only hold 30 people out of the 700-plus residents living there. Through locking down HUB at night, the new proposal would allow residents to be able to use the elevated lounges as well, expanding common space in HUB.
According to HUB Community Association (HCA) president, Jared Larsen, these safety concerns have been raised since 2013, and possibly further back. The HCA and HUB's Residence Assistants (RAs) are often approached by residents voicing their concerns and asking for a better system to be put into place. University administration hasn't been completely silent on this issue: a security guard was hired last year to help with security concerns. While I can only believe this has helped the safety issue, not all HUB residents know about the guard.  Although administration is taking a much deeper look into this issue than in 2013, the proposal is under review and therefore not yet accepted.
It begs the question: why hasn't administration paid closer attention to this issue? While they clearly haven't ignored these complaints, the few responses they have made have been woefully inadequate. It's not fair for residents to feel unsafe or uncomfortable in their own building; this problem should have been more substantially addressed years ago. Perhaps they needed to have the problem delivered to them in a package more their style. Receiving a proposal with an implementation plan likely makes the problem more concrete to administration than residents' complaints through RAs or angry emails.
At first glance, the proposal looks like a large undertaking. It seems that the very design that has won HUB several architectural awards is what makes this a difficult project. Just to get an idea, the places that will get OneCard access locks are: the LRT entrance, main entrance, Chaplain's Centre entrance, HUB community centre entrance, and one in every five exterior doors along both sides of HUB. Despite the daunting size of the project, I feel that it's well laid out and thorough in terms of practicality, as well as meeting residents' needs. It will be a costly project, close to $1 million, but it's one that needs to happen, and happen quickly before residents turn to other places to live.
The HCA hopes that the proposal will be accepted and that HUB will become a safer place with an enjoyable community environment. I hope that administration will decide to move forward with the proposal and HUB will be a more inclusive and comfortable place for its residents and all students.