Arts & Culture
Campus & City
Improv soap opera brings Westeros and Middle-Earth to Old Strathcona
Die-Nasty's 28th season promises magic, mischief, and a little bit of murder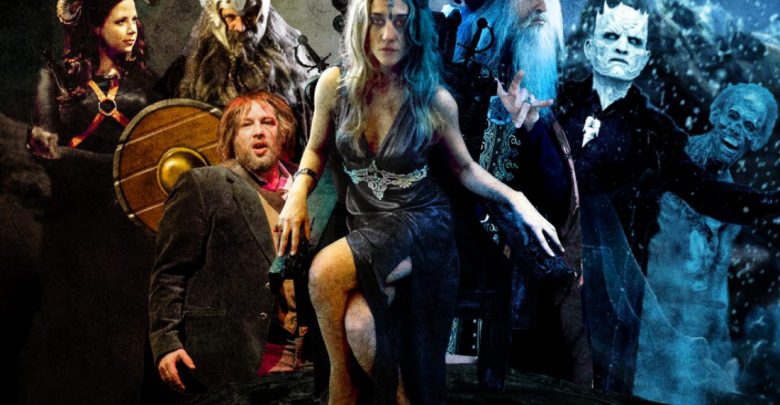 What: Die-Nasty, the Live Improvised Soap Opera
When: Every Monday at 7:30 p.m. through May 27, 2019 except for December 24 and 31. Doors open at 6:30 p.m.
Where: Varscona Theatre
Tickets: Tickets are $15 or $10 with a $40 membership and are available at the door (cash only) Season passes are available at the door for $330 with a reserved seat.
---
A chill is in the air, fall reading week has come to an end and most midterms are marked, meaning one thing… winter is coming! This rings especially true for the Edmonton theatre scene this season.
Now in its 28th season, Die-Nasty, a weekly serial long-form improv show, is taking on magic, mischief, and a little bit of murder as it presents "Lord of Thrones," which mashes up The Lord of the Rings and Game of Thrones with the soap opera genre.
Director Vincent Forcier, a University of Alberta BFA acting alumnus, started with Die-Nasty as an audience member before first becoming a guest performer in the company's 50-hour Soap-a-thon, then a core cast member, and finally, a director. Now a few years into his current role, Forcier's job is to help set the scene for the improvisers.
While Die-Nasty has taken on everything from the Italian Renaissance to fashion families in seasons past, this year brings in darker themes. The inspiration draws from popular culture audience members have as a reference and leg into the world.
"We just thought that [the soap opera format] would lend itself really, really well to Game of Thrones themes seeing as there are a lot of crazy relationships that happen, a lot of murder and intrigue," Forcier says. "Layering in The Lord of the Rings we get to have… a bit more magic."
Forcier says fans of either series will notice little references peppered into the show, though he adds that no background is needed to enjoy the show. Each weekly installment features new plot threads, and Forcier says not even he and the cast know what they're going to do on any given night.
"Our goal is to create new storylines and have the most fun with it as possible," he says. "We pepper in things that [fans] can recognize, but we also want to be available to even a newbie."
Over his years with Die-Nasty, Forcier has come to appreciate his cast mates like a big family full of seasoned pros and mentors. Especially with such a dark season, the team works to keep up a positive attitude behind the scenes. With the potential for romantic themes this season, he shares Die-Nasty also has best practices surrounding consent, with cast members doing frequent backstage check-ins to ensure everyone is comfortable.
With a story that develops over the almost year-long season come challenges of directing what Forcier calls "the longest-form" improv. Forcier keeps careful notes of everything happening in each scene so he can make sure he has context when he plans where to take the storyline. Of course, it being improv, he can't plot out the narrative precisely. Instead, Forcier has to find ways to nudge the performers in different directions and bring the audience along with them.
"We've especially been looking to have a lot of younger people and students come in and to see the show," Forcier emphasizes.
The show has regulars who attend each Monday night and can enjoy following continuing plotlines. But even those who come along partway through the season can get swept up in the action. "Hot 30s" (quick 30-second monologues from each character) get audiences up to speed to jump into the story full-force.
"I say we really try to be as accessible as possible," Forcier says. "It really is an art form that lends itself well to have anyone come in at any time."