Institutional
News
Extra funding from government to go towards programs, building security, and staff benefits
The money is coming from an increase in provincial funding that the university didn't budget for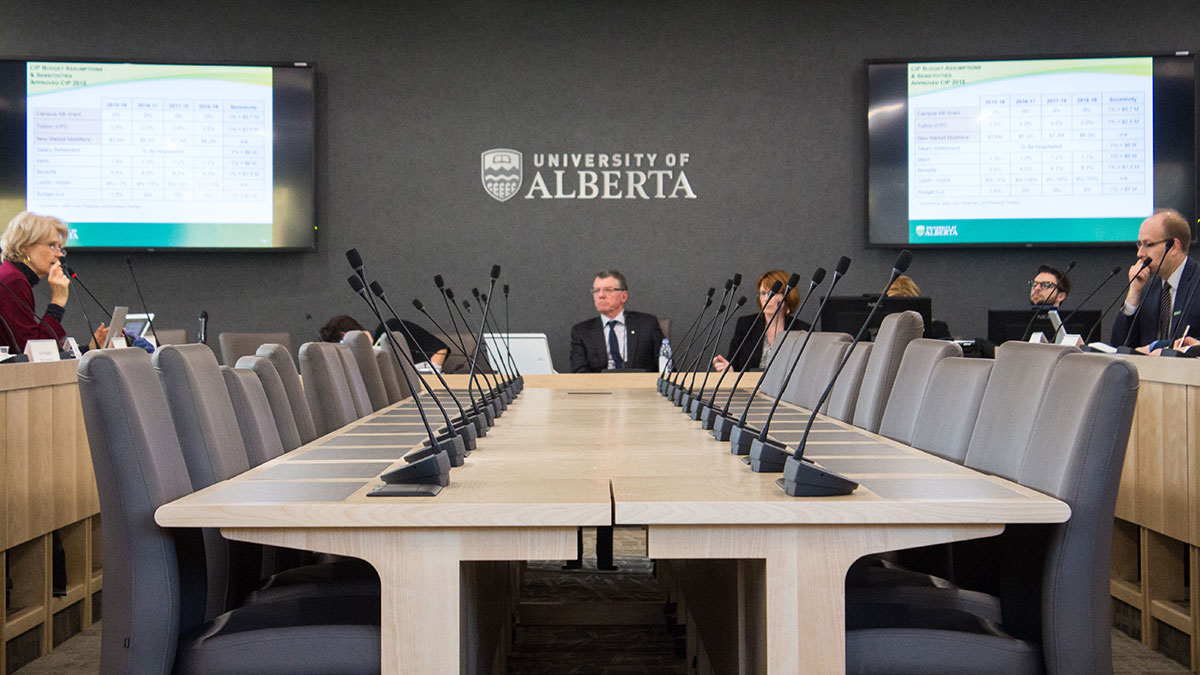 The University of Alberta has announced how it will allocate one-time funding it is receiving from the Government of Alberta, amounting to $16.75 million.
In March, the U of A passed its budget for the 2018-19 academic year with the assumption that the Campus Alberta Grant amount it receives from the provincial government would not change. The province allocated a two per cent increase to this grant later that month, originally estimated by the university to be $12.4 million. After further confirmation from the government, this amount was confirmed to be $16.75 million.
At the General Faculties Council (GFC) meeting on September 24, university administration announced the $16.75 million will be allocated on a one-time basis as follows:
$9.5 million in a program development fund

$3.5 million for staff benefit packages

$2 million in security and safety improvements

$1 million into "For the Public Good Initiatives"

$500,000 for the special hires fund

$250,000 for student mental health
According to U of A provost Steve Dew, in the event of a budgeting discrepancy, money is assigned by university governance and not through the general budget process.
"[These dollars] will be invested in ways that will be visibly impacting classrooms and students, along with their experience," Dew said. "We want to enhance the student experience of learning while ensuring our programs are relevant.
This plan and identified priorities were brought before dean's council in June. The allocations were approved and will be implemented by the end of October.  
For future budget cycles, Dew said the two per cent grant increase from the province will be rolled into the general operating budget for base allocations.
Program development fund and tuition predictions
For the program development fund, Dew said that the money will not be distributed among faculties equally. Instead, each faculty will submit a proposal outlining how they would use the money. Faculties had until October 1 to submit their proposal.
Mpoe Mogale, an arts undergraduate student representative on GFC, expressed doubt over the proposed method of distributing funds.
"I am concerned with how monies will be dispersed [by this method]," Mogale said. "What will constitute need?"
Dew said the general process for faculties to receive funding is to give them the latitude they need to be creative in developing program enhancements
"We are really looking for the faculties to provide great ideas about how they see their programs developing," Dew said. "We do not want to constrain that."
Amlan Bose, an engineering undergraduate student representative on GFC, asked Dew how international students would be impacted by these budget allocations. Dew responded that the one-time funding will not address international student concerns. He added that the university is waiting on the provincial government to release the tuition review.
"International tuition is unregulated now," Dew said. "The government has indicated that they wish to ensure that there is a higher degree of certainty around international student tuition. We do not know what kind of mechanism they will look to."
Dew said domestic student tuition will likely remain at the same level. He expressed doubt that it would remain frozen in the next couple of years.
"Domestic tuition will likely remain frozen for this year," Dew said. "Some framework for escalation will follow in subsequent years."
Enhancements to student security
Two million dollars of the funding will go towards security enhancements for North Campus. Dew said the security and safety improvements are based on growing student and staff concerns. This money will be the first part of a multi-year campus plan developed by U of A Protective Services, and the facilities and operations portfolio.
Dew added that improvements will be made in the Fine Arts Building and across campus.
"We saw concerns principally in the Fine Arts Building," Dew said. "Ultimately, we recognize that we do not simply want to move the problem around to different buildings."
Dew added that the level of security measures in buildings varies across campus. He said this funding will look to make systems more uniform.
"We really want to get past some of the issues that have arisen this past year," Dew said.
U of A staff benefits still in shortfall
The $3.5 million for staff benefit packages will be used to address the U of A's growing staff benefit deficit.
According to Dew, the university's benefits have grown by $6.5 million in the past year. He said the $3 million shortfall in this area is still an "outstanding issue."  
The $500,000 assigned for special offers of employment including spousal and Indigenous hires.
Following the GFC meeting, Students' Union President Reed Larsen said he is pleased that the majority of students will be able to see the impact of the investment firsthand.
"It is great to see university administration investing in ways that students will feel real outcomes," Larsen said. "I am slightly hesitant over the funding model, however, we will wait and see which programs that submit proposals will receive money and ask questions from there."