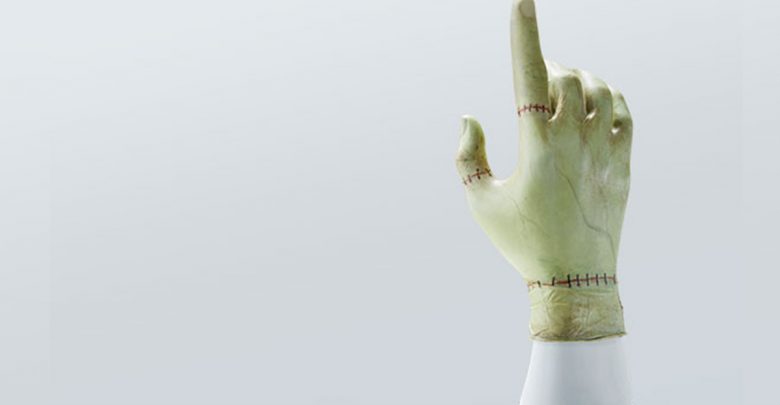 "Sherlock Holmes cracked every case. Next up, your prostate?" This is one of the taglines that Prostate Cancer Canada (PCC) uses to market their new "Famous Fingers" campaign.
PCC released a collection of thirteen gloves, with index fingers raised, each deliberately made to look like the hands of prominent historical and cultural figures such as Napoleon Bonaparte, Abraham Lincoln, Thor, and Babe Ruth. The objective of the campaign is to encourage men to get a blood test to determine the amount of prostate-specific antigen they have, which can be a potential indicator of prostate cancer.
After raising a number of eyebrows, the question stands: is this effective marketing, or just a silly, immature attempt to promote men's health and wellness? Some may deem it to be the latter because of its focus on humour pertinent to having a doctor's finger prod someone's prostate, which on its own already makes many men ill at ease. Some men might focus more on the comical aspect of "having Abe Lincoln's finger up your prostate" instead of the seriousness of prostate cancer.
Moreover, a marketing professor at Queen's University, Ken Wong, is against the Famous Fingers campaign because it "could obscure more critical issues, such as the potential impact of the disease and treatment on the ability to have sex." He also goes on by adding that the marketing approach is not at all inviting nor endearing for someone to get a prostate examination.
However, we have to recognize that educating people of the possibility that this can happen to their body is critical, regardless of how they interpret the ad. For some men, the conspicuous amusement and humour will be the center of attention, and for others, it may be their first introduction to considering the possibility of getting the disease, if not actively engagement in early diagnostics.
They say two things sell: sex and humour. From the reaction this campaign has gotten, we can safely say that it will fulfill its goal of spreading awareness that might just save someone's life. It's most efficacious in helping people recognize the probability of prostate cancer. Awareness is still awareness, no matter how it's spread, just like how bad publicity is still publicity. A great example of this is the controversy Nike faced recently for signing Colin Kaepernick as one of their brand ambassadors. Kaepernick is a former NFL player who has been controversial for setting protests in motion against police brutality and racism. A lot of people chose to boycott Nike, but the brand ended up having a whopping $6 billion surge in market value, and Kaepernick's message is still being effectively spread.
Similarly, the Famous Fingers campaign will get men talking about the disease, whether be it the harrowing idea of Frankenstein's finger touching their prostate, or asking a doctor about the disease on their next checkup. This ad will hopefully contribute to the decline in prostate cancer's mortality rate, which has been dropping by an average 3.1 per cent per year since 2003.